5 Ways to Please Your Man! (Or, Not)
by Angelica Shiels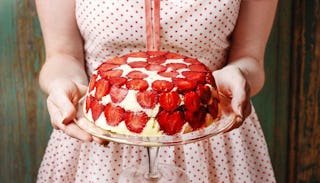 I have come across a few "5 Ways to Please Your Man" articles recently which, more than anything, leave me rolling my eyes instead of feeling inspired. Here's how the article suggestions would go down in my house…
Article suggestion #1: Greet him at the door wearing an apron and high heels when he gets home from work.
What really happens: Put kids to bed early and assume the attire. The only apron you can find says, "I'm not aging; I'm marinating," but it will do. And you haven't worn sexy heals since before your first child was born, so you find yourself hunched over boxes, digging through basement storage wearing nothing but an apron. Your four-year-old sneaks out of bed, finds you and announces, "Eeeweee! Mom's booty!"
Fast-forward to husband gets home late to find "just marinating" wife passed out on the couch, waiting for him with a bag of potato chips on her chest and one navy blue/one black high heel.
Article suggestion #2: Go to his work at lunchtime wearing nothing but a trench coat and high heels; surprise him in his office and lock the door behind you.
What really happens: Your 20 year old babysitter and 65 year old retired neighbor scratch their heads as you leave the house looking like inspector gadget in July. Kids whine, " I wanna dress up like Perry the Platypus too!"
When you finally get to husband's work, the gate security guard tells you he needs to search your jacket and bag before giving you a visitors pass. You turn cherry-red and make a beeline back to the minivan.
Article suggestion #3: Send him a sexy, seductive selfie. Bonus points for nipple.
What really happens: Google "permanency of text messages" and contemplate appropriateness of sending a sext to husband's work cell. Nothing says sexy like locking yourself in the bathroom, experimenting with seductive pouts and poses while ignoring children's banging on the door. And try not to slip in the puddle of pee surrounding the toilet. You finally decide to just not include your face.
Husband replies a few hours later to boob-pic: "Did Johnny get another spider bite? Looks bad this time."
Article suggestion #4: Sit on his lap, look lovingly in his eyes and tell him he is your hero and the man of your dreams.
What really happens: As you attempt to sit on his lap, husband keeps moving over on the couch to make room for you. Finally you announce, "I'm trying to sit on your lap," to which he replies "why? We have a big couch that we can all fit on."
Eavesdropping two-year old gets great idea and claims territory on daddy's lap. Two additional kids squeezed in-between you, so you lean across two little heads and whisper, "you're my hero" into husband's ear.
He scratches his ear and says, "Huh?" Oh, okay," while switching the Netflix to the Superman cartoon.
Article suggestion #5: Make a reservation at his favorite restaurant and tell him half-way through the meal that you're not wearing any panties.
What really happens: Hmmm…His favorite restaurant? You contemplate the $3/slice pizza place and the local fast-food place with the play area, but then remember you will be kid-free.
After the salad course, you lean close to your husband and whisper, "I'm not wearing any underwear." He informs you of the spinach in your teeth and asks, "Oh, are we running low on clean laundry?"
You each have two glasses of wine, not enough to impair your driving, but enough to help you pass out with your mouth hanging wide open before your head hits the pillow…(right after you've gotten into your comfie draw-string PJs and back into your booty-covering undies.)
Related post: Why You Should Say Yes Tonight
This article was originally published on