6 DIY Family Halloween Costumes You Can Put Together from Your Closet
by Valerie Williams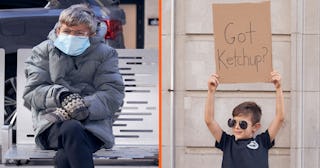 Courtesy of Stephanie Price
Halloween is (literally) this weekend and if you've put off costume-hunting until the last minute, relax — we've got you covered. Trust when we say that even though it's the eleventh hour, these won't be your typical canned costumes you can buy off the shelf. Not only are they unique — you can probably put most of them together with items you already have in your closet. Saving money? Saving time? Still being the most talked-about costumes at the cul de sac trick-or-treat party? Check, check, triple check.
Let's get moving because Halloween is Sunday and these DIY family costumes won't put themselves together, though they'll come pretty close.
BBC Dad
We all remember BBC Dad's charming viral video from the Before Times, during which he was filming a live news segment from home and was interrupted by his two children, only to be unceremoniously hastened out by their frantic mom.
We all can relate to him even better now, as we've all felt the challenges of working from home, whether or not our Zooms have been barged into on national television.
These costumes are great for a family with two young children, though you can mix and match depending on who's in your family and interested in participating.
What you need to pull it off:
A suit with a red tie for BBC Dad A striped tee shirt for Mom A yellow sweater for the older child A walker for the baby
White Lotus
White Lotus on HBO took the world by storm, and the cast's colorful costumes are instantly iconic.
Here are options for a group of two or four — and feel free to mix and match!
What you need to pull it off:
White Lotus employees: Pink polos Clipboard Tray (or wooden cutting board) with white washcloths rolled up Vacationers: Blue-hued tropical vacation clothes Flower leis
Naomi Osaka
The international tennis star became an advocate for mental health this year, and is undoubtedly a role model for girls everywhere. She's a great option for a costume!
What you need to pull it off:
Any sporty clothes that look like you could play tennis in them A visor A tennis ball (or racquet!)
Dude With Sign
Dude With Sign is an image series of a man holding up a cardboard sign calling for people to stop doing specific everyday annoying things ("Stop 'Replying-All' to Company Wide Emails", "Appreciate the Friends Who Carry Portable Chargers").
He's gone viral plenty of times, and the costume is as easy as holding onto the cardboard from your latest Amazon delivery.
This costume works great for anyone though we think it's especially cute for a kiddo.
What you need to pull it off:
A pair of sunglasses A casual outfit (ideally vaguely hipster) A cardboard sign
Coming 2 America
The classic New York movie got a long-awaited sequel this year!
More than 30 years later, Eddie Murphy and Arsenio Hall reunite for a return trip from Zamunda to New York. Crown Prince Akeem and Semmi head back to the Big Apple. Along with being a much-anticipated sequel, it's also a great idea for a Halloween costume.
This costume is fun for anyone and it's super easy to put together.
What you need to pull it off:
There are a few easy options to dress like characters from the movie, but we love the classic hat and varsity jacket look.
Senator Bernie Sanders at the 2021 Presidential Inauguration
One of 2021's most viral images appeared early in the year when Senator Bernie Sanders took a seat at President Biden's inauguration bundled up in a parka and sporting a nifty pair of knit mittens.
Of course, his *iconic* ensemble, coupled with him sitting socially distanced on a folding chair with crossed legs and arms, meant the moment went instantly viral. It's a pretty simple costume to replicate if you have winter clothes on hand!
This costume can work for anyone but sorry, not sorry, it's ridiculously adorable for a kid. Especially a sort of cranky kid.
What you need to pull it off:
A pair of cozy mittens A parka
Now that you have your last-minute costumes sorted, go out and enjoy the holiday!
This article was originally published on