A Letter to the Girls of 'Girls' About Sex, From Their Cool Aunt
by Stefanie Iris Weiss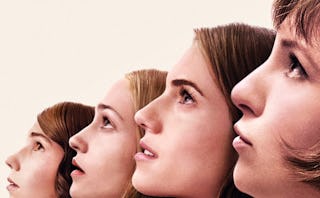 I seriously adore each of you, and despise the basement-dwelling trolls with nothing better to do than slut-shame you online (says more about them than it does about you).
Still, it's time for us to have a talk.
Hannah, you being naked is pure awesomeness, for every living creature on earth, but especially for girls that will be women. Please continue to be hella naked. Screw the people who tell you to put clothes on. I will kick their asses if you say the word.
Speaking of asses. I'm not going to complain about your Internet-breaking kitchen counter-encounter, Marnie. Well, at least I'm not going to complain that it was explicit, because I want you to have all kinds of sex every which way. You do you.
What I do want to know is—did you really enjoy it, Marnie? Yes, the butt is on the table, I get it, fun stuff! And yes, you seemed to moan a lot, which would indicate pleasure. But really, tell me sweetie—were you into it? Because like everything else that happens with Desi, it seems like you're just doing it to please him.
When you'd go to Ray's house to use him as your whore (his words), at least you were being serviced on your own terms. I suspect this was mostly to take your mind off the general suckiness of being in your 20s. Fair enough—as long as you're getting yours. And when I say "yours" I mean a goddamn orgasm.
Shosh: I promise that the current job-hunting shitshow isn't going to go on interminably. I love that you took it upon yourself to get laid a whole lot last season, even though you basically failed out of school. Sometimes booty has to come before books—that's just life. I got a D in astronomy sophomore year because I spent the entire second semester in my boyfriend's bed—happens to the best of us!
Oy, Jessa. I think you've hit bottom, finally, with the cruelty. You don't even seem to have a sex life these days except for last season, when you were in rehab and took advantage of that poor girl just to further your own self-destruction. My advice is to focus on self-pleasure—ritualistically, medicinally. If you don't have good vibrator I'll send you a care package.
Let's get back to you, Hannah. I know you're utterly devastated because (spoiler!) Adam broke your heart for a girl that gave a TED Talk. It must feel as if your life has ended, but it most certainly has not. There will be more boyfriends, even though I really liked Adam for you (when he wasn't peeing on you in the shower).
You two had plenty of sex, but I was never really sure if you were totally present. Sometimes it seemed that you were lying beneath him mentally composing text messages. Of course in every relationship, there's a certain amount of reciprocal sex—we learn to keep our partners happy even when we're not in the mood (as long as they do the same for us). I know you loved Adam, but were you HUNGRY for him? Was the sex ever the toe-curling, mind-blowing sort?
The only time you completely let go was with that hot older doctor in his crazy brownstone, when nothing was at stake. You let him take care of you. And that, dear girls, is what I want for all of you. Ecstasy. Learn how to be properly pleasured and take it seriously.
Hannah—now that you're single, take an Orgasmic Meditation workshop, maybe?
Here's the thing: We Gen-Xers already made these mistakes in our teens and 20s. During the years before we had careers, husbands, and kids, we had a lot of performative sex. Our misogynist culture taught us to hate our beautiful bodies, and made us believe that sex should revolve solely around other people's desires. We only wanted to be wanted—we didn't know what it meant to actively want. This and codependency are the two things you absolutely must unlearn in your 30s, darlings. But why not start early?
So please: Close the orgasm gap, at least by the end of season five.
xoxo,
Your Cool Aunt Stefanie
This article was originally published on