You Can Actually Stay In Barbie's Malibu Dreamhouse On Airbnb
by Christina Marfice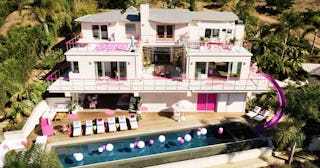 Airbnb
Ever dreamed of staying in the actual Barbie Malibu Dreamhouse? Thanks to Airbnb, that dream can come true
For all of us who grew up playing with all the different iterations of the Barbie Malibu Dreamhouse, we know the pain of wishing so hard you could have a home as cool as Barbie's, but also knowing, deep down, that the Malibu Dreamhouse isn't a real place. Until now, that is. Airbnb has created an actual, life-size replica of the iconic Malibu mansion, and yes, you can rent it for a stay. And yes, it is absolutely iconic.
Seriously, this place is insane. Check out the aerial view, and please take special note of the two-story water slide into the infinity pool.
The two-bedroom, two-bath home is located smack in the heart of Malibu, just where Barbie would have lived. It features decks on each level, each with their own stunning views of the Pacific Ocean.
But what makes this home so special is how meticulously it's been decorated to look just like how Barbie would have liked it.
All over the house, the touches are pink and retro.
There are nods all over to Barbie's various careers, like her lifeguard set up on the pool deck.
You can try on uniforms from her other careers — like firefighter and astronaut — in her giant walk-in closet.
There's an all-pink workout area if you want to get your sweat on while you stay.
After working up a sweat, have a luxurious bath overlooking the sea in the ultra pink master bathroom.
Then lounge away the afternoon at the infinity pool.
Finally, enjoy dinner and the Malibu sunset on one of the home's three decks.
Yep, this place has all of the luxuries that Barbie would have in her IRL home, and we are here for it. Time to be a Barbie girl in a Barbie world.
These themed homes have become a real trend lately. Hotels.com already offers limited stays in homes designed like the Addams Family mansion or decked out in Lisa Frank gear.
Now for the bad news. Staying in this home is a once-in-a-lifetime experience — so much so, that Airbnb is only opening up one reservation. If you want to stay here, the reservation will open on Oct. 23 at 11 a.m. PDT for a two night stay Oct. 27-29. The home can hold you and up to three friends. There are a bunch of perks included in the stay, including a fencing lesson with Olympic fencer Ibtihaj Muhammad, a makeover with celebrity hairstylist Jen Atkin, a home-cooked meal with chef Gina Clarke-Helm, and a trip to the Columbia Memorial Space Center with pilot and aerospace engineer Jill Meyers. As "Barbie" herself writes in the home description, the stay should be "a reminder that you can be anything!"
The Malibu Dreamhouse costs only $60 a night, in celebration of Barbie's 60th anniversary. It is truly a steal, and an experience you'll never forget — if you're lucky enough to nab that booking.