This Is What Doctors Need To Remember About Autism
by Jaycee Kemp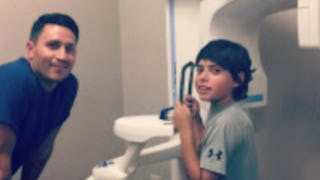 Jaycee Kemp
"Anyone have a [insert professional here] who works well with special needs kids?" –said by every special needs parent on every local special needs Facebook page
Last year was the first time in my son's entire life he got through a dentist appointment relatively unscathed. Sure, at first he flapped and screamed and excreted that sweat stench he does as if he is a sea slug attempting to keep predators away, but ultimately Dr. Nate (not his real name) prevailed with him in the most awesome way. My son received the first X-rays of his entire life, full dental exam featuring the scrap-y, spinn-y, and spitt-y things, and actually left the office smiling.
No one can resist the appeal of Dr. Nate. *powders nose, reapplies lipstick*
That is the thing with ALL kids on the spectrum. Once you crack the code on how to navigate around or through the anxiety, things tend to go a bit better.
Conversely, the same is true. Once you REAAALLLY approach something wrong, the damage is done, and it is going to take a hell of a lot to bounce back from armageddon levels of panic.
Apparently, Dr. Nate and his swoon-worthy dental practices on my autistic kid made more of an impression on me than we did on him because he didn't remember his approach from a year ago. At our visit today, he was visibly panicking/attempting to act cool, and Dr. Nate was taking a more gentle and cautious approach. In a red-carpet-level performance, I loudly proclaimed I was going to the bathroom (office visits tend to go better when I am out of eyeshot). Without skipping a beat, Dr. Nate said, "Sounds good. I'm going to take a look here at his teeth, but you'll be right back. So…everything is okay."
Of course, I was standing right outside of the exam room door, and I could hear him firmly reassuring my kiddo. I peeked in to see my son standing in the corner with a toothbrush and the toothpaste from home and the dentist mopping up his face with gauze. When all was said and done, Dr. Nate said to me, "Can you come back in three months? I think one lesson we learned is it's best for mom to wait outside. I think next time, I will use a firmer, more direct approach. It seems to work best with him."
I thanked him profusely for his insight and patience. He replied, "Every kid responds to something different and sometimes even from visit to visit."
Bam.
Every kid responds to something different. Even from visit to visit.
Yes, Dr. Nate. You just summarized precisely how to to work with autistic patients. They are all individuals with individual needs, and you must be aware of this at every visit. And then you meet them where the are.
Pretty much just like everyone else.
While we are at it, a shout-out to all the other doctors in our lives who got it too:
To the orthotist who met us in the back of our van for years in order to cast my son's feet for braces
To the physical medicine doctor who immediately started using sign language while she talked to my son when she realized he might not understand her words.
To the hospital nurse who spoke directly to my son to ask him his name, age, and where he went to school instead of asking me right in front of him.
Medical anxiety is a serious issue for many autistic individuals. The sensory assault, the inability to clearly communicate, and the fear of not understanding what comes next can be overwhelming to both the patient and caregiver. We recently had a specialist appointment where my son was tearful and fearful. It was suggested we could move forward with the visit in one of two ways: 1) I could hold my 12-year-old down by myself in my lap, or 2) the doctor and two office staff could bum rush him and hold him down on the floor.
I wondered out loud what it would be like if, while we were standing there talking, two men twice my size came around the corner from out of nowhere and held me down while a third approached me and I wasn't sure what he was going to do. Boy, oh boy — if I wasn't worried about talking in the hall before, I sure would be from here on out!
It may seem odd to many of us that a doctor's office would not be equipped to handle their growing clientele of autistic patients, but really, physicians have a limited amount of time to spend with their patients and many of them have absolutely no specific training in disability. As parents, we take it upon ourselves to make certain we take all the precautions with all the details and do all the educating so an office visit goes as smoothly as possible.
Doctors, take your lead from Dr. Nate. His approach holds the key to your best success with every one of your patients. Remember they are human, figure out what they need on any given day, and then do that. We moms will take care of the rest.