How (Not) To Name Your Baby
by Samantha Cappuccino-Williams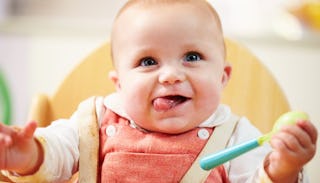 Image via Shutterstock
Is it just me, or is it like a freakin' contest nowadays of who can give their kid the most gag-worthy name? All of a sudden, everyone is "that guy" with regards to naming their offspring. You know, that guy who makes folks roll their eyes or stare blankly when they hear the baby's "hip" or intentionally unusual furniture- or foreign city-inspired name that is spelled with seven extra consonants and a random apostrophe? Yeah. I didn't want to be that guy. Don't you be that guy, either.
So please, don't:
Create a new spelling for an otherwise normal name. Why on earth would you intentionally botch the spelling of your kid's name? People are shitty spellers already. You don't have to make things harder by taking a perfectly well-spelled name and adding silent letters or superfluous punctuation. Your kid will not be more unique just because you buck the rules of written English and change Mark to Marq. They will not be more mysterious or well-rounded if you spell it S'mantha and not Samantha. They will, however, spend their life correcting people and getting agitated that no-one ever spells their name right, even if the assumed spelling is reasonable ("It's Mary. No, with four Rs. Yes, M-A-R-R-R-R-Y. God! Everyone thinks it's just one R!"). Side note: If you change the spelling of a nickname to align it with the real name, I might be able to forgive that. Eg, Catie, instead of Katie, for Catherine.
Invent a stupid pronunciation, especially for a (relatively) normally spelled name. A friend told me of a girl she knows named Le-ah. No, it's not pronounced "Lee ah." It's not pronounced "Lee." It's "Lee dash ah." You read that right. "Lee dash ah." The dash in the name is part of the pronunciation. I thought my friend was kidding, but you can't make stuff like this up. Poor Le-ah is going to be automatically correcting people by the time she's 3.
Name your kid something that is a well-established name of the opposite sex. I'm all for squelching gender stereotypes, but I think there are better ways to do it than by confusing people with your kid's name. I'm not talking about those borderline names that can go either way, like Terry or Kelly. I'm talking about giving your child a name that is straight up for the opposite sex. I'm talking to you, Jessica Simpson. Maxwell? For a girl? Really? Perhaps you had a great reason for giving your daughter a boy name, but because I don't know what it is, I am just confused.
Name your kid a nickname. My brother had a friend named JD. Named JD. It didn't stand for anything (he's a Southerner. No further comment necessary). The poor guy got so tired of repeating the line, "No, it isn't short for anything. That's just my name," that he made up a full name for himself. He went with Jack Daniel. Like I said, he's a Southerner.
Have a crappy reason for selecting a goofy name. If you want to name your kid Esmeralda Ireland because it was your grandma's name and grandpa's birth country, OK. I can get behind that. Maybe the name is weird, but you have a nice reason for choosing it. But if you're naming your kid Esmeralda Ireland because you like witches and you hope to visit Ireland someday, you're a tool. You're also a tool for naming your kid after a random object, place, celebrity, or trendy fictional character (ahem, Edward Cullen).
Invent a name just to be quirky. My husband and I joked we were going to get on the portmanteau baby-name wagon by combining my grandmas' names (Gloria + Sophia = Glophia). We high-fived each other for our hilarious originality, but really, with this trend of inventing unique names, the odds are slim that Glophia isn't already taken. In the end, we had no reason to invent a name, so we didn't. If you don't have a reason to invent one, don't.
Obviously, you can name your kid whatever you want, so really my point is this: if you're going give your kid a goofy name, have a damn good reason. Or at least a mediocre story.
On a related note, if you're going to be "that guy" and give your kid an effed up name, don't also be the guy who refuses to share the name because you're afraid of negative commentary or feedback. As soon as someone tells me they're not sharing baby names, I assume the name they picked sucks or will scare people … and they know it. When you pick a name for your kid—good or bad—own it. Don't be a puss about it. If someone begins to pooh-pooh your name, cut them off. Who cares if the biggest moron in their high school was Skippy, or the biggest douche was Biff? That's their experience, not yours. Who cares if your coworkers think Maroon Marmalade is a terrible name as long as you love it? Most people know better than to slam your baby name anyway. But on the bright side of the unwanted commentary, someone might actually have a helpful tidbit about your name that you should know before legally assigning it to your child. Like, "Adam Samuel Samsonite? Soooo … his initials will be ASS?" Oh hell no. Thanks for pointing that out, Friend.
Lastly, a little food for thought: When you hear of a kid with a bizarre name, I bet the first thing you think is, "Why would a parent do that to their child?" That's the important and oft overlooked part: the parent makes the call, but the kid lives with it. Your unusual name choice and alternate spelling are burdens your child has to bear. Maybe they'll work it like RuPaul; maybe they'll get shoved in a locker. Who knows. Just keep that in mind when you're deciding which fruit or color to name your kid after.
This article was originally published on