These 17 Audiobooks Are Essential For Your Next Family Road Trip
No matter where you're traveling, these stories will transport you.
by Team Scary Mommy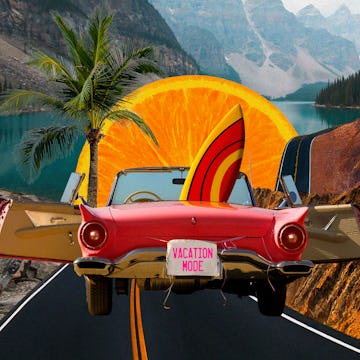 Emma Chao/Scary Mommy; Getty Images
Any parent brave enough to hit the road with kids knows to come prepared with two things: a plethora of snacks and plenty of entertainment. A quick trip to Trader Joe's or Costco can knock out the first, but the second isn't quite as easy. After all, you can only listen to so much Kidz Bop! The solution? Family-friendly road trip audiobooks to lull your kids into blissfully quiet listening. From classics like Roald Dahl's Matilda to the New Orleans adventures of young Viva Durant, there's no shortage of top-notch options.
So, whether you're taking a day trip or driving cross-country with the entire family in your minivan, keep reading for some of the absolute best audiobooks to play on your next adventure.
1. The Wingfeather Saga: On the Edge of the Dark Sea of Darkness by Andrew Peterson
Parents *rave* about this fantasy audiobook series by author Andrew Peterson! The plot? In a cottage above the cliffs on the Dark Sea of Darkness (snicker) live siblings Janner Igiby, his brother Tink, their disabled sister Leeli, and their trusty dog Nugget. But when the venomous Fangs of Dang cross the Dark Sea to overthrow the land, the gifted kids must channel all of their brilliance and bravery to survive. Narrated by: Andrew Peterson.
2. Are You There God? It's Me, Margaret by Judy Blume
The audiobook tie-in to the movie adaptation of a Judy Blume classic, Are You There God? It's Me, Margaret follows almost-12-year-old Margaret Simon as she moves from New York City to the suburbs. Anxious to fit in with her new friends, she joins a secret club, only to discover the topics of conversation are boys, bras, and getting your period — things she has zero experience in. You can't really go wrong with this beloved coming-of-age tale if you have a preteen. Narrated by: Laura Hamilton.
3. Viva Durant and the Secret of the Silver Buttons by Ashli St. Armant
Every summer, 14-year-old Viva Durant heads to New Orleans to spend quality time with her "Gram." But when Gram reads Viva an article about a missing treasure related to the jingle "Miss Mary Mack," Viva sets out on a quest to solve the mystery — exploring the jazzy city's unique culture, history, music, and more along the way in this adventurous audiobook. Narrated by: Bahni Turpin.
4. Harry Potter and the Sorcerer's Stone by J.K. Rowling
Yep, this is the one for the ultra-long road trip. Whether you want to listen to one book or the entire series, it just takes the press of a button to welcome the magic of the wizarding world into the family car. Start a family tradition and turn on Harry Potter for every road trip ahead, as there are hours and hours of listening to indulge in. Narrated by: Jim Dale.
5. Letters From Camp by Jamie Lee Curtis and Boco Haft
Remember the days of sleepover summer camp in your youth? This immersive (and wildly charming) collection will take you right back to that nostalgia-filled time. It tells the story of tween Mookie Hooper, who decides in 2005 to investigate a girl who went missing from Camp Cartwright. Yes, it's a podcast and not an audio "book" — but the full cast, including icon Jamie Lee Curtis, makes it well worth adding to the list. Narrated by: Jamie Lee Curtis, Sunny Sandler, and more.
6. Zero G by Dan Wells
Another immersive 3D audiobook, Zero G takes your family to outer space where Zero is one of 20,000 people on a spaceship headed toward a new planet to be colonized. The hijinks start when Zero's pod malfunctions, bringing him out of stasis 100 years earlier than everyone else. Things only get more heart-pumping when a family of pirates tries to hijack the ship — with only Zero awake to fight them off. Narrated by: Emily Woo Zeller, Margaret Ying Drake, and more.
7. Tales of Beatrix Potter by Beatrix Potter
Traveling with little ones isn't for the faint of heart — you're going to need an abundance of distractions to keep the peace. Let this unabridged collection of 18 Beatrix Potter stories help. Transport your family to a charming (and nostalgic) world inhabited by Peter Rabbit, Tom Kitten, Squirrel Nutkin, Mrs. Tittlemouse, and more. Narrated by: Nadia May.
8. Holes by Louis Sachar
Add this irresistible audiobook to your list whether your family has read the 1999 Newbery-Medal-winning book, watched the 2003 film adaptation, or is new to the YA gem. Listen along as young Stanley Yelnats gets sent to a juvenile detention center, which he attributes to the family curse placed on his great-great-grandfather by a one-legged gypsy. As he and the other boys at Camp Green Lake spend their days digging holes in the dried-up soil, Stanley starts to realize they aren't just digging to build character. Narrated by: Kerry Beyer.
9. The Jumbies by Tracey Baptiste
If you have a kid who's into all things spooky, The Jumbies is the perfect audiobook for your next family road trip. Rooted in Caribbean folklore, it centers on a fearless young girl named Corinne La Mer, who must summon up all of her courage — and some ancient magic she didn't know she possessed — to save her island home from mystical creatures called jumbies. Narrated by: Robin Miles.
10. Matilda by Roald Dahl
Turn your next road trip into a whimsical ride with the audiobook version of award-winning children's book, Matilda! It's narrated by Kate Winslet, which makes it addicting to listen to. Kids and adults alike can enjoy the magic of a timeless story the next time there's a family day trip and entertainment is needed. Narrated by: Kate Winslet.
11. Alice's Adventures in Wonderland by Lewis Caroll
Crank the volume and go on a journey with Alice, from chatting with a caterpillar to attending the infamous mad tea party. This whimsical audiobook (told by a familiar famous voice!) brings to life all of the different characters of Wonderland. Narrated by: Scarlett Johansson.
12. The Wonderful Wizard of Oz by L. Frank Baum
The audiobook version of this classic tale features the voice of Academy-Award-winning actress Anne Hathaway to tell one of the most enduring American stories. It's family-friendly, theatrical, and beautifully done. Narrated by: Anne Hathaway.
13. Astrophysics for Young People in a Hurry by Neil deGrasse Tyson
Want to sneak a little education for your kiddos into your summer travel? Look, er, listen no further than Neil deGrasse Tyson's New York Times best-selling guide to the cosmos — adapted for young listeners, natch. Starting with the Big Bang and moving through both basics and big questions of time and space, this out-of-this-world audiobook will have the whole fam riveted. Narrated by: LeVar Burton.
14. Minecraft: The Island by Max Brooks
Calling all parents of gamers! This audiobook version of the first official Minecraft novel is sure to please. Get lost in the story of a lone castaway who washes ashore on the beach of a mysterious island and must tap into every survival skill they have to, ahem, craft their way out of the perilous place. Zombie hordes, exploding creepers, armed skeletons, an unstoppable tide of hot lava — what's not to love? Narrated by: Jack Black.
15. The Golden Orchard by Flora Ahn
Your summer vacay plans probably don't include time travel, but you can change that with this intergenerational audiobook tale. Maya loves cooking with her grandmother, aka her Halmunee, to connect with her family's rich heritage. But she could never have imagined that the strong memory the food evoked would take them back in time to the memory itself! It's only then Maya learns from her Halmunee that the women in their family have the gift of time travel... which leads her to a magical place called the Golden Orchard that's packed with trees full of people's memories. Narrated by: Kathleen Choe.
16. Don't Make Me Pull Over by Richard Ratay
This ideal family road trip audiobook describes the informal history of the family road trip. It's not so much about taking a road trip as it is about surviving one, a la National Lampoon style. Funny and fascinating, it's probably best suited for tweens and up. Narrated by: Jonathan Todd Ross.
17. The Family Road Trip Quiz by A.J. Lovegood Jr., narrated by Jessi Walters
Let this cool, engaging audiobook sound off next time the minivan is revved up and ready to go. This interactive quiz will challenge different participants, aka members of the family, to answer questions, both trivia-style and more personal conversation starters. (Nothing too personal, just things like "What superpower would you have?" and such!) Narrated by: Jessi Walters.
This article was originally published on