The Best Baby Eczema Creams To Soothe Your Little One's Irritated Skin
by Kate Antoniades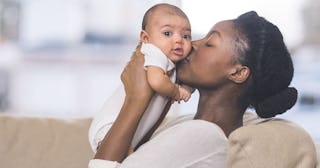 FatCamera/Getty
Baby eczema is a common condition, and while it may not be as prevalent as cradle cap or baby acne, you may find yourself in need of a baby eczema cream at some point in your child's first year (and beyond). Regular baby lotions may not be enough to take care of the problem and that's where the best baby eczema creams come in. Scary Mommy reached out to Elizabeth Mullans, M.D., a board-certified dermatologist and founder of Uptown Dermatology in Houston, Texas, to get answers. "Always choose a product that is designed for babies, ensuring it's fragrance-free and hypoallergenic," says Dr. Mullan. "Just because a cream is organic or natural, it doesn't guarantee it's hypoallergenic."
What are the causes of baby eczema?
While eczema occurs in approximately 10 to 20% of babies, the environmental causes for it can vary (although it also tends to run in families). "Causes stem from flare-ups due to skin contact with soap, shampoo, pollen, or other irritating substances," says Dr. Mullen.
What should you do if your baby has eczema?
"Parents can treat the problem at home by avoiding long, hot baths," says Dr. Mullan. "Moisturize the baby's skin frequently with fragrance- and dye-free ointments, creams, and lotions. I recommend using a mild, fragrance-free detergent such as Arm & Hammer Sensitive Skin Free and Clear when washing baby's clothes and linens to avoid further irritation to the skin."
How should you choose a baby eczema cream?
All of the baby eczema creams featured below are hypoallergenic and created specifically for babies. (To be extra cautious, you may want to do a patch test on a small area of your little one's skin first.) When a product has received a Seal of Acceptance from the National Eczema Association, we've noted it in the description.
When should you call the pediatrician?
Sometimes a baby eczema cream will solve the problem, but it's not always enough, as Dr. Mullan explains. "If the above measures are not working and you begin to notice crusty patches on baby's skin, it is time to see a doctor, because if it goes untreated, it will get worse. A doctor will be able to prescribe something to help with this."
Here are the nine best baby eczema creams to soothe and moisturize your little one's dry, irritated, itchy skin.
Best Cream For Eczema
Best Organic Eczema Cream for Babies
Emollient Cream for Baby
Anti-Itch Cream for Babies with Eczema