13 At-Home Ball Pits For Kids— Leave Those Icky Public Germs Behind
We only recommend products we love and that we think you will, too. We may receive a portion of sales from products purchased from this article, which was written by our Commerce team.
by Anjerika Wilmer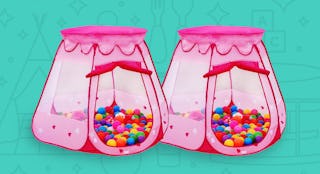 Thinking about getting your kid a ball pit? From the moment they start to crawl, kids are filled to the brim with energy. Like the Energizer Bunny, you know they keep going and going and going… Meanwhile, the rest of us (#TiredMomsClub), can barely keep up. But that's where ball pits come in. And we're not just talking about the public germ-filled ones you'll find at Chuck E. Cheese. Take a scroll through Amazon and you'll discover ball pits of all shapes, sizes, and forms—some even include a splash pool or bounce house. It's official: The kids from next door will never leave.
RELATED: Pool Toys That Will Keep Your Water Babies (And Big Kids) Busy For Hours
Entertainment factor aside, ball pits are also an excellent learning tool for teaching your baby logical thinking skills. So many bright colors and movements to process at one time! The simple act of tossing balls around an indoor playground will help develop hand and eye coordination. If you're a ball pit newbie, there are a few things you'll want to keep in mind. First, be sure to read up on the specs; an air pump may be required to blow up your ball pit. Second, colorful play balls are not always included. Extra balls can be purchased, whether that be a bundle of 50 or 500—just keep in mind that's a LOT of balls to keep up with.
Lastly, it's no secret that ball pits can get super icky (and quickly!) with spills, accidents, dirt, you name it. But have no fear: That's where all-purpose surface wipes and disinfectant sprays come in handy (we like to recommend anything from Babyganics). Simply lay the balls on an old sheet, spritz them with a cleaning solution, and let dry. Repeat the process as you see fit. Many of the inflatable ball pits you'll find on Amazon these days can just be wiped clean with a damp cloth and mild soap.
Scroll through for the best ball pits for kids that would be a nice addition to any play gym.
Best Ball Pits For Babies
Best Ball Pits For Kids
But don't let the excitement stop there! Be sure to check out the best toys for more outdoor (or indoor) fun.
This article was originally published on