I Swapped My Evening Nightcap With This CBD Beverage & I'm Never Going Back
by Amanda Davis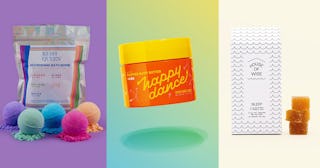 Kush Queen / Happy Dance / House of Wise
Like many, I'm someone that deals with anxiety and stress more often than I'd like, but a remedy I've found truly helpful is CBD. Whether it's in your head or an ache and pain in your body, Cannabidiol products, more commonly known as CBD products, have helped millions of people push through the day.
CBD earned its popularity years ago, but during the past year (20** … of which we may never speak of again), there was a real boom in the industry. Surprise! Being stuck at home with family, roommates, or even alone can be stressful AF. But with loads of options and different forms of CBD products to help manage different things, there is definitely a type out there for everyone. While gummies are a personal favorite, you've got CBD balms and oils for muscle aches and body pains, capsules and prerolls to help ease your mind, there's even CBD skincare with tons of benefits. Oh, and did you know there are also CBD treats and tinctures for our furry friends? Yeah, they deserve some chill, too.
RELATED: What's the Difference Between CBD and Hemp Oil?
What are the benefits of CBD?
According to Luke Fletcher, CEO & Co-Founder of Fletcher Farms Hemp Co., CBD can help different people in tons of different ways! But for most, CBD is a form of relief for three things: pain, sleep issues, and anxiety.
"[One] reason for the multiple benefits is the evidence of CBD's role in the reduction of inflammation," Fletcher explained. "Most people nowadays have an elevated level of inflammation in their bodies, whether we realize it or not, especially with the diets of modern society. When you reduce inflammation, evidence suggests you will get pain relief, sleep better, and feel more relaxed."
What is the most effective form of CBD?
Honestly, it can be a bit overwhelming with the number of options out there. And depending on your needs, one CBD product may be a better fit for you than another. (From personal experience, we can tell you that turning to CBD instead of alcohol helps us calm TF down without the inevitable hangover.)
For many, CBD oil or capsules are the most effective and the most efficient. Fletcher agreed, saying, "the argument for Full Spectrum CBD oil being the most effective is very strong and I believe it to be the best." Although his biggest piece of advice was to try out multiple things and see what works best for you. He continued, "I know people that have had a lot of success with Isolated forms of CBD but also just as many that got turned off by CBD products in general because of these Isolate products. For the most part, if you aren't bothered by a low amount of THC, Full Spectrum is going to be the most effective form of CBD [for you]."
Ironically, the one thing that shouldn't be stressful is shopping for something that will calm you down. To help you out, we've rounded up the best CBD products in every category. From bath bombs to lube (yes, lube), check out the best CBD products below.
Best CBD Capsules & Prerolls
Best CBD Bath Products
Best CBD For Pain Relief
Best CBD Gummies
Best CBD Beverages
Best CBD Beauty Products
Best CBD Oils
RELATED: Some Of The Best CBD Oils, Creams & Balms To Soothe Your Everyday Aches And Pains
Best CBD For Sleep
Best CBD For Pets