Amazon's Cyber Monday Deals Have Already Dropped, And We Are Not Done Shopping
by Phuong Ireland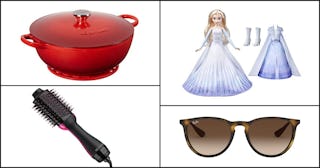 Amazon's Cyber Monday 2020 deals are live … and if you thought 2019 had bargains galore, you're going to want to stay tuned. (There go any plans we had to stop shopping post-Black Friday.)
This year, *literally thousands* of Amazon products are on markdown — and since we know you're busy, we went ahead and did the research for you. Below, we break out the very best discounts on tech gadgets, toys and games, kitchen tools, home goods, beauty products, and more. And although your credit card may be smoking, you're going to want to check out more of our favorite Cyber Monday deals available online.
If you're an Amazon Prime Member, many of these highly sought after items will arrive on your doorstep — or the doorstep of a lucky recipient — in just a few days. (*Squeal!*)
Ready…set…GO!
Like you, this story will get better with age. Keep checking back through Cyber Monday as we add even more great deals.
Top Amazon Cyber Monday Brands with Deals:
Kitchen & Home
Tech
Beauty
Wellness
Fashion
Toys & Games
Baby
If you loved these deals, there's more where that came from! Browse more of the Cyber Monday sales we're loving via Scary Mommy's shopping page.