The Best Foot Massagers For Self-Care That Starts At The Sole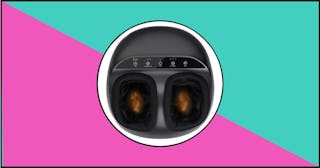 We may receive a portion of sales if you purchase a product through a link in this article.
Some people believe self-care starts from the inside out and that it should be rooted in nourishing the soul, first. For parents constantly on their feet, self-care starts with nourishing their soles, via delicious, toe-curling foot massages. Unfortunately, if you feel like you're on your feet 24/7, running errands, chasing after kids, or constantly on the go, then you probably don't have a whole lot of time for a spa trip. Fortunately, we've rounded up the best foot massagers of 2023 for at-home treatments whenever you need to take a load off (or just indulge in some well-deserved mommy time).
One of the best things about a foot massage is that you never know how bad you need one until you get one. Our feet take a lot of beating. Most of us have been walking since the age of one or two. That means we've been walking for — the number of years doesn't matter. We've been walking for a while. We'll leave it at that. The point is, these "best foot massagers of 2023" have benefits beyond just the traditional at-home pamper session.
Foot massagers are great for increasing blood flow in your feet which can alleviate pain. Through reflexology, foot massagers can also reduce anxiety and depression, reduce headaches and migraines, lower blood pressure, ease symptoms of PMS and menopause, reduce edema in pregnant women, and more.
Just like Cinderella's glass slipper, your foot massager should be the perfect fit for you. These devices come in all shapes, sizes, and price points. Some are chunky and state-of-the-art while others are simple and small enough to carry in your purse or diaper bag. For the next few minutes, think with your feet, and check out our top picks for 2023's best foot massagers. #SoleRestored
Who doesn't want to treat their tootsies like they're more important than their own children? Nothing quite compares to having the ability to slip your toes into a toasty foot massager that can restore and relax a burnt-out parent. It's a powerful deep-kneading massager, but it's quiet enough for her to use while getting a full dose of reality television. There are three different kneading preferences as well as three different air pressure levels that can easily be personalized. This massager is equipped with a rotation ball, rolling stick, heating, and compression. What's more, is that this foot massager comes with its own remote for making the experience deeply relaxing. Ain't nobody got time to bend over and adjust settings manually! Unlike your children, when you boss this massager around, it will listen with just a click of a button. You can finally put the twinkle back in your toes.
One Reviewer Wrote: "I am a preschool teacher who spends all day running around and on my feet so at the end of the day my feet are completely worn out and in pain. So I thought why not try out one of these things and see if it does anything. I am so happy with this purchase and even more surprised at how relaxing it is. This massager has three speeds and three settings to work on your feet. Also has a heating option. It's easy to use and does its job well." — Katie M.
It's okay to admit it. We've all been there. One minute you're chilling on the couch, and you get a glimpse of those feet and can't believe how busted they look. For most parents, spa days are few and far between. But just because you can't spontaneously book yourself a rubdown, doesn't mean you have to go without it. Case in point: Ivation's Foot Spa Massage takes what we pay top dollar per hour for, and channels it into a tub. Sneak the device upstairs, lock the door, and tell the kids mommy needs some "me" time. Either that or turn it into the longest game of hide-and-seek. Trust me, you're going to want to enjoy the automatic rollers (designed to knead out aches), and invigorating vibration (to enhance circulation) while your paws soak in the bubbly bath that reaches up to 122 degrees to help relieve pressure and pain, in pure silence — or close to quiet.
One Reviewer Wrote: "I am so happy with this foot bath! It is easy to use and I love the added features, for instance, being able to choose just bubbles or just the massage or both together is brilliant! Temperature control works well too. I added some Dr. Teal's Epsom Salt (with Rosemary & Mint) which added another level of relaxation and relief for my sore feet. I recommend this foot bath highly!" — Amazon Customer
I realize this wooden contraption looks like something you'd pull off the shelves of a vintage toyshop (or something like that…), but don't overlook it. The TheraFlow Dual Foot Massage Roller might not offer all the bells and whistles of a high-tech machine, but it definitely gets the job done… so, so well. What makes this foot massager stand out from the lineup is its focus on reflexology, with the goal being to target the reflexes along the bottoms of your feet with acupressure. This not only eases pain in the foot, but it also sends a signal to other nerves in the body to relax as well. This massage roller can help you find relief for a variety of conditions that range from regular sore and tired feet, to more serious conditions like plantar fasciitis. You'll be blown away at how these 10 independently-moving rollers can be more effective than electric massagers and at a fraction of the cost.
One Reviewer Wrote: "I've been using this for 1 week and wow, huge difference. I exercise daily and have been having pain [in] my heels and toes. I've been getting foot massages once a week and the pain still wouldn't go away. But since the first day using this, my feet feel back to normal. [The] pain is gone. Also, I always have cold feet even though I'm very active but since I've been using this machine my cold feet and toes are normal and warm. I guess it's getting the blood circulating throughout my feet and toes." — E
When the dogs are barking, shut them up with Miko's Shiatsu Foot Massager. This highly rated machine means business, complete with deep-kneading, subtle vibrating, rolling, and heat function installed to target and alleviate any problem areas on the foot. The heat alone can melt away the pain of a hard day. What's more, its shiatsu massage therapy combines both heat and air pressure to treat plantar fasciitis, chronic pain, muscle tension, knots, and more. It really is heaven for mamas dealing with more than just a pair of sore soles.
One Reviewer Wrote: "This massager is heaven. I use it multiple times a day, especially since I got it just after the holidays and my feet has been sore since being on my feet constantly. It massages in intervals of 15 minutes. It has multiple levels of pressure where the top and bottom squeezes the foot. You can opt to not use the rolling balls or you can choose whatever level of pressure you want or choose to have no pressure." - Ann D.
Before you gasp at the price, know that this massager offers more than just traditional foot relief. You're still getting a deep kneading shiatsu massage with multiple settings for heat, air compression pressure, and vibration for pain relief. In addition to the five settings for heating and relaxing, this massager also offers support for your calves, too. You never realize how much relief your calves need until this massager gets to work. This massager is a great investment to add a little TLC to your calves, feet, and ankles.
One Reviewer Wrote: "This device is a MUST HAVE for tired feet and calves. There is so much potential with this foot and calve massager. I noticed a huge improvement within the first 30 minutes of using it on my weary feet. I walk on average, 13000 steps a day, and at the end of the day, my feet are screaming. This device has changed my life for the better! The remote isn't necessary because the controls are so close to your fingers. This is most likely one of the better purchases I have ever made!" — Amazon Customer
Moms run the freaking world. And while some moms would do anything for a break, others thrive off that sense of control. For those of you who relate to the latter, Renpho's Rechargeable Handheld Deep Tissue Massager lets you keep that sense of control while offering total relaxation. Now that's what I like to call the best of both worlds. This cordless, travel-friendly device can be used all over the body. Need I say more? No, but I will. The percussion technology used in this massager can relax and relieve pain in the feet, the calves, and on the shoulders, neck, back, arms, and legs. The long handle makes it easy to hit those hard-to-reach spots that have been begging for a little lovin'. Safety features include a 20-minute shut-off to prevent the massager from overheating. Plus the built-in rechargeable battery can last up to 140 minutes. Ah, what we could do in 140 minutes — we may never know.
One Reviewer Wrote: "This is an amazing massager! It's really powerful! I've been using it faithfully for about a year now. You can adjust the massage tips and intensity to target sore muscles and pressure points. If some areas are a bit tender, like pressure points, back of arms, shoulders, etc., I massage over a hoodie or cardigan, and not directly on [the] skin. It really does break up those knots! I use this on days I don't have PT and right before bed, and it really helps to provide a more restful sleep!" — V. Kaye
Moms know they should dedicate every free second they can to a little R&R, but unfortunately, the right tools aren't always readily available. The trick is to collect a few knickknacks you can store in your tote for instant zen whenever, wherever. The Body Back Foot Star Massager is the perfect on-the-go accessory to start with. What looks like a doggy toy is soon to become your foot's best friend. The rubber-like construction provides a firm but comfy massage, great for relief from conditions like plantar fasciitis. The deep tissue massage releases pain-causing toxins that become trapped in the muscles and tendons.
One Reviewer Wrote: "This massage ball quickly relieves foot stress and works your inner foot muscles and tendons to make for more flexible feet. It might feel intense at first, especially if you're not used to having your bare feet touched or have sensitive feet. But keep at it. It's worth it! You can try it with socks, but I recommend clean, bare feet. Follow up with a little self-foot massage and by rubbing your calves a bit." — Rogan
If you're worried about making sure your feet are the right size for your massager of choice, this Snailax foot massager may be a great option. It doesn't keep your feet contained, giving your feet a little more freedom. Its flat design also makes this a good option for a back massage, if you put it behind you on a couch or bed. Each massage session will last 15 minutes before the device shuts off. This massager comes with its own washable cover, and it's easy to travel with.
One Reviewer Wrote: "This is the best massager I have ever bought! My husband and I have used it for a week now and we both fell asleep as soon as we use it. I use it twice and instantly I feel such a relief and relaxation that I fall asleep! I have a lot of foot pain and this has helped a lot. My husband the other night fell asleep at the couch after using it and passed the whole night in the couch! He was so relaxed." — Celigmar
Still on the hunt for a few gifts, for you or a friend? We've got you covered with gift guides for every occasion!
This article was originally published on