Mystery Solved: The Best & Coolest Gift Ideas For Teenage Boys, According To Actual Teens
We only recommend products we love and that we think you will, too. We may receive a portion of sales from products purchased from this article, which was written by our Commerce team.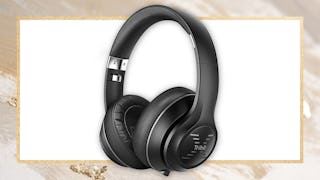 Little kids are super easy to buy gifts for, but teenagers (and more specifically, teenage boys)? Not so much. It can be even harder to buy cool gifts for teen boys than it is for girls, which is exactly why we reached out to some teens in our lives. Aged 15 to 18 years old, they shared the info you so desperately need as birthdays and holidays roll around. Yes, you can consider this the Holy Grail of the top gifts for teenage boys. You're welcome.
As Liz, mom of two, noted, "Literally, all he wants are gift cards," and cash is definitely king according to about a dozen teens we spoke with, there are still great gifts to grab for the young man in your life. While it was a little difficult to tease these answers out beyond one syllable, we did it. With all these recommendations in mind, we curated the best gift ideas for teen boys.
Tech Gifts for Teens
It's not hard to find a sports fan, and chances are the teen you're buying for likes at least one team, whether they're local or not. One teen we talked to said, "Anything sports. Literally." While teams, like the New England Patriots, have fans foaming at the mouth due to their recent spate of Super Bowl trophies, there are 31 other NFL teams to shop for, and you can go as expensive as a super neat Patrick Mahomes jersey which sells for a cool three bills and change, or you can get something that may not be quite as spendy but is still useful, such as a Green Bay Packers cap.
If the NFL isn't his thing, you can check out Major League Baseball and the dozens (and dozens!!) of Minor League Baseball teams around the country, some of which have kooky names (really — check out this Lehigh Valley IronPigs t-shirt or this Akron RubberDucks hat), or the NHL, the NBA, or Major League Soccer.
Athletic Gear for Teens
Also, if the teen in question either plays sports himself or likes farting around in the yard or driveway with his friends, then actual sports balls (or related gear) would be an appreciated gift — whether it's a football, basketball, practice baseballs, cones for the soccer pitch, whatever.
Games for Teens
First, check out if the teen has a game system, and if he does, what games he desperately needs — or has been eyeing, but doesn't have the funds available to plunk down right now. "Video games" was a phrase we heard a LOT during reporting. While the latest PlayStation 5 may be hard to come by, make sure to gift a game that'll allow them to easily switch over if they ever need to. Some new and upcoming titles to look out for (for any game console) are Assassin's Creed Valhalla, Call of Duty: Black Ops Cold War, and Cyberpunk 2077.
Clothing and Accessories for Teens
Make sure to gift your teen giftee a few practical things too! From sweatpants and socks to sunglasses and wallets — they're probably in need of one of these things.
Snacks on Snacks on Snacks for Hungry Teens
Yes, one teen boy really just said, "Snacks." Like, we get it — teen boys are hungry, and they tend to eat a lot. Really, though, he's on to something — snacks are not only a great gift, you absolutely know it's a useful gift. If you're not up for buying random stuff at your local grocery store and calling it a day, Amazon has loads of snack-type packs that are perfect. We think they're normally care-type packages intended for college students or other family members who live somewhere else, but we're betting they'd make a super gift for your teen giftee.
Gift Cards for Teens
Remember Liz, the aforementioned mom who said that her teen just wants gift cards? He's definitely not alone, as at least a solid 10 guys said they wanted them, too. While you can just buy a Visa gift card that he can spend anywhere (or an Amazon gift card, like one of our guys wanted), though, you can whittle it down a bit to what his interests actually are — whether he likes video games, sporting goods, computer parts, or books?
Love these mom-approved picks? You'll find more gift-giving inspo with our gift guides for all occasions!