Since They Don't Listen To Us Anyway, Here Are The 19 Best Headphones For Teens
We only recommend products we love and that we think you will, too. We may receive a portion of sales from products purchased from this article, which was written by our Commerce team.
by Kyle Schurman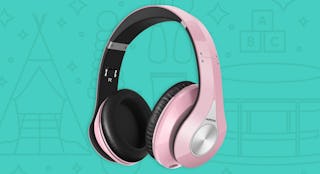 Teens love using headphones for many reasons … rudely ignoring parents or shutting out siblings while they scream being among the most common. But if you're here looking for the best headphones for teens — whether they're wireless headphones, wired earbuds, or wireless earbuds — you've come to right place. Since your kid is probably doing a lot of remote learning these days, headphones are a must in 2022. Headphones allow teenagers to shut out the extra noise when studying, relaxing, and engaging in social-distance learning. Honestly, the entire family does not need to hear your teen's AP English class discussing Catcher in the Rye for the third week in a row.
We understand buying headphones for teenagers is a bit controversial. Okay, we've undersold that a bit. Discussing the merits of headphones for kids is pretty close to starting a political discussion at the family Thanksgiving dinner. It's way up there on the list of topics you should never f***ing bring up.
On the flip side, giving your teenager headphones can be a nice opening to teach them about polite behavior and responsibility. We know. It's a nearly impossible task with these moody monsters. Hey— you signed up for it at the time of birth, even if raising a teen was not on your mind. #Don'tBlameUs
Best Headphones for Teens
When teenagers say they want a new pair of headphones, they're saying two things. They want you to pay for them, and they want Beats headphones. This highly popular model comes in red, making them even stand out more than the competition. If you gift these headphones to your teens, they'll cry for joy. But, have no fear if the price is a bit worrisome, as there are also great options for headphones at a lower price point.
The iJoy Bluetooth Foldable Headphones feature an adjustable headband, comfy earmuffs, and a five-button control right on the headphones. The foldable design makes it easy to carry wherever your teens goes and it comes in seven different colors. "Great quality headphones and can't beat the price. I would say the sound quality on these is just as good as the beats brand," wrote one Amazon reviewer. "Also, I can get f.m. radio on these, which I really like. Highly recommend!"
If your idea of finding the best headphones for teens involves spending as little as possible, these AILIHEN headphones will be your savior. They have fun colors, and they're collapsible for easy transport. And because you know your teen will inevitably lose them, they're cheap enough that you can order two pair at a time, and you'll always have a replacement at the ready.
Sometimes, the coolness factor comes from the way that your headphones look — and, while these might initially appeal more to tweens than teens, the TCJJ cat ear wireless headphones also have a ton of adult fans who aren't ashamed to rock a cat ear. While they operate wirelessly, they also come with a jack audio cable, just in case. Being able to convert to wired headphones will be especially handy if there's an issue with Bluetooth. Aside from looking cute, these also have great sound quality, especially for the price. They come in three different colors.
These Bluetooth headphones by Tuinyo are fast charging, long-battery lasting, and feature a microphone, so they're good for phone calls and gaming. The foldable pair also comes with a convenient traveling case. "These headphones are amazing; the sounds work great, it is super easy to connect through Bluetooth, and it is very easy to bring around. It folds and comes with its own carrier so it works great for when I travel and want to cancel out any outside noises. I am usually picky about headphones because they hurt my ears after a while but I can wear these for hours without them bothering me in the least," claimed one Amazon reviewer.
Thanks to its long battery life, HyperX may be the best wireless gaming headphones around. These headphones are comfortable, and also have a sleek look and a built-in microphone for online gaming. Just understand that when the teen is talking into the microphone while playing, he or she is not conversing with you. (Someday it will happen, though. Keep your chin up.)
We fully understand that placing the Bose brand on our list of best headphones for teens is a little controversial. But if it fits in your budget, these headphones are unequaled in quality and comfort. (Come to think of it, maybe you should buy them for yourself instead. You did your chores this week, after all.) These come with two good modes — "Quiet" and "Aware" — so you can even ask your teen to put them in "Aware" mode so that they don't block you out entirely.
School is noisy, especially when your teenager is trying to study… or so the teen says. So these Sony headphones rank as the best headphones for school, as they have excellent noise-canceling features to make your teen feel like he or she is the only person in the entire school, allowing for unlimited studying. (Take one more excuse off the list when the kid tries to explain away the "D" in algebra class.)
When your teen wants noise-canceling headphones and you're worried about the cost, the answer is simple — these Silensys headphones include ANC technology that helps mute out crowded environments. Easy to pair with Bluetooth-enabled devices, these headphones are comfortable to wear for long spans of time. "I have used them for gaming and was able to walk away from my computer to the other side of the house and still hear. I have made calls with my cell phone, and people have heard me clearly," said one Amazon reviewer. "Overall, I'm very impressed and would buy again.
These Riwbox XBT-880 Wireless Bluetooth Headphones features controls right on the headphones for convenience. You also have four other color! One customer said, "These are very comfortable earphones whether I go to gym or for for a morning walk on the path along the river. They have great sound and I like the fact that they are wireless and I don't have to connect clumsy cords and keep my phone connected while I'm engaged in physical exercises."
For the best headphones under $100, well, the Beats headphones we mentioned earlier will not apply. Instead, these Skullcandy headphones are more in line with your budgetary needs. These also qualify as a candidate for the best Bluetooth headphones, containing 15 hours of battery life. They may not look as nice as Beats headphones, but they're durable, which may be more important for your  teen anyway.
Best Wireless Earbuds
No list of the best headphones for teens would be complete without Apple AirPods. They're stylish and desirable, almost reaching a Beats level. They can charge wirelessly inside the included case. These also include three different tapered silicone tips, so that your kids will be able to have them fit comfortably for them. For teenagers who are fans of everything Apple, these AirPods are an amazing gift. #parentoftheyear
Some teens like the idea of wireless ear buds instead of headphones. Ear buds are so handy, they seem to be a technological miracle. These TOZO ear buds fit into a wireless charging case, which means they have storage readily available. Now, if your teen remembers to place the ear buds where they belong every night, rather than losing them, we'll truly have a miracle on our hands.
These Beats Flex Wireless Earbuds are a nice choice for teens, especially since they deliver excellent audio quality at a pretty decent price. Plus, they're part of the Beats brand, which is something even the most jaded teen can appreciate. These offer up to 12 hours of listening time, and uses Fast Fuel charging when the battery runs low, meaning you can get extended battery life in mere minutes.
Wireless earbuds are expensive. So, you may have some apprehension about giving them to your teen. Understandable. But just remember, at some point soon (if you haven't already) you will be handing this same teenager the keys to your car. (Deep breath.) Maybe take some baby steps with these Jabra earbud headphones. See if they can take care of the earbuds before you hand over the car.
For teens who have a Samsung phone, the Samsung Galaxy earbud headphones make the perfect match. (Actually, they even work with Apple iPhones too.) They have a reasonable price, which is a nice option for a gift to a teenager. They're even splash-resistant. God only knows why a teenager would need splash-resistant earbuds, but sometimes it's better not to ask questions.
Best Wired Earbuds For Teens
Apple EarPods are classic for a reason (in fact, were you even a teen in high school if you didn't have these protruding from your hoodie as you walked the halls not listening to anyone but your iPod playlist? #memories). They're comfortable, give you crisp sound quality no matter how loud your teen wants to blast their music, and are super durable (this shopping editor can attest to still having Apple EarPods from college that still hold up perfectly — and she didn't treat them super kindly).
For the teen who's very serious about music and sound in general, we recommend the Sony MDRXB55AP Wired Extra Bass Earbud Headphones. What's so great about these? Well, plenty. Available in three colors, these wired buds are tangle-free, and provide extra deep bass. They also come with four sizes of earbud tips, so your teen will be able to fit them accordingly. Amazon customers can't believe the quality, with one stating that "This is such a powerful earphone. At this price range, it is the best wired earphone I have ever used."
In-ear headphones with noise-canceling technology can serve as the best headphones for school, but they can be tough to find. These 1MORE headphones give you crystal clear sound with the environmental noise cancellation technology. They're also more comfortable than most wired in-ear headphones, which is important because you know your teen will have them in the ears more than out.
We've got lots of products for teens that they'll pretend to hate to piss you off, but that they'll secretly love.