9 Of The Best Bras For Pumping— *Hands-Free* Function For Multi-Tasking Moms
Make maternity leave as easy as possible.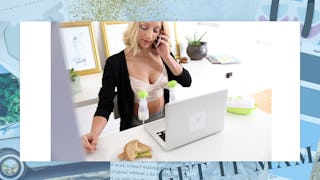 We may receive a portion of sales if you purchase a product through a link in this article.
During pregnancy, we read everything to be prepped and ready for when bb arrives. We do our homework like the best straight-A student looking to ace this thing called #momlife. Fast forward nine months and our beautiful baby is here. Then we decide to nurse and suddenly the reality of mom-hood has come to kick our ass.
Did you know that you needed a hands-free pumping bra?
The answer is yes. Yes, you need one. Yes, you need it now. Basically, without one of these, you won't be able to do anything while nursing. Forget about making calls, checking emails, or eating lunch (oh that was already forgotten…). A hands-free pump bra is exactly what it sounds like, a specialized bra that gives us multitasking freedom (life-changing!) when we're otherwise tethered.
The best hands-free nursing bras can be worn 24/7. They allow your flange to stay snug to your nipple and have room to expand or contract as your breast size changes throughout the day. No idea what bra size you are anymore? Join the club! Nursing pumping bras can have different sizing across brands, so make sure to measure before committing. First, measure under the bust where the band would sit. Then, measure across the fullest part of the bust while full. Compare these measurements to brand size charts and voilà. When in doubt, round up! If they are basic sizes like s/m/l/xl, what size shirt would be able to button closed when your breasts are engorged? Again, round up, and don't feel bad, we're all feeling pretty huge about now.
One mama who took note of the need for hands-free nursing was Emily Ironi, founder of The Dairy Fairy. Emily, herself a nursing mom and all-around superhero to the rest of us, jokes that she "gave birth to two babies six months apart." After bringing home her beautiful baby girl, she noticed a serious hole in the market for pumping and nursing mothers. Within weeks, the idea for her second baby was born. Today, her Dairy Fairy brand offers pretty bras for real moms in 12 styles, multiple colors, and 7 different sizes.
Moral of the story— nursing/pumping moms need a hands-free bra. Don't make the mistake of trying to hold your flanges every two hours. Learn from our mistakes! Here are the best pumping and nursing bras that we would recommend in a heartbeat.
Best All-in-One Nursing Pumping Bras
It's no secret that we love HATCH's entire line of maternity apparel that can be worn during and after pregnancy. But, there's something very special about their pumping bra. It's wireless, so you won't have to worry about sensitivity or discomfort, and is supportive enough to wear all day. You can easily pull it down when it's time to pump, and still manage to stay covered.
One Reviewer Wrote: "So happy with this pumping bra. It's comfortable enough to wear all day but designed in such a way that the pumping flanges stay securely in place, even when the bottles are full. Great support and multifunctional for nursing, pumping, and all-day wear."
When you're on your feet 24/7, a hands-free pumping bra is really non-negotiable. This one from Simple Wishes ticks all the boxes (comfortable, supportive, and hassle-free) and yet still manages to make you feel like you've got your sh*t together. Available in two colors, this versatile bra can be worn as a strapless band or as a tank (racer-back or halter style) depending on your preference and MOTD (mood of the day). It's also compatible with all major breast pump brands including but not limited to Medela, Spectra Baby, and Bellema.
One Reviewer Wrote: " I guarantee you won't find a better pumping bra! I bought this same one six years ago and still have it today but I needed a 2nd pumping bra. I bought a few other brands because they were cheaper but they were awful. Not supportive! I ended up buying this brand again and after 6 years, [the] quality is still amazing!"
"A cute pumping bra does not exist…" Ahem, you may want to hold that thought. If you want to feel like Superwoman every time you pump, then we recommend this alternative polka dot hands-free pumping bra from PumpEase. Touted as the last pumping bra you'll ever need, this pièce de résistance works like a charm. The convertible straps can be worn as an X-back, halter, or regular. The hook and eye closure in front will ensure a high-performance fit. Whether you're a multi-tasking mama, are returning to work, or need to boost your milk production, PumpEase does it all. Plus, the reviews are stellar.
One Reviewer Wrote: "I pumped exclusively with my son, so I spent a significant amount of time hooked up to my breast pump. Because of this pumping bra, I was able to use this to do other things and multitask, which is of course a priority for all moms. I was able to feed my son a bottle while pumping, eat lunch, read a book, do paperwork, whatever the case may be. When I went back to work it allowed me to pump and eat or make phone calls with both my hands."
Best Hands-Free Bras for Larger Bust (DD+)
If you're expecting, your friends who are already moms might have tossed the name "Kindred Bravely" your way before. When it comes to the best bras for pumping, this brand is one of the most beloved. This bra makes it easy to simultaneously pump and nurse — a daunting, yet important task. These also have a racerback design for added comfort. You can get them in two varieties, making it easy to find your best fit regardless of your bust size. And while it comes in a lot of standard colors, it also comes in bold shades that look and feel amazing, like fig and teal.
One Reviewer Wrote: "I bought two of these bras because I started exclusively pumping. I am almost done with my year long pumping journey and I wish I had bought more because they are still about the only bras I wear! Mine are pretty worn but they aren't falling apart at all. WAY more comfortable than the original Sublime Pumping and Nursing bra that has the clasp on the back."
Offering medium to high support with demi underwire, the Ayla bra almost looks like it should belong in the pretty lingerie category. Beautiful and all inclusive, the Ayla bra is available for up to I/J cup (Size 7) on the Dairy Fairy website, and up to G/H cup (Size 6) on Amazon, where you can find it in two colors. While it looks like a bralette, it offers the support of a real bra.
One Reviewer Wrote: "My Spectra S2 Plus pump flanges fit perfectly in the slits. And most pumping bras I've bought are hard to wear discreetly under clothing due to the opening by the nipple. This one overlaps very neatly one flap onto the other, so you hardly even notice at all compared to other pumping bras."
Best Hands-Free Bras for Smaller Bust (A-DD)
The Medela Easy Expression Hands-Free Pumping Bra is the Honda Accord of pumping bras. Reliable, not really sporty or stylish, but a really and truly old faithful when you need it. This hands-free workhorse zips up the front for easy in and easy out when time is of the essence. We have even layered it over a regular nursing bra when needed and unzipped when done. The sizing heavily favors those smaller than a D cup, but others who are well-endowed have made it work. The ace bandage-like feeling of the bra holds your flanges in place so that your hand can be doing other things… Reading…. Responding to emails… Painting your nails… You get the picture. While marketed to fit only Medela pumps, we have seen it work just fine with Spectra brand as well, you just have to be a little clever with how you insert your flanges.
One Reviewer Wrote: "I purchased four different pumping bras. This is the only one that allows you to move around while pumping and not lose suction. Would highly recommend for all nursing mothers. It seemed inconvenient at first to not be able to wear it all day like a conventional bra but it actually saves me time as I can assemble my pumping parts ahead of time and simply place, zip up, attach tubing and start pumping!"
This contraption is less of a bra and more of a bra frame since you wrap it around your existing tank or nursing bra. Designed to fit any and all band sizes, the Pump Strap uses breast compression to increase the natural flow of your milk. Right— because after waiting three hours to pump you need help letting it flow? But seriously, the Pump Strap allows for more in less time meaning you can get back to the more important parts of your day faster! Available in a variety of five fun colors (bonus, when you are extra tired and out of it the dayglo colors will find themselves in your pack mule lactation bag) and fits bra cup size A-DD.
One Reviewer Wrote: "I absolutely love the simplicity of this pumping bra! I can finally pump without having to get undressed. I have nursing clothes, so I can just flip up the dress or shirt, put the bra over my head and then secure the Velcro over my clothes, and pump. Then when I'm done, it's easy to get unhooked. It's that easy! I have done this several times during virtual meetings and no one was able to see a thing aside from the strap that goes around my neck."
This may not look like much at first, but it's essentially a bra sling that holds your girls in place so you can get sh*t done. Compatible even with the Spectra pump (this is no easy feat, dang those one-piece flanges!), the Bravado! Designs Maternity Clip and Hands-Free Pumping Bra clips easily over your nursing bra du jour. Officially it only clips onto other Bravado! Designs nursing bras, but...we know better. Don't we? So there's no need to look like you're wrestling an alligator as you try to shift from one bra to another. This bra is available in four colors and designed to fit up to a G cup, however, most reviewers say it runs on the smaller size so it's best suited for those less endowed ladies.
One Reviewer Wrote: "Lifesaver! I did not know about this product until a few weeks ago when my sister mentioned that my sister-in-law had a pair of these (the idea of the product, not the same brand). I had to change my nursing bra to a pumping bra every time I was going to pump, which was very inconvenient and annoying. This Clip and Pump is amazing, you just remove the clips of the nursing bra and place these instead, and presto. I have not tried any other brand but the quality of this product is through the roof, the band to clip in your back is wide and sturdy, the fabric is soft but supportive, the termination is flawless, and the overall feel is great, all superior features."
Cutest Hands-Free Bra For Pumping
Here's yet another pick from the Dairy Fairy collection. This bra is great for both pumping and nursing, and has a one-handed clip that makes it easy to access. If your pump is from a major brand, there's an excellent chance that this bra will work with it. But the best part of all? It doesn't look like a pumping bra. If you're the kind of person who treasures nice lingerie, that doesn't have to change after having a baby. It comes in four styles that you'll actually be excited to wear.
One Reviewer Wrote: "Dairy Fairy bras are absolutely the best for nursing and pumping moms. This is my third kid and I've used DF bras each time. The Rose is especially great for avoiding clogs since it is wire free and allows you to nurse and pump. Legitimately cannot say enough good things about Dairy Fairy bras in general."
Rebooting your wardrobe postpartum? Keep reading for more of our busy mom fashion finds.
This article was originally published on