Get Your Kids Lunches Organized With These 15 Easy to Open and Close Lunch Boxes and Totes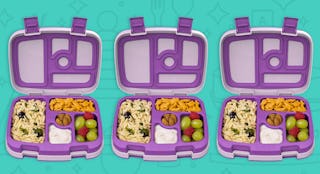 You don't know the meaning of a long lunch until you've eaten with a toddler. Inevitably, their favorite snack yesterday is their most loathed enemy today, and don't even think about letting any of the foods on their plate come close to touching each other unless you're prepared to deal with a meltdown of epic proportions. The saga doesn't end once your kids go to daycare or school either, because then you have to strategically pack a lunch, and just hope for the best. (But then again, with many kids staying home this term due to COVID-19 restrictions, odds are you'll be prepping and eating lunches at home with your little ones anyway.)
RELATED: Helpful Toddler Lunch Ideas And Tips — Because Every Kid Is Picky
Half the battle of getting your tots to eat their lunch is to prep it properly, and choosing the right lunch box is key. It needs to be easy to open and close, be sturdy, keep food fresh, and, for your sanity, be cleanable without a ton of effort. Whether your kid wants something a little fun, or a container that keeps all their food groups separated, here are 13 of the best toddler lunch boxes to make mealtime a little easier for them (and you).
Best lunch boxes for kids and toddlers:
Best insulated lunch boxes for kids:
Need more things for your little ones? Check out top kids gear picks here.
This article was originally published on