9 Toddler Mittens To Keep Those Tiny Fingers Warm & Dry
Mitts that stay on do exist.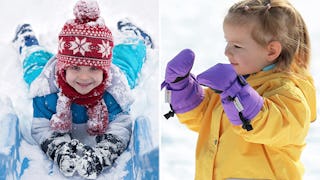 We may receive a portion of sales if you purchase a product through a link in this article.
There's nothing cuter than a toddler wearing mittens. When you finally get your kiddo all bundled up in winter gear, it's hard not to want to squish them and kiss all over their tiny adorable faces, but of course, there's a bigger purpose to mittens than cuteness. The best toddler mittens are easy to get on and stay on so that they keep hands warm and dry to prevent frostbite.
Even though they might tell you they don't need mittens because their "hands aren't cold" (I'm quoting my 3-year-old here), your little one will be a lot more comfortable (and safer) when the cold air and snowy, icy conditions hit.
What To Consider When Shopping For Toddler Mittens
Material
Not all mittens are created equal, especially when it comes to picky toddlers. If you live in a colder climate, mittens with warm lining like Thinsulate fleece or sherpa will keep hands insulated and protected, and a waterproof exterior is ideal for snow play and winter sports. For those in more temperate climates, a simple knit mitten might be all you need. Look for machine-washable options to keep mittens looking (and smelling) fresh throughout the season.
Design
If you've ever wondered how something so hard to get on can be so easy to fall off, you're not alone. Finding the right pair of mittens that actually stay on can be tricky, but it's possible. Promise. Here are some styles to consider:
Zip-on mittens are a delight for both parents and kids. They have a zipper on one or both sides of the mittens that completely open so kids can see exactly where their thumbs need to go.
Elasticated cuffs or cuffs with Velcro, also called a hook-and-loop, are good for toddlers who constantly try to take their mittens off. The closures pull the mittens tighter at the wrist to keep them in place.
Extra long mittens that are designed to go over the jacket and reach all the way to the elbows also stay on nicely, plus they keep the arms, wrists, and hands extra warm.
Thumbless mittens are the easiest to put on, and are great for younger toddlers, but some kids don't like their hands to feel restricted.
Mittens with a string or clips are really beneficial if you like saving money since little ones aren't the best at keeping their belongings together (they're actually the worst, but to be expected). A string can keep that mitten or glove pair together and clips secure the entire operation to the jacket.
Scroll on for our top picks for toddler mittens — and they're all conveniently on Amazon.
Looking for more toddler glove options? Check out more of our top picks.