29 Biggest Sports Moments of the 1990s
by Bill Murphy Jr.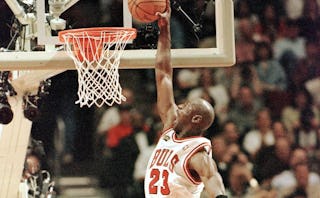 Getty Images
The 1990s were full of memorable sports achievements—some glorious, some decidedly not so. In no particular order, here are the 29 most iconic moments of that decade.
RELATED: 105+ Trivia Questions And Answers For A Challenging Game Night At Home
1. Douglas Defeats Tyson
Before the criminal convictions and the biting and the face tattoo, Mike Tyson was the undisputed world heavyweight champion, with 12 first-round knockouts in his first 20 professional fights. The man was fierce. Then, 25 years ago today, he stepped into the ring with an utterly unheralded, 29-year-old opponent: Buster Douglas, who knocked him out in the 10th round.
2. Jim Abbott Throws a No-hitter
© AFP/Mark D. Phillips
The New York Yankees had gone 10 years without a no-hitter until pitcher Jim Abbott, who was born without a right hand, threw one on September 4, 1993. (This also happens to be the only event on this list that I attended, which is why it ranks so highly on this unranked list.)
3. Figure Skater Attacked!
© Getty Images
It's sad to say that two of the items on this list involve female athletes being physically assaulted (see Monica Seles, below). In this case, Nancy Kerrigan went on to win a silver medal in the 1994 Winter Olympics. Tonya Harding went on to fight Paula Jones in a televised boxing match.
4. Rangers Win the Cup
© Getty Images
The Rangers went 54 years without winning the Stanley Cup before beating the Vancouver Canucks in a thrilling Game 7. Fans didn't realize that it would mark the start of a new championship drought.
5. Michael Jordan's Bulls Win NBA Finals
© Getty Images
Once upon a time, it was possible for fans to argue rationally over whether Larry Bird, Magic Johnson, or Michael Jordan was the greatest player. Jordan put an end to that debate starting in 1991, with the first of six championships in the 1990s.
6. 1994 MLB Strike
© Getty Images
Baseball had endured work stoppages before, but the reverberations of canceling the World Series because of the 1994 strike are still felt today. (A smaller percentage of Americans pay attention to baseball now than at any time in the last 40 years—probably longer.)
7. Scott Norwood, "Wide right!"
A 47-yard field goal is no easy feat, so it's probably not fair that the kicker for the Buffalo Bills got so much flack for missing one at the end of the 1991 Super Bowl. Things got harder for Bills fans, however, as the team went on to lose four championships in a row.
8. Cal Ripken Jr. Breaks the Record
© Getty Images
Ripken played in 2,632 consecutive MLB games over 21 seasons, a record that—I'll go out on a limb here—will likely never be broken.
9. Lance Armstrong Wins Tour de France
© Getty Images
Ultimately, almost everything Armstrong accomplished was wiped out by the revelation that he'd been "doping" pretty much the entire time. For a few years, however, his name was synonymous with the notion of hard work and great results.
10. Dallas Cowboys 1995 Super Bowl Win
© Getty Images
It wasn't really as fun or cool to be a Cowboys fan as it had been back in the 1970s, but they won three Super Bowls in four years. Credit where it's due: they were the dynasty of the 1990s.
11. Christian Laettner's Buzzer-Beater
It is a truth universally acknowledged that most God-fearing, right-thinking Americans hate the Duke University Blue Devils. This is part of the reason why.
12. 1992 U.S. Olympic "Dream Team"
© Getty Images
You know what Americans are good at? Basketball. So when Team USA lost to the Soviet Union in 1988, the era of not-bringing-our-best-players-to-the-Olympics came to a close. In Barcelona in 1992, a team of NBA all-stars took the gold medal, beating Croatia. I forget the score, but it was something like 498 to 7.
13. Boston College Beats Notre Dame
There are basically two kinds of people in this world, those who went to the University of Notre Dame, and those who hate their football team. In 1992, the Fighting Irish were up 37-0 over Boston College and ran a fake punt for a touchdown, just because they could. The next year, BC came back with a last minute field goal that made history.
14. Kerri Strug and the 1996 Olympics
© Getty Images
I have to admit that my first inclination was to write about the bombing at the 1996 Atlanta Olympics, but let's just let the guy who was responsible rot away in prison without further comment. Instead, the best image of those games was of Kerri Strug sticking a landing with an injured ankle to win the gold.
15. 1996 Yankees World Series Victory
© Henny Ray Abrams/AFP
There are a few moments I could use here to herald the arrival of #2, Derek Jeter—a Yankee that even Red Sox fans had a hard time hating. We'll go with his first World Series ring.
16. Magic Johnson's Retirement
© Jeff Haynes/Getty
Johnson's retirement, after learning he was HIV-positive, changed the NBA and the way the world thought about the virus. It also turned out to be the start of several new chapters in Johnson's life.
17. Michael Jordan Quits Basketball
© Getty Images
What to call this in retrospect? A sabbatical? Jordan played for the class-AA Birmingham Barons in 1994, batting .202 with 51 RBIs and 30 stolen bases.
18. Sosa vs. McGwire
© Getty Images
It's exhausting to have so many items on this list that were marred either at the time or in retrospect by allegations of cheating in one fashion or another. The home run race of 1998 was thrilling at the time, anyway.
19. Wayne Gretzky Traded to the L.A. Kings
© Getty Images
This is hockey's version of the Red Sox trading Babe Ruth to the Yankees. The owner of the Edmonton Oilers, Peter Pocklington, needed cash, so he traded Gretzky. There were other players involved, but this was basically about $15 million.
20. 1996 NBA Draft
© Getty Images
What more can you say about an NBA draft in which one-third of the first round picks became All-Stars? Allen Iverson went first overall, Kobe Bryant was drafted 13th, and there were a bunch of other great choices as well.
21. Tyson Bites Evander Holyfield
© Jed Jacobsohn/Getty
Ugh. So sad.
22. Tiger Woods Wins The Masters
© Getty Images
No golfer has ever dominated this game the way Tiger did in his pre-philandering prime.
23. 1990 U.S. Open Men's Tennis
© Chris Cole/Getty
If you liked tennis in the 1990s, you chose a side in the Agassi-Sampras rivalry, which began here.
24. 1994 World Cup in the USA
© Getty Images
Let's face it, until 1994 almost nobody over the age of 9 in the United States cared about soccer. The World Cup in the USA brought sold-out stadiums, the debut of MLS, and a rising fan base that gave way to 18 million people watching the United States play Portugal last June.
25. Canadiens Win Stanley Cup
© Getty Images
Yet another championship remembered more for what didn't happen afterward. When the Habs won the Cup in 1993, nobody realized it would be the start of a drought in which no Canadian team would win the cup for 22 years—and counting.
26. Chris Webber Calls Time Out
© Getty Images
The Fab Five at Michigan were arguably the greatest recruiting class in the history of college basketball. It might have been a metaphor for their future scandals, however, when Webber called for a timeout in the NCAA championship game, not realizing his team didn't have any left. The misstep resulted in a technical foul, which effectively handed the game to North Carolina. Not that it matters now, since Michigan's entire 1992-93 season is considered void due to a player payment scandal.
27. Monica Seles Attacked
Seles was the face of women's tennis in the early 1990s, with eight Grand Slam victories before the age of 20. In 1993, however, an obsessed fan ran onto the court and stabbed her. She ultimately recovered and even won the 1996 Australian Open—but her game was never the same.
28. 1999 Women's World Cup Victory
© Getty Images
The final in which the U.S. beat China in the Rose Bowl on July 10 was the best-attended women's sports event in history, with 90,184 fans.
29. Adam Vinatieri Tackles Herschel Walker
It seems like ancient history now, but back in the 1990s the New England Patriots were one of the NFL teams that had never won a Super Bowl. Fans had to look for bright spots like this one 1996, when then-rookie kicker Vinatieri ran down and tackled the Cowboys' Herschel Walker, prompting the Patriots coach to tell him, "You're not a kicker—you're a football player."
This article was originally published on