I Changed My Mind About Giving My Baby Up For Adoption, And I Have No Regrets
by Ally R.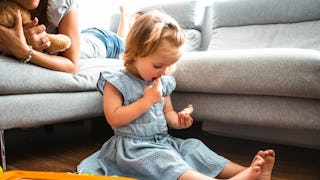 franckreporter / Getty Images
I got pregnant at 15. Her dad, Carter, was my best friend, but we were both emotionally unstable at the time. I was actually in residential treatment when I found out that I was knocked up. It was terrifying. Telling my mom was among the hardest things I've ever had to do in my life. Telling his parents was also truly nerve-racking, but we did it.
After talking things over with my mom, I decided to make an adoption plan. My mom had me at 14, and while she made it clear that I hadn't ruined her life, common sense told me that being a young mom was far from easy. I wanted my daughter to have things I couldn't give her. While money wasn't an issue — Carter's parents were willing and able to help us — my personal preference was for my daughter to have two married parents who were emotionally stable and able to provide for her in every aspect of her life.
We met with an adoption agency and got the ball rolling. We carefully selected the adoptive couple — the father was a neurosurgeon and the mother a psychiatric nurse practitioner who planned to stay home with the baby for the first year. Plus, the father planned to use his three months of paternity leave to bond with the baby. They had a solid marriage, five years strong. They had a dog, a cat, and a lizard. And perhaps most importantly, they shared our values on equality. They were also mixed race, something important to Carter who was a transracial adoptee living in a primarily white state. They were honestly the best couple we could have asked for.
We had multiple meetings with them. We ate dinner together, visited the park, and we even got a tour of their home. I received an invitation to attend the baby shower for my daughter, and I happily attended.
We made an open adoption plan. Since we lived in the same state, we agreed upon bimonthly visits and weekly text or email check-ins. In all honestly, our open adoption plan was probably a dream for most birth parents. Both Carter and I discussed the topics with our therapist, and we even attended couple's counseling to process our thoughts and emotions.
Everything was falling into place. That is, until my daughter was born.
Molly Grace Marie was the most beautiful, most wonderful 6 pounds of human that I had ever seen in my 15 years on the planet. And the moment I held her in my arms, I knew that letting her go was going to be impossible.
The moment that the nurse placed her in Carter's arms, he looked at me with his eyes filled with tears. Our eyes had an entire conversation that our mouths could not.
"We have to keep her," Carter whispered.
And those five words resulted in one of the hardest moments of my life. I had to tell my daughter's adoptive parents who had a nursery and a baby shower and a car seat already in their car that I was going to keep my baby girl.
It shattered me to have to tell the woman I thought was going to be my daughter's mom that she couldn't take my baby girl home. I could barely look into her eyes as she cried. My heart truly broke for her. But the thought of handing my daughter over to them suddenly felt impossible. She was my own flesh and blood, and I couldn't imagine only being able to see her every other month.
That's what a lot of people don't understand when they express their anger at biological parents who change their mind about adoption. Yes, it's very painful for the adoptive couple to hope, prepare, and plan for a baby only to realize that their dream has been shattered. But I can promise that it aches just as much for a woman to carry a child inside her body for nine months, to feel that child move and grow, and then to go through childbirth and have that child placed on her chest and know that she can't give her up. The intensity of that connection is hard to ignore. And the pain brought on by the thought of having that severed was unimaginable.
The termination of the adoption plan hurt. It hurt, too, after the prospective adoptive parents blocked me on Facebook, and I learned through a mutual friend that they publicly slandered me and Carter — making several posts about how "poor, sweet Molly" was going to be raised by mentally ill teenagers. My heart aches that the couple we thought we had connected with would say such awful things about us. We understood their anger, but we didn't expect the personal attacks.
We were determined to give Molly the best life possible.
Now, three years later, I'm a senior in high school and am on track to graduate in May. I was accepted to Berkeley College of music in Boston, and Carter will be attending Boston College alongside me. Down the road, we'll have even more support as my girlfriend currently attends MIT. In addition, we both have family in the surrounding area. We found a great daycare for Molly and have lined up an amazing preschool for her to attend when she turns 4 next year.
Our future is bright.
Although Carter and I are not together, we have a strong relationship. We are best friends who happen to have a daughter together. Molly will grow up with two parents who love each other very much, but who aren't married. And that's okay. She'll have a stepmom (or two, as I'm bisexual), but she'll have a huge support system of people who love her unconditionally. She will be happy, supported, and successful.
It has been a crazy, wild ride. But never for a single moment will I regret my decision to keep my daughter. She is my world, my lifeline, and my reason for breathing. Imagining a world without her is akin to imagining a world without oxygen: impossible.
This article was originally published on