10 Things To Do In Buenos Aires With Kids
by Stephanie Lee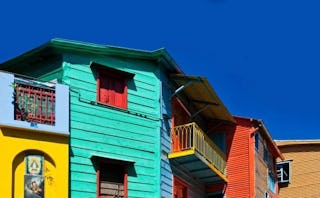 I have found my current home of Buenos Aires – the land steak and tango – to be surprisingly child friendly. If you happen to find yourself in Buenos Aires with kids, I can personally attest to that fact that you don't necessarily have to forgo the (highly underrated) practice of lunch wine while simultaneously showing your rug rats a pretty decent time.
Some of my favorite family-friendly places are as follows:
1. El Museo de los Niños. If you're looking for a children's museum on crack, right in the middle of a shopping mall (also on crack), then look no further than El Museo de los Niños. This is on the regular rotation for BA moms because it's a favorite of kids of all ages. It gets really crowded on the weekends and doesn't open until 1pm but if you're here and in need of some quick, guaranteed fun for the kiddos you'll find it here. This is actually the only completely indoor place that made my list.
2. Parque de los Niños. Not to be confused with El Museo de los Niños, Parque de los Niños is an outdoor attraction best enjoyed during the warm (ok, excruciatingly hot) summer months. This park is maintained by the city of Buenos Aires and has recently been branded "Buenos Aires Playa". While the use of the word "playa" (beach) is a bit of a stretch, the park does have an area of sand complete with chairs and umbrellas. The park also has playgrounds, spray grounds, moon bounces, sporting equipment and my favorite, people watching.
3. El Parque Las Heras. Downtown Buenos Aires has no shortage of park space. In every neighborhood (barrio) you will find at least 1 fairly decent playground. Most of the playgrounds have wooden slides – I mean the actual slide part is wooden. My 4-year old finds the splinter potential to add to the charm. The play areas are also mostly covered in sand. In the summer, if you close your eyes and maybe let some of that lunch wine influence your perception, the communal use of various buckets and shovels almost makes you feel like you're at the beach.
Nevertheless, a favorite park of ours is Parque Las Heras in the Palermo neighborhod. Here you will find the aforementioned playground experience as well as a carousel, some easels set up where little ones can paint for a small fee, some power wheels for rent, and tons of dogs. It's worth noting that anywhere in Buenos Aires requires constant poop-on-your-shoe vigilance.
4. Freddo. I'm pretty much an ice cream addict. Thankfully, in Buenos Aires they are really good at whipping up delicious frozen treats. Freddo is a well-known ice cream shop that can be found on pretty much every corner of the city. I recommend anything with the words "Dulce de Leche". Dulce de Leche itself is deserving of its own bullet and description, but I'd rather not use too much space embracing my inner fat kid.
5. Caminito (La Boca). Caminito ("little walkway" or "little path" in Spanish) is a street museum and a traditional alley, located in the downtown neighborhood of La Boca. This attraction is best reached by cab in the middle of the day as the area gets a little seedy when the sun goes down. We always bring our visitors here and my 4-year old loves the touristy fanfare. You will find street tango demonstrations, photo ops with various Argentine characters (tango dancers and the well-known and loved football star Maradona), great souvenirs, decent snacks and enough brightly colored buildings to meet your yearly quota. You can walk the strip of shops and restaurants, gawk, treat your kids to an "alfajore" (Dulce de Leche cookie sandwich) have a glass of wine and call it a day, or more realistically an hour. I think I read on TripAdvisor that if you spend more than an hour here you're doing it wrong. True story.
6. River Plate Stadium. A good place to check the "football (soccer) culture immersion" box is River Plate Stadium. It's located centrally in Buenos Aires and is the safer of the two in town. The team also won the league last season so the crowd energy is pretty exciting. I've been here with kids, though not my own, and it seemed to be safe as long as general crowd awareness is followed. No booze is allowed in the stadium which is comforting because things can get pretty rowdy. I'd suggest finding tickets through one of the many tourism companies.
7. Peru Beach. If you make your way out to the northern suburbs (easily accomplished buy cab, train or bus) you may want to spend an hour or two at Peru Beach which is again, not really a beach. Here you will find snacks and drinks, a grassy area overlooking the water and a rock climbing wall for older kids. We live nearby so it's not uncommon for us to drag the family here on a warm day to kick a ball around, fly a kite and just enjoy the view.
Down the road is a favorite restaurant of ours, El Nandu. Very kid-friendly (crayons for writing on the table are provided) and definitely worth checking out because the food is awesome. A bottle of wine will run you about the equivalent of 5 USD. Yes, Argentines love wine and they aren't too shabby at making it. If wine is your thing, then just keep in mind that even though it matters very little in Argentina, it is indeed 5 o' clocksomewhere.
8.Tigre. If you are looking to buy stuff then Tigre is your place. Once you arrive via the "Tren de la Costa" you will immediately be spit out among a huge street fair. Within walking distance there is an arcade, plenty of food to be had and endless places to part with your pesos. There is also an actual amusement park here but I haven't yet been so I can't say if it's any good but the roller coaster looks decent.
9. Zoológico de Lujan. While I am not a huge fan of animals in captivity, Zoo Lujan was a must on our list of things to do as soon as we arrived. Google it, click on "images", notice all the people smiling happy alongside real lions and tigers and bears and understand why this place needs no further explanation. It's outside of the city but well worth the trip and the pictures you are guaranteed to take and frame.
10. Temaikèn. If you have reasonable zoo expectations then Temaikèn won't fall short. Here you will find 178 acres of "biopark" fun. The grounds are very well kept, the animals appear content and the focus is on environmental research, education and preservation. It's more than just a zoo. Honestly though, I'm a sucker for a photo with a tiger, so if I were coming here for a week and had only space for 1 of these on the agenda I'd have to pick Lujan.
Got any other Buenos Aires tips? Leave them in the comments!
This article was originally published on