If Your Daughter Acts Like A Mean Girl, I'm Gonna Call Her Out
by Laney Morrison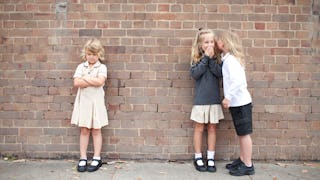 WANDER WOMEN COLLECTIVE / Getty
I'm not generally in favor of involving myself in other people's parenting, but if your daughter displays mean girl behavior in my presence, I will call her out.
The other evening, I was driving my 8-year-old daughter and her three friends to soccer practice. I love driving my kids around with their friends because I learn so much. I learn what books they're all reading, who their favorite (and least favorite) teachers are, what they watch on YouTube, what music they like. They're in the backseat chattering and sort of forget I'm there—they let their guard down.
So, the other night, one of my daughter's friends started badmouthing a little girl that my daughter has known since pre-K. The little girl had been held back a grade, and my daughter's friend was railing on about how she "heard" the little girl had been acting up in class and people were saying she "deserved" it.
It wasn't the first time I'd overheard my daughter's friend engaging in that kind of catty "mean girl" talk. She is often harsh and judgmental with her words ("What? I hate that song. You like it? UGH"), but the other girls usually stand up to her just fine, so I mostly keep out of it. And the first couple of times I heard her talking about someone who wasn't present, I let it slide and diverted the conversation to a different topic without explicitly correcting her. I gave her the benefit of the doubt, thinking maybe she was having a rough day and was lashing out uncharacteristically.
But this time I didn't let it go. I happen to know the little girl who was held back since my daughter attended pre-K with her. I know her mother too. I know she and her husband struggled to help their daughter adjust to school and that the decision to have their daughter repeat a grade was a difficult one.
Not that any of those details ultimately matter. Even if I didn't know the little girl, by this point, I'd heard my daughter's friend say enough shitty things about other children that I was sure her behavior was habitual. She needed to be called out.
My daughter was doing her best to stick up for the other girl, saying she was a really nice person, that she'd known her since pre-K and she never got in trouble for being disruptive. But the gossipy friend wasn't having it—she just kept talking as if having been held back a grade was some kind of punishment for bad behavior.
I turned down the music and addressed my daughter's friend via the rearview mirror. "You know, saying ugly things about someone, especially someone who isn't here to defend themselves, really isn't a very kind thing to do."
"Oh, I know, I'm not saying anything bad, I'm just saying what other people were saying."
"Well," I said, "there's a name for repeating mean things that people say about others. It's called gossip. You're saying things about this person even though you have no idea if they're true or not, and you're doing it when the person you're talking about isn't here to defend herself. If I were held back a grade and found out someone was saying I'd deserved it, it would really hurt my feelings. What if she were here in the car with us? Would you still say all these unkind things about her?"
"No, I guess not."
"I didn't think you would. And that's all the more reason not to do it when she's not here. If we're going to talk about other people, it should only be to say something nice about them."
The little girl changed the subject—to another little boy she wanted to badmouth. I waited to see if she'd catch her slip-up before I needed to correct her again. Having heard what I'd just said about gossip, the other three other girls in the car remained quiet, and the awkward silence was enough for our little mean girl to realize she needed to put on the brakes. After that, I started an entirely new conversation about the weekend's upcoming soccer game.
I haven't discussed this exchange with the girl's parents, and unless the issue comes up again, I'm not sure I will. I don't think this is a parenting problem because her two siblings, one older and one younger, are extremely polite, thoughtful, and kind, and I know the parents encourage generosity and kindness in their household. I also know that the parents are proponents of the "it takes a village" mindset and would have no problem with me calling out their kid. They also wouldn't hesitate to call out one of my kids if they were having a dicky moment.
But, to be honest, even if I didn't think this little girl's parents would be okay with me correcting their kid, I would have done it anyway. I was nice about it, and also, there were two other little girls in the car besides my own who were being forced to listen to her venomous talk. Remaining silent would have made me complicit, and it would have sent the message that I tolerate that kind of behavior. Kids die by suicide because of this stuff. No way am I letting it persist in my presence. So, really, if your kid acts like a jerk and I hear it, whether you like it or not, I am going to correct them.
After soccer practice, once we'd dropped the other girls off at home, I told my daughter I was proud of her, not only because she didn't join in on the gossip, but because she actively spoke up and defended the girl who wasn't present. I told her I expect her to always do this. I told her there is way too much ugly in the world, and those of us who want to spread kindness need to also be proactive about stomping out hatefulness—we need to be upstanders. And, to me, part of being an upstander is correcting someone else's kid when they're acting like an asshole. And I welcome anyone else to return the favor.