Why A Small Encounter With A Homeless Man Had A Huge Impact On Me
by Hannah Tonti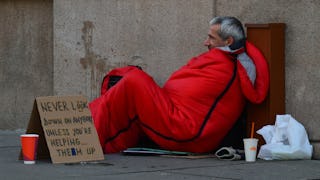 Pixabay
The Golden Rule in life is to do to others what you want them to do to you.
As a child, I was raised on this very simple principle.
It wasn't that hard to grasp. Give others respect (even if they don't give it back), be kind to others no matter what because you never know what someone else is going through, and always lend a helping hand to those who need it. These three attributes remind me of one word: compassion.
Such an effortless quality that seems to be so difficult for the human race to achieve in this world we live in today.
We cannot let it die. I cannot let it die.
Earlier this week, I encountered a situation where I normally do not take action, but something overcame me and I could not turn my head the other way.
I was going about my normal routine on a Friday.
Wake up at 9 a.m., eat breakfast, get ready, and head out for work by 10:10 a.m.
Arrive at work, work, leave work. You get the idea.
2:45 p.m., I headed to a monthly beauty appointment. An appointment that is nowhere near a necessity but a luxury.
3:30 p.m., I start driving to Walmart. I was planning on looking for accessories for a couples' costume for my boyfriend and me.
As I entered the four-way stop to get to the Walmart parking lot, a sign caught my eye. A homeless man was standing on the sidewalk parallel to my car, not an uncommon place for the homeless community.
Normally, the signs only ask for money or food. But this one was different.
"Just a sleeping bag or blanket for cold nights."
Now to put this into perspective, I would only have had about five seconds to read the whole sign, so in retrospect, the only words I saw were sleeping bag or blanket. Well, those words were enough.
I was immediately caught off guard, and for some reason, in shock. I had never seen a sign asking for those items before. As I sat in my car for over five minutes trying to grasp what I had seen, I knew the one thing I needed to do.
One sleeping bag $17.98, one fleece blanket $2.50, one $15 Burger King gift card.
I went to the older man holding the sign, carrying the items in my hand, and all he could say was, choking back his tears, "God bless you. God bless you. Thank you so much. Thank you. Thank you." I wished him well and told him to stay warm and go eat some dinner. The encounter was short, and I as walked back to my car, I couldn't hold it in any longer.
I can't possibly explain the whirlwind of emotions I was experiencing. I was crying, a lot. At first, I didn't understand why this type of encounter had affected me so deeply.
Now I know why.
This man, someone who is completely overlooked by others, who has probably experienced things unimaginable to most of us, wasn't asking for money, he was asking for survival.
The simplicity of only asking for a blanket or sleeping bag to keep him sheltered from the intense winter nights, while I was wearing boots, a sweatshirt, with the heater blasting in my car, headed to my cozy home, put things into perspective for me.
Thirty-five dollars was all it took to give this man survival in the harsh Reno winters and a glimmer of hope that there is still humanity in the world he lives in.
It showed me that any small act of kindness can really change someone's life.
This small encounter matters so much to me for one reason: In a world full of so much hate, cruelty, and violence, we need to start filling it with love, kindness, and compassion for each other.
So after reflecting on my actions, I hope they've inspired you to pay it forward to those who are struggling in this world. No matter how little or big, you never know how much your actions could impact someone's life.