This Dad's 'Maternity' Photos Are Hilariously Perfect
by Mike Julianelle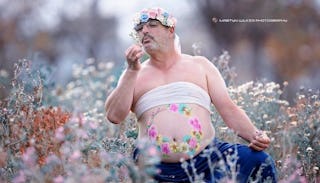 Image via Martyn Wilkes Photography
A dad put his own spin on maternity photos and the results are disturbingly funny
A photographer enlisted a friend to pose for some maternity photos and you should take a minute to catch your breath because one you get past the weirdness, you'll be convulsing with laughter.
Photographer Martyn Wilkes had the idea to parody the overwrought maternity photos many women take before they give birth, and luckily, his friend Paco was willing to lend his "rather large stomach" for the project. We had a chance to chat with Wilkes and he tells us, "I wanted to do something a bit crazy, have some fun and why should it only be the mothers who have their moment in front of the camera?"
Touché.
The Huffington Post interviewed Wilkes about the shoot.
"I had been recently doing lots of maternity work, and I wanted to do something different to break things up and have a bit of fun," he said. "I have known Paco for four or five years and admittedly often jested about his rather large stomach, which resembled a pregnant mother."
BURN. But also, I can see it?
The photo shoot actually took place a year ago, but the resulting images are still going around. For good reason.
The photographer was aiming to generate publicity for his work, but his true goal was a bit more basic. "The main thing I was looking for was to make people laugh."
Looks like he pulled it off.
The project was Wilkes' brainchild, and the floral headband, stomach painting, and other accessories were his idea. But it's Paco, and his total commitment to the role – and the killer facial expressions he brought with it – who owns the shoot.
Your mileage may vary, but my favorite part is the floral headband.
It's pretty much a toss-up though, between the headband, the belly paint that adorns his prodigious, third-trimester baby bump, and how they chose the name of the fictional baby.
Both Wilkes and Paco, whose real name is Francisco Perez, are fathers. The photographer has a 5-year-old girl and 13-month-old boy, and Paco has two grown daughters, 22-year-old Natalia and 26-year-old Virginia.
After Natalia was born, Paco's wife enlisted him to officially register her name, which was to be Noelia. But on the way to the office, Pérez stopped off at a pub or two, and when he ultimately wrote the name down, the clerk read it as "Natalia."
22 years later, he honored his wife's request with this photo shoot. And made the internet happy too.
This article was originally published on