There's A Dead Parakeet In My Freezer
by Andrea Chacos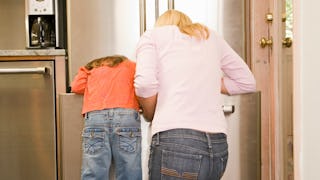 Paul Burns / Getty
We've been keeping a dead bird in our freezer for months now. She's snuggled up in a dryer sheet parked next to the tub of vanilla ice cream and a bag of corn. Every time I move the stiff bird aside to grab some ice, I ponder how to best part with her in style.
One afternoon, my daughter found Jordy on the bottom of her cage. The bird lay motionless and had that vacant stare that will probably haunt my children for decades. No one can be sure, but our family parakeet may have been scared to death by the family cat. Only the dog knows what happened that fateful afternoon, and she's not about to share.
Since that dark time, many moons ago, our family moved into a new home. Naturally, the frozen bird moved with us. Now that we're somewhat settled into our new digs, I think it's time for the bird to move out. Explaining to visitors why we keep a freezer-burned pet simply sounds silly after a while.
How to memorialize the family bird in a dignified manner is tricky, especially when you come equipped with a twisted sense of humor. However, I knew the responsible thing to do was first remind myself the stages of grief before moving forward with any of my ideas. Then I read about how adolescents perceive the death of an animal. I actually heard the pain in my children's voices as my husband and I listened to the many, repetitious stories about their beloved pet. I worked hard at finding empathy, and tried to keep a stoic face, as I realized they were learning how to cope for when the stakes are inevitably higher.
Next, it was time for me to plan an epic "Celebration of Life" for the bird. My children ultimately needed some closure, but really, I just wanted the space back in my freezer. At first, I wanted to sit Shiva but we were in the midst of moving, and our furniture was already packed. Next, I called on a volunteer firefighter to help me devise a plan for a Viking funeral, but he told me that's illegal. Then I thought up a more formal ceremony and asked a friend to give the vigil and follow with a somber eulogy. He thought quoting Monty Python with an English accent would be better instead. Lastly, I settled on flames and fireworks, but our HOA wouldn't even hear of it.
Finally, the timing was right to put this bird to rest. I insisted on having a quorum and found it easily during our recent Super Bowl party. Then all I needed was the right moment to gather everyone outside for a minute of reverence.
Digging a deep hole in winter with only a trowel, however, caused a bit of delay. So was cutting through the weed control barrier the previous owners placed in the garden. Time was ticking, but an observant friend kept the moment moving with a toast, another started humming "Taps" in the background, and someone quickly offered sentimental words. Magically, we made it back inside just in time to seamlessly refill our plates of food and watch the halftime show.
No doubt my kids will always remember the funeral where we had chili, wings, chips and the adults all drank beer yelling at the television. I did breathe a sigh of relief when I watched my daughter wipe away a few tears, and then settle in for the second half of the game cheering loudly.
Recently, I caved in the aisle of the local pet store when my kids begged me to get another parakeet. "Bob Von Schizzle can never replace Jordy," I simply said to them when we brought the new bird home. But I think I was actually speaking more to myself instead. The first intimate experience with death my children had to face was complete; and, they handled it with all the compassion, care and grace that would make any mother get teary-eyed at a pet funeral.
This article was originally published on