I Didn't Do Anything Today Because Of You
by Samantha Wassel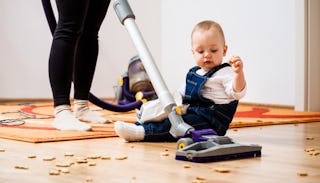 Today didn't go as planned.
I didn't do any of the things I "needed" to do.
In fact, little one, because of you, I really didn't do anything.
I didn't do any of the laundry that's been piling up for days, spilling over the sides of the hamper and tripping me every time I walk across your bedroom floor.
Instead, I watched you grab every piece of clothing out of your drawers, trying on and discarding twenty different outfits before finally settling on the "big blue choo-choo shirt" and pulling it proudly over your head, all by yourself (inside out, of course).
I didn't put together the bookshelf we ordered from Amazon last week.
Instead, I sat with you in the fort you constructed – your Mario blanket draped between the box of bookshelf pieces and the top of the TV stand – and read you stories.
I didn't practice your ABCs with you like I've been meaning to.
Instead, I practiced patience, biting my tongue to keep from yelling when I saw the little trail of Cheerios you left throughout the house, à la Hansel and Gretel (one of the stories we read in your blanket fort).
I didn't drive the van to Jiffy Lube for an oil change, even though that annoying little warning light on the dashboard has been flashing for a week.
Instead, I raced Hot Wheels cars across the kitchen floor with you, listening to you laugh hysterically when they hit the cat and caused her to run, hissing, out of the room.
I didn't cook that chicken that's been sitting around in the freezer for weeks.
Instead, I joined you in front of your toy kitchen, and I let you make me plastic sandwiches while I sipped pretend coffee.
I didn't call the maintenance guy about the stupid malfunctioning dishwasher.
Instead, I called you on the rock "cell phone" you handed me in the backyard. And we talked about bugs.
I didn't have a chance to run to the post office and mail your Aunt's birthday gift.
Instead, I ran around the front lawn with you after lunch, pretending to be a dinosaur as you shrieked "Sharp Tooth!" (I also watched The Land Before Time with you while you ate.)
I didn't lie down and take the nap my mind and body were craving.
Instead, I rocked you to sleep during your nap time, because you were scared that there might be a real Sharp Tooth in your closet. (Maybe the dinosaur game wasn't such a great idea.)
I didn't clean the bathrooms … or the microwave.
(OK, who am I kidding? I never really planned on cleaning the bathrooms … or the microwave).
I didn't get around to the stacks of photos that have been accumulating on top of my dresser for months – I didn't get to sorting through and organizing all those memories.
But I did make some new ones.
I didn't get to squeeze in a workout.
But I did get to squeeze you, and I got to feel you squeeze me back.
My arms didn't carry in the bags of groceries that I'd planned to get today, so the refrigerator is still practically empty.
Instead, they carried you.
And my heart is full.
I didn't even take a shower.
But I did take a moment.
I took a moment to watch you as you neatly stacked your blocks by color, singing "Everybody Wants to Be a Cat" while you worked. (You saw The Aristocats for the first time last night.)
I took a moment to listen to you play with the minion Happy Meal toy you got last week, rambling nonsensically about your little "banana guy," and how much you love bananas, and how bananas are yellow and so are your socks and why doesn't the kitty wear socks or eat bananas, and why does everybody want to be a cat?
I took a moment to drink in your smallness, your perfection, your endearing – albeit exhausting – sense of mischief, and your fierce imagination.
I took a moment to grasp at the lingering fragments of your fleeting childhood.
I look around this house – at the stacks of dishes teetering near the sink, the heaps of laundry strewn about the floor, the food spattered in the microwave, the untouched to-do list scribbled on the white board.
Then I look at you – at the smile on your face, the laughter in your eyes, the radiance of life that emanates from your tiny self. A tiny self that is becoming less and less tiny, every moment of every day. A tiny self that is still happy to invite Mama into his tiny, magical world.
And I realize:
No, my little one: because of you, I didn't do anything today.
Today, because of you, I did everything.
This article was originally published on