8 Ways Divorce Made Me A Better Parent
by Jessica Hoefer-Land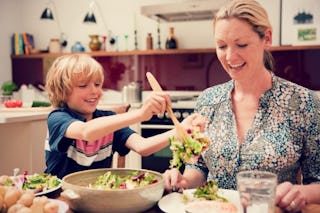 Photo_Concepts / iStock
Even though we hear kids are "resilient," divorce still leaves them with permanent scars. I know because I grew up as a child with divorced parents. I always told myself I would never put my children through that same kind of trauma; yet after 18 years of marriage and two children, I found myself doing the very thing I said I would never do. Naturally, I felt extreme guilt that I had failed not only as a wife but also as a mother to my children. Yes, my kids were "resilient" to a degree, but there was still plenty of grief mixed in.
Related: How To Be A Better Parent Without Striving For Perfection
While their father and I co-parent very effectively, it certainly doesn't close the gaping hole divorce leaves. Now, schedules are trickier, and my heart lurches every time my kids ask whom they are going to be with on the weekend. My eyes well up with tears when my children's father and I have to divide up birthdays and holidays. When they are with him, the hallways are silent and their rooms empty.
Yet in the midst of all the angst, I found out something about myself. I found that I'm actually parenting better since I divorced. No longer in the deep throes of arguing, counseling, separation and avoidance of one another, I now have a feeling of relief that that part of my life has concluded.
I'm parenting more effectively now that the dysfunction that ruled in our home and in my life is now gone. With this comes a new clarity and purpose. The separate time my ex-husband and I have with our children is more valued and is filled with deeper conversations, honest emotions and joy filled moments. There is laughter again. There is more security and stability.
Once the dust of transition had somewhat settled, I found myself in an entirely new stage of life—one that held possibility, new beginnings and even peace. With this new stage, I discovered some significant improvements in my relationship with my children, too.
1. I Became Focused
I can concentrate on my kids with less distraction. Rather than having only half of me due to the turmoil in our home, my kids are able to have my undivided attention with fewer interruptions.
2. I Became Intentional
With life settling, my stress level has eased. This has allowed me to be present for my kids and to lean in with more purpose and dedication.
3. I've Learned to Let Go of the Stuff That Doesn't Matter
On my journey, I have found so much "stuff" that simply doesn't matter anymore. All I have is right now in this present moment. I am choosing to embrace it because I know it's a gift not to be taken for granted. It has taught me the lesson of mindfulness.
4. My Health Has Improved
During my divorce, it was easy to eat like crap and let my physical health slide. I'm now on a track towards wellness. I'm eating better, making smarter food choices, and engaging in exercise such as yoga and walking. My children have seen the benefits, too. I'm not as tired or depressed, I'm more active, and I feel so much healthier. This noticeable difference has actually inspired my kids take better care of themselves too.
5. We Have More Quality Time Together
Because my children's father and I have shared custody, I work to make sure my time with them is centered. I schedule non-family activities and appointments when I don't have them. Time with my children takes priority, and whether it's simply a movie and popcorn or an event-filled day, I make it count.
6. I'm More Relaxed
I used to be the type of parent who felt I was failing as a mother if I wasn't engaged in every parent club activity. Now? Not so much. The fact that my kids are healthy, happy, well-adjusted tweens and teens is enough. I don't need to make sure that I'm involved in every fundraiser, or that my kids are engaged in every after-school club and sports team, in order to justify my success as a mother.
7. I 'Kon-Maried' My Personal Life
Based on the principle of Marie Kondo's book, The Life-Changing Magic of Tidying Up, I eliminated things that didn't bring joy in myself or my children. I'm not talking about clothes and household goods, although there is definite value in addressing those. I'm talking about people we associate with, what we surround ourselves with, and what we engage in. Frankly, if it is a burden on our personal lives and inhibits growth and joy in my children, it's gone. We don't have the time or energy to deal with toxic people or negative personalities. It's been a freeing experience and a relief for all of us. It's OK to say "no" to the unhealthy or unnecessary.
8. I've Learned to Appreciate Simplicity
The smallest gestures are bringing the greatest rewards lately. Whether it's sharing a family meal around the table or helping my children with homework, I'm grateful for the opportunity to parent my kids. I have discovered great joy in simple pleasures.
Periodically, I check in with my kids to find out how they are coping with the divorce. I was expecting a difficult conversation but was surprised by their response. My kids told me that yes, it was difficult, especially in the beginning, but they had noticed positive changes in both their father and me. They were relieved that our arguing had ended. It made them happy to see us more happy, and they understood that to stay together just to keep the "family unit" intact wasn't necessarily the right choice. My 13-year-old daughter said it would have been worse in the long run. The maturity and strength my children have exhibited has been humbling.
Please don't misunderstand—I'm not here as an advocate for divorce. It isn't anything I would wish on a family because the effects will always be felt. But the truth is, every child has or will have emotional scars from the traumatic world we live in. What matters is how we advocate for our children as they navigate the difficult waters of life. What we teach them now will impact their futures and their development into adults. Divorce doesn't have to define our kids. As parents, divorced or not, our greatest goal is to love our children well so they in turn can do the same for others. What better example to set than to show a spirit of love and grace in the midst of turmoil.
If you connected with this article, head over to like our Facebook Page, It's Personal, an all-inclusive space to discuss marriage, divorce, sex, dating, and friendship.
This article was originally published on