Don't Tell Me My Stepdaughter 'Isn't My Kid'
by Kristen Thiele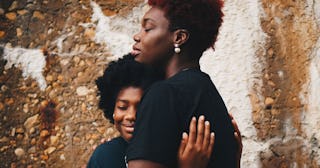 Eye for Ebony/Unsplash
As I made small talk with another mom at the community pool yesterday, we discussed the upcoming school year and how we were preparing our children.
I mentioned how I'd taken my stepdaughter shopping for all the middle school checklist supplies, how we'd just gotten her a big girl haircut with layers, and about the upcoming open house at her new school.
Her response: "Why are you doing any of that? She's not even your kid."
Lord help me, she's lucky we were in a public venue.
She is my kid. I spend more time with her than her biological parents combined, as I'm a teacher who is home with her during the summer.
People who don't come from split families sometimes just Don't. Get. It.
My stepdaughter isn't a part time guest in our home. She's my family.
According to verywellfamily.com, nearly 50% of children will become the product of divorce.
Obviously the divorce part has nothing to to with the child herself, but all too often they're the ones reeling from the uprooting. One they had no say in.
Statistics show children of divorce may be more likely to have both mental and physical health ailments than their nuclear family child counterparts.
Counseling and familial support can help, but that child is still the sum of two halves that no longer love each other. Maybe can't even stand to be in the same room as each other. So, then you risk having a child think, "If dad hates mom (or vice versus), does he hate half of me?"
Why further hurt these children by risking their possibly overhearing they're not the "real" child of a stepparent who is more than willing to step up?
My stepdaughter is almost 11 and I've been in her life since she was 5. That means I've been there for more than half of her life at this point.
I've made her costumes for Halloween and school shows. I took her for her first pedicure. I'm in the know when it comes to the latest group text drama with friends (ugh, group texts are the worst).
I make sure her homework is done, that she gets enough big girl time away from my little one who hangs on her every word (or sometimes literally hangs on HER).
We have our own language. The same taste in movies and music. I'm younger than her parents and in the perfect limbo of parent and friend.
I just finished making the typical collage of my child (yes, my child) on first days of school through the years.
I stood proudly, posing with her and my husband at her pre-k graduation. I look fondly at the first day of kindergarten photo and can't help but laugh at the pint sized girl with a bob cut, giving a thumbs up, silly with her tongue out.
Grades one through three flew by. I see grades four and now five, and holy crap, we have a middle schooler.
WE. Me, her dad, and her mom.
We are Scary Mommies, millions of unique women, united by motherhood. We are scary, and we are proud. But Scary Mommies are more than "just" mothers; we are partners (and ex-partners,) daughters, sisters, friends… and we need a space to talk about things other than the kids. So check out our Scary Mommy It's Personal Facebook page. And if your kids are out of diapers and daycare, our Scary Mommy Tweens & Teens Facebook pageis here to help parents survive the tween and teen years (aka, the scariest of them all.)
This article was originally published on