Dress Your Daughter As A Whore Day!
Otherwise known as Halloween when you have a tween or teen daughter.
by Scary Mommy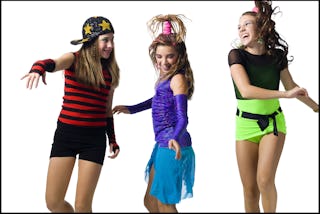 rubberball/Rubberball Productions/Getty Images
It's almost Halloween and you know what that means… Time to dress your young daughter up as the dirty little whore you know she is! Aren't you excited!?
It's an awfully big and overwhelming decision with so many slutty costumes to choose from, so I thought I would help narrow your choices down. I'm a giver like that.
It turns out, no matter what your daughter's interests are, there's a trampy costume to fit the bill.
Is she into classic fairy tales? Maybe she'll get it on with the Big Bad Wolf on her way to grandma's house this year, cause you know there's always room for a scantily clad wolf.
Or, perhaps ditch her old sheep stuffed animal in search of a hot farmer!
Will she take from the bad (ugh, parents suck!) and give to the good (hello, liquors stores!) as a Robin Hood/Leprechaun/Hooker? Of course there is an outfit for you.
Does she love cuddly animals? A pussy cat is the perfect bet, of course.
Or, perhaps science is more her thing? In that case, tell her to ditch that crusty old microscope and go the prostitute-lady-bug route instead! A much more lucrative career choice.
If she's a history buff, she can always go as the least-clothed Egyptian mummy ever… why save it for her college years?
Even if she's still a pre-schooler at heart, never fear. Turns out even Sesame Street can be spiced up!
Who knew?
See? It's never too early to look like a cheap whore!
Happy Halloween!
This article was originally published on