Infertility Struggles? There's An Emoji For That
by Megan Zander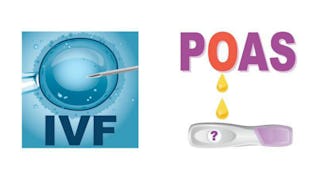 Images via EmojiMom
The right emoji is worth 1000 words
Whether you're trying to conceive, pregnant or have your hands full with a kid (or two!), talking to your friends is essential for staying sane. But sometimes you're too tired to explain how your latest trip to the fertility specialist went. Or you're chasing a toddler and can't text full sentences right now. That's where EmojiMom comes in handy.
The app was founded by best friends Sarah Robinson, Hannah Hudson, and Natalie Ralston. These women were each other's support group when they all had babies in 2015. They came up with the concept of parenting emojis during nighttime feeding sessions with their phones. "We all had new babies and were texting back and forth all the time, often during late-night nursing or pumping sessions," Hudson tells Scary Mommy. "We'd joke about 'Why isn't there an exhausted mom emoji?' or 'We totally need a spilled breast milk emoji.' Sarah was the one who eventually said 'We should do this … there needs to be mom emoji!"
They officially launched their joint baby, the EmojiMom app, in July of 2016. What started out as an iOS keyboard of 250 emojis has now grown to over 400 emojis. Hudson says they receive a lot of positive feedback for their toddler tantrum emojis in particular. "There are several variations," she jokes.
Beyond emojis for breastfeeding and living that #momlife, they've also worked hard to honor a variety of parenting experiences. They have emojis for both pregnancy and adoption, as well as ones depicting dads parenting their kids. And they plan to expand even more. "We have plans to create more emoji focused on older kids (school aged, tweens, and teens)," explains Hudson. They also hope to create emojis for pregnancy loss and rainbow babies.
The trio rely on their own parenting experiences for ideas as well as getting inspiration from mom message boards and even users themselves. Their emojis have gone global, with users in Brazil, France and Germany, among other countries. Hudson thinks there's a reason for their international success. "The beauty of many of our emoji is that they are wordless representations of universal experiences," she says. "That's something we've kept in mind as we develop new ideas for the keyboard."
While all of their emojis are awesome, Hudson says they get a lot of positive responses to their infertility emojis. "We weren't sure that some of these experiences could really be 'summed up' with an emoji since there can be so much emotion/struggle involved, but we've found that people actually appreciate the emoji in situations where words don't really suffice," she told Babble.
Infertility emojis? Yes, please. As a mom who went through my own infertility struggles, I wish these infertility emojis had existed when I was going through my battle. The keyboard has emojis for practically every infertility treatment out there, including in vitro fertilization (IVF) and intrauterine insemination (IUI). There's even "shot in the butt" and "pee on a stick" emojis.
Infertility can be emotionally draining, and sometimes you simply don't have it in you to type out a long update to your friends and family, no matter how supportive they're being. And when you're trying to be there for a friend who's dealing with infertility it can be difficult to find the right words. EmojiMom's simple but powerful "I'm sorry" emoji can do the talking for you.
Parenting, pregnancy and trying to conceive can leave you exhausted beyond words. Why not let an emoji say it all for you?
This article was originally published on