Everything I Know I Learned At My Grandmother's Nursing Home
Once, I even decided to ask my middle school crush to come with me to the facility's annual big summer event.
Written by Sarah Adler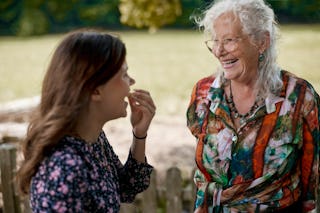 Oliver Rossi/DigitalVision/Getty Images
We may receive a portion of sales if you purchase a product through a link in this article.
In my preteen years, it wasn't uncommon for my parents to receive a phone call from my grandmother's nursing home asking them to please come speak with her because she was trying to stoke an uprising again. Her usual rallying cry? "Too much chicken!" The residents' displeasure with their dining choices had likely been going on for years, but my grandmother encouraged them to articulate it — often loudly. She even made up a little song, a riff on the Bagel Bites commercial jingle: "Chicken in the morning, chicken in the evening, chicken at suppertime." And it really caught on. When you heard her and her friends start singing as dinner was delivered to their table, you knew sh*t was about to go down.
My paternal grandmother, Diane Adler, was not only a first-class rabble rouser, but also warmth and inclusion personified. (In fact, to my slight annoyance, she often invited basically anyone under the age of 20 to become her honorary grandchild upon their first meeting.) That's why she wanted to live in the nursing home instead of with us — for the guaranteed social interaction. I'm not huge on astrology, but she was a Leo if ever there was one; she thrived on making friends, and she was good at it. It made sense that everyone wanted to be around her, and that they looked to let her lead them in a battle that was probably less about poultry than the general creeping monotony of life in assisted living.
But Grandma also had an inner circle, a little clique that, in a different environment, would have been labeled the "popular kids." There was her roommate, Mildred, who alternated between sidekick and voice of reason; Freddy, a retired boxer who spoke solely in mumbled rhymes; Josephine, an immigrant from Sicily who'd never lost her accent and loved The Lawrence Welk Show; Clark, who laughed by throwing his head back and opening his toothless mouth wide without making a sound; Joan, whose full name closely resembled a famous Baltimore highway; and Marie, whose meticulous beehive hairdo was really something to behold.
This merry band became a sort of extension of my grandmother for me. I'd hug them hello and goodbye, draw them pictures, visit their rooms if Grandma was busy. Outside of school, these were the people I probably spent the most time around from ages 10 to 13. My parents and I visited often — much more often, it seemed, than any of the other residents' families visited. And when I was still a little too young to be left home alone, my mom and dad would drop me off at the nursing home while they ran errands or had to work. Sometimes my visits consisted solely of sitting in my grandma's room, watching reruns of police procedurals on the tiny television propped atop her dresser. But more often it involved things like racing her and her friends in their wheelchairs down the empty hallways. We'd often settle in one of the common areas, where a communal puzzle took up the table in the center, or maybe in the courtyard garden when it was nice, or by the duck pond. A good chunk of my most formative years happened there, and I absorbed the rhythms of the place — which nurses worked which shifts and what time the small gift shop downstairs opened and how long it took that one lady with the walker who was always roaming around to do a lap.
I guess that's why I was eager to bring my friends to visit, too. I even decided to ask my middle school crush to come with me to the facility's annual big summer event (a chicken barbecue, of course). I wanted more than anything to show them this secret world I knew so well. Because maybe if they could understand the appeal of the duck pond and the elevators that smelled like lima beans and the motley crew of bonus grandparents I'd accumulated, they could also better understand me.
Looking back, I see a straight line leading from my time visiting my grandmother's nursing home to the person I am now. Though I can't figure out if it's where I picked up some of the most important parts of myself, or simply where I first uncovered them. What I know for sure is that, like me, Grandma lived her life finding silver linings and savoring any opportunity for a good joke — even if it sometimes bordered on morbid. For example, my grandmother, who had been diagnosed with Parkinson's disease in her early sixties, liked to respond to "What's shaking?" with "Me." Similarly, "What's new?" was always answered with "Nothing's new, everything's old, including me." When complications from diabetes resulted in a below-the-knee amputation of her leg, she named the result Stumpy. A few times, when there was a marker handy, she had my father draw a face at the end, where it looked kind of like an elephant seal.
Right underneath the levity and positivity, though, was an ever-present current of strength. This was, after all, a woman born during the Great Depression. One who had birthed and raised five children, and who'd become a widow before age 50. She had a lot of practice rolling with punches and moving forward, no matter what obstacles lay ahead. After her amputation, despite the challenges her Parkinson's presented, she learned to walk again with the help of a prosthesis. And when she lost her other leg a few years later, she learned to stand again with the help of two. Originally, the doctors and insurance company hadn't wanted to give her the second prosthesis, thinking there was no way she would be able to use it. But she was determined to go to her niece's wedding in New Jersey and insisted.
While, logistically, she needed to stand for short periods of time to make that sort of travel with us possible, she also just wanted to show off. Elton John's "I'm Still Standing," but in a literal sense. Because my grandmother was proud of her stubbornness and determination, the things that she earned and accomplished with them. She wasn't one to give up on what she wanted without a fight, whether what she wanted was to attend a family celebration or simply eat chicken less often. Above all, Grandma was someone you could look to when you wanted to be inspired — probably why I found myself naturally calling upon my memories of her joyful spirit and remarkable toughness while writing my debut novel, Mrs. Nash's Ashes.
The last time I saw my grandmother, it was to say goodbye. She'd developed another infection, one that had already spread too far for antibiotics to do any good. I didn't know what I was supposed to talk about when they left me alone in her room. I was weeks away from turning 14, and it was the first time I was dealing with the impending death of someone so close to me. Awkwardness and uncertainty prompted me to treat it like any normal visit. I remember rambling a lot, telling her about the back-to-school night I'd just attended. I'd learned that my eighth-grade class traditionally had a multi-day field trip that involved an 11-mile walk. "That's so far. I don't know if I can do it," I confessed. Grandma was drifting in and out of sleep, and I wasn't sure how much of what I said she heard or understood. I didn't expect a response. But then, stubborn lady that she was, she managed a soft whisper: "You try."
And so, I have, ever since.
Sarah Adler writes romantic comedies about lovable weirdos finding their happily ever afters. She lives in Maryland with her husband and daughter and spends an inordinate amount of her time yelling at her mischievous cat to stop opening the kitchen cabinets. Mrs. Nash's Ashes is her debut novel. You can find her at sarahadlerwrites.com, or on Twitter (@sarahaadler) and Instagram (@sarahadlerwrites).