Facebook Is Officially Changing Its Company Name To Meta
by Kristina Johnson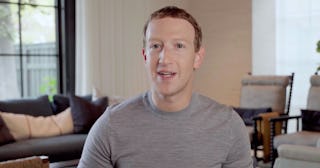 Facebook
Facebook is going Meta with its new corporate name change
It's official. The name change that's been whispered about for weeks is happening. The company behind Facebook will now be named Meta as part of a corporate rebrand aimed at de-emphasizing social media and shifting focus toward augmented reality (AR) and virtual reality (VR).
Facebook's founder and CEO Mark Zuckberg made the announcement at the company's Facebook Connect summit.
"I've been thinking a lot about our identity as we begin this next chapter. Facebook is one of the most used products in the history of the world," Zuckerberg said, per CNN. "It is an iconic social media brand, but increasingly it just doesn't encompass everything that we do." "Today we're seen as a social media company," Zuckerberg said, "but in our DNA, we are a company that builds technology to connect people. And the metaverse is the next frontier just like social networking was when we got started." Am I the only one getting Marvel villain vibes from this little speech? https://www.facebook.com/watch/live/?ref=watch_permalink&v=577658430179350 His vision for that metaverse is a wide-ranging one. "In this future, you will be able to teleport instantly as a hologram to be at the office without a commute, at a concert with friends, or in your parents' living room to catch up." Now we just need some flying cars, and we'll be all set. Zuckerberg also said that the company would be increasingly focused on VR technology in the future to build out that metaverse. "Your devices won't be the focal point of your attention anymore," he said. "We're starting to see a lot of these technologies coming together in the next five or 10 years. A lot of this is going to be mainstream and a lot of us will be creating and inhabiting worlds that are just as detailed and convincing as this one, on a daily basis." Not sure if that sounds awesome, or terrifying, or both?Zuckerberg said he drew on his background in the classics to come up with the new name, and not the basketball player formerly known as Ron Artest (who also changed his name to Metta World Peace in 2011). "I used to study Classics, and the word 'meta' comes from the Greek word meaning 'beyond'. For me, it symbolizes that there is always more to build, and there is always a next chapter to the story," Zuckerberg wrote in a Founder's Letter posted on Facebook.https://www.facebook.com/Meta/posts/460695145492083 "Meta" won't necessarily become the new name of Facebook itself, but rather of the parent company behind it — which also owns What's App and Instagram. Google made a similar move a few years when the parent company changed its name to Alphabet. The name change may also have another motivation, though — Facebook has been under fire for some time for everything from its role in the spread of COVID-19 disinformation to a recent whistleblower report alleging the company took steps to bury a report that looked into the platform's negative impact on young people's mental health. As much as the company is looking to the future with this name change — there's no doubt it's also looking to move on from a controversial past, too.