12 Of The Most Epic Family-Friendly Airbnb Getaways In The U.S.
by Annie Reneau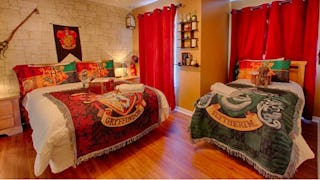 via Airbnb
Our family loves to travel. We've driven to and through more than half the states in the U.S., and we don't plan on slowing down our road trip momentum any time soon.
Unless we're just stopping over for a night, we rarely stay in hotels anymore. Airbnb is where it's at, folks. We've stayed in lots of short-term rentals, and hands down they beat the hotel experience in almost every way.
Related: Cool Outdoor Games For Teens That'll Have Them Feeling Like A Kid Again
But some Airbnb hosts go above and beyond to create a unique, memorable stay for their guests. Check out some of these fun rental homes around the U.S. that both kids and adults will love:
This seven-bedroom house sleeps 15, so grab your friends and head to Florida. Each room has a Disney or Universal theme, and they are pretty magical. With tastefully appointed grown-up rooms as well (still themed — think Arabian Nights and Animal Kingdom), everyone wins. There's a tiny Seven Dwarves cottage in the backyard, plus a pool for when you can't take one more step around a theme park but the kids are still climbing the walls.
Speaking of climbing the walls, here is a house in Colorado where kids can literally climb the walls. Two climbing walls in the living room, and somehow they made it look classy and cute and incredibly inviting.
Now you can live like the Swiss Family Robinson for a night (or three) in this treehouse in Missouri. How excited would your kids be to take a bath outside? Or to have a tree growing up through the middle of their room? All of the perks of treehouse living without having to crash a boat.
This log cabin in Colorado looks exactly like something your kids have probably created with their Lincoln Logs. If the Wild West is your kids' thing, they'll love this authentic log cabin, and you'll love the 2,500 square feet of space to roam. Hot tub, too.
Speaking of hot tubs, what if you had not just a hot tub, not just a hot tub and a pool, but a hot tub, pool, and lazy river right in your backyard? It's like a vacation destination in and of itself. Did I mention it's near Disneyland? That's right, a hot tub, pool, lazy river, and Sleeping Beauty's castle in your backyard. Your kids will love you.
You have to check out the Williamswood Castle in Tennessee. If medieval castles are your family's thing, this one's for you. So much detail, you can truly feel like you've stepped back in time and across the ocean. Swords, armor, a Sistine Chapel ceiling — it even has a secret passage!
The owners of the Dog Bark Park Inn in Idaho are obviously nuts about canines. The main building is shaped like a beagle, and your stay includes "in-the-dog breakfast." Kids will love the over-the-top kitchiness of it, including the larger-than-life fire hydrant. And naturally, your pets are welcome to stay as well for a small extra fee.
The Studio Earthship in New Mexico is quite unique. It has everything you'd want in a rental — Wi-Fi, Blu-ray, etc. — but it runs entirely off the grid, generating all of its own electricity and catching its own rainwater. If you want to show your kids what future homes might look like, catch the next train to Taos and board the Earthship.
Okay, grab your little Thomas the Tank Engine enthusiast and bring them to North Carolina to stay in a real, honest-to-goodness caboose. The train car sleeps six, and it looks out over a bison ranch.
Check this out. This geodome rental in the Catskills takes glamping to a whole new level. Guests bring their own beds, but the space can sleep up to 16, so make it a multi-family sleepover! There's an outdoor cooking area, outdoor shower/bathroom, and large outdoor dining area as well. Being able to enjoy nature without full-on camping sounds like heaven to me.
Speaking of heaven, I'm dying to stay in this hobbit home. I mean seriously, there is nothing cooler than this. Every bit of it looks like it's straight from the Shire in Lord of the Rings, and I can barely even take looking at the photos. Unlike the other properties on this list, this one only sleeps two, so you'll have to pick a favorite child to gift with a stay here. But wouldn't it be totally worth it to see the look on your kid's face when you arrive? Greatest Mom date, ever.
Airbnb hosts, you have raised the bar so high I'm not sure how we're going to get over it. Our hats are off to you. Please keep on making our vacation dreams come true.
All photos courtesy of Airbnb.
This article was originally published on