8 Fireplace Baby Gates That Keep Curiosity At A Safe Distance
We only recommend products we love and that we think you will, too. We may receive a portion of sales from products purchased from this article, which was written by our Commerce team.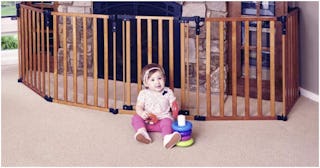 Amazon
Fireplace baby gates, playpens, baby gates for stairs … the list of baby-proofing items goes on, and if you have a fireplace in your home, you'll definitely want a barrier between the hearth and your LO. Fireplaces add ambiance, coziness, and warmth to a room, but they aren't exactly safe for babies and toddlers who have a strong sense of curiosity.
How to baby proof a fireplace
The best way to combat the dangers of your fireplace is by setting up a baby proof fireplace gate. And here's the fun thing about them: Fireplace baby gates are just regular baby gates until you place them in front of a fireplace; only, they have to be sturdy enough to withstand a little one trying with all their tiny might to knock it over.
Types of fireplace baby gates
There are two types of baby proof fireplace gates to consider: hardware-mounted and pressure-mounted. Hardware-mounted baby gates are the most secure and are screwed into a wall. If you aren't into wall holes, you might be better suited for a pressure-mounted baby gate, which is one that stands up on its own and can be moved anywhere.
As parents, we shield our kids from as many figurative and physical dangers as possible, so you certainly don't need us to tell you that a fireplace is one of those physical dangers. But sometimes it's easy to forget that kids do dumb things like stick their adorable, chubby little hands where it's hot. So, take a look at the best fireplace baby gates below to find the best one for your home and family.
Best Fireplace Baby Gates
This article was originally published on