Why I'm Dreading My First Birthday Without My Mom
by Emily Shelley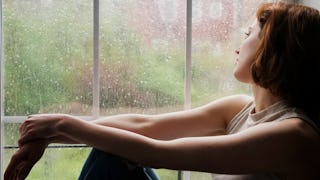 JGI/Getty
I lost my mom in October of 2018. It was a devastating blow to my world from which I don't think I'll ever recover. But I had to keep moving for the sake of my family, and my first task at hand was getting through the dreaded holidays for the first time in my life without my mom. Excruciatingly, the first holiday to overcome came mere hours after I saw my mom take her last breath.
I woke up with red, puffy eyes early that next morning to celebrate the birth of my first born. She was turning four and I had to be excited. Then Halloween came and all I wanted to do was show my mom how cute my kids were in their superhero costumes. And at Thanksgiving, my mom was noticeably absent from our regular family get together and the usual laughter and merriment were at a minimum. Christmas was next and, as expected, was incredibly painful. Every ornament I put on the tree and every Christmas carol I sang was like a punch to my motherless gut.
But the day that I'm dreading the most will be here in just a few short days. It's my birthday.
I spent my first 30 birthdays excited to celebrate myself. I always looked forward to the "happy birthdays," the over the top meals and drinks, and indulging in a yellow cake with chocolate icing that my grandma makes for me every year. Birthdays were all about me. That is, until I had a baby. On October 19, 2014 birthdays took on a whole new meaning. On that beautiful fall day in Washington, DC, I wobbled into the hospital having no true realization what was about to happen.
Don't get me wrong, I know how babies are born. But never having done it before, I didn't know just how much that one instant would change me. The experience of bringing another human being into this world is like no other. You don't have to be religious or spiritual to know that what just happened was otherworldly. I'm sure that same feeling translates to babies born by surrogates or when adoptive parents see their child for the very first time.
And it was at this moment that I realized that my birthday was not solely about me. My birthday is about me and my mom. Sure, my dad was there too and obviously had a very important role in the whole baby making process. And he was next to my mom the moment I was born and he was by our sides ever since. But I came into this world through my mom. She endured the physical pain and trauma to get me into this world and experienced the euphoria when I finally arrived just as I had with my own children.
So, on my 31st birthday, I was busy taking care of a four-month-old baby and I no longer cared about the happy birthdays or the over-the-top meals and drinks (though I definitely indulged in that cake). On my 31st birthday, I thanked my mom. I knew then that all those years that I was celebrating myself she was celebrating us. She was celebrating the fact that we shared this very special, life changing day together. She probably had mixed emotions the day before each of my birthdays just like I do the day before my daughter's birthday and the day before my son's birthday.
My husband laughs because I come down the stairs crying after I've put them to bed for the last time as a "whatever-year-old." I cry because another year of snuggles has gone by. I cry because they are one year closer to becoming independent adults who no longer need their mother. I cry because being a parent is hard and I wonder if I'm doing it correctly. I cry because I'm proud of who they are and I'm excited to see them grow. My children will probably never know the emotion I feel on their birthday until they are a parent themselves.
So in a few days I will have made it another year around the sun. My dad will call me early knowing that I'll already be missing my mom. My brother will send me extra funny memes all day because that's what we do. My husband and kids will shower me with kisses and hugs. And my son and daughter will be so excited to blow out the candles on my yellow cake with chocolate icing made by my grandma. I will be grateful for another year on this planet.
But I will miss my mom. Because on that day 35 years ago, she and I experienced something together that only we could.