Using A Vibrator Together Has Improved My Sex Life With My Husband
by Alyssa McBryant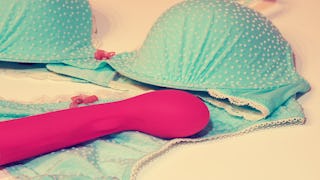 Fotocute/GettyImages
I've used dildos before, back in college. Small ones, and always with a partner, but dildos nonetheless, and they never intimidated or bothered me. But I never worked my way around to vibrators, despite all sexual adventures — I orgasmed easily, so why bother? Vibrators, I thought, were for people who needed help in that department. I also felt they were weirdly distancing, a little like robot sex.
Fast-forward about a decade.
My mental health issues had finally been addressed, and I was on an SSRI, along with another drug or two. These sort of conspired to destroy anything going on below the waist. But the longer I stayed on the meds — we're talking years here — the worse it got. Finally, my ability to orgasm was getting iffy. More often than not, when my husband and I had sex, let's just say that not everyone got their cookie.
"I got you something," my husband said late one night when the kids had gone to sleep. I took the box from him and —
"Oh my gawd, you got me a fucking vibrator," I said.
"I thought it could help," he said. "Every girl I knew said it's like an automatic orgasm."
"I am not using a vibrator," I said.
"No," he said. "I use the vibrator. You lay down and enjoy it."
Well. That sounded a lot better.
"And no, Alyssa, it's not robot sex, so don't even go there."
So, we had sex. Then he lubed up The Thing, which was sort of fat and sort of pink and sort of shaped like a penis but sort of just a cylinder. Then he turned it on and put it on me. And all objections quickly flew out the window. I came like I hadn't come since college. And "The Thing" became "My Toy," and now makes an appearance every time we do it. Because I have trouble orgasming, and my toy makes that irrelevant.
My husband did all the things right when it came to introducing a new toy into your sex life. First, he brought it up — in his case, by literally handing it to me, and he later admitted he was fully prepared to lose eighty bucks, which was why he hadn't opened the box. But generally, when you introduce a new toy to your partner, you talk before you make the big purchase, and make sure you get something you both enjoy. In this case, I'm glad he picked for me, though, because if he'd have asked me to help, I'd have laughed him all the way out of our Amazon Prime account (because I do not buy sex toys at public parties, but you do you).
If you're considering your first vibrator purchase, talk to a few trusted friends. Ask for recommendations and do your research. There's a lot out there, and things can get overwhelming real quick.
Then he gave me something important: choice. He was the initiator, so I was the one who got to veto or not. I initially said no because of my (baseless) robot sex prejudice, but he convinced me. And boy, was I glad I got convinced. But if I had felt weird or wrong or stupid (or started laughing uncontrollably) at any time, I could have told him to stop. I knew that, and that's one of the things that made me willing to try something new.
He also answered my objections. He knew I thought it was robot sex, and so he went out of his way to directly address it. And he said more than a cursory comment — he discussed why it was more than that, because he was controlling the vibrator, so it wasn't as if it was some weird autonomous entity. Since he'd taken the time to not only know how I felt, but to respond to those feelings, I felt valued, heard, and ultimately convinced.
Finally, he made it clear that this was all about us. I'd like to say it was all about me. And mostly it was. I got to lay back, cradled in his arms, while he blew my mind. But it was also satisfying for him, too: he likes to see me have a decent orgasm. It's important to him, both as someone who loves me and on some deep primal man level. So this toy was something that brought us together, not fractured us. And that was awesome.
So awesome, in fact, I'm actually looking to upgrade my vibrator. I hear that the higher-end they get, the less they resemble pensises, until you get to the Hitachi wand, which is basically a ball on a stick that women swear by. Now, we are discussing the addition of cock rings. I think it is safe to say that he converted me to robot sex, huh?
This article was originally published on