The First Year As Parents
by The Cultural Misfit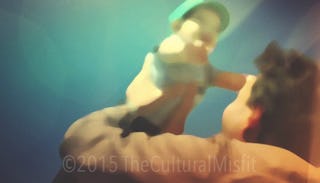 To My Husband:
Wow, what a year it's been. We started off with much anticipation, dreams and excitement and we are ending this year with a feeling of gratitude and appreciation. Our daughter isn't just an extension of us, to me she is a gift from you.
I remember everyone telling me that once she comes, I'll experience true love. I pooh-poohed them. I already knew what true love was. And I was right. As many arguments, heartaches and conflicts we have had this past year, we have come out unscathed because what we have is true love. It's unconditional. It's forgiving. It's strong. It's nurturing. It's all-encompassing, and it's always there, even on our worst days.
I haven't been able to put into words how much I appreciate you as a father. There are so many facets of your personality that have come shining through, some that I never knew existed.
You're tender and funny and charming and innovative with her. And I've never seen that kind of concern or love in your eyes for anyone else. You adore her, and it shows.
I apologize for all my interruptions and directions all the time. It's not that I don't trust you as a parent; it's just that I've discovered a mom's mind is always full of misgivings.
I've surprised myself, too, this year. I knew I would be an awesome mom (gloating much?), but I never thought I'd be the kind of parent I've become. From the time she was inside me, something changed. It's hard for me to put a finger on, but it's almost like nothing else matters when it comes to her. Her happiness, her comfort, her safety—those are the only things that are top-of-mind for me. There is such an overwhelming sense of responsibility on my shoulders all the time. I'm just never able to shirk it off. And it consumes me. Parenthood consumes me even at those times when I don't want it to.
I'm reminded at all times that I am responsible for shaping this person's life. There are so many times even now when I just stare at her and think, "This is real. She is here. She's ours. And she isn't going anywhere." It's just a surreal feeling.
From the two of us, to the three of us—even though I carried her inside me for a little over nine months, I still have to pinch myself some days.
Never in my wildest dreams did I think that there would come a time when we wouldn't kiss goodnight and it would be OK. And it shouldn't be OK, but it is, and somehow our world hasn't fallen apart.
As this year draws to an end, I think about all the nights we haven't spent together. It reminds me of those two years that we stayed apart, one of which we were halfway across the world from each other. It's like that period of discovery, excitement and adaptation that we so successfully navigated earlier has returned.
But this is so much better. In so many ways, we are together. We are happy. We not only have each other to love, we now have another person—the one we created—to hold and hug. There's lots I have to be thankful for.
And the passion between us isn't dead. I think it's just given way to a different kind of physical expression of our love for each other. I value it so much more than I did ever before.
As this year draws to an end, I feel closer to you in more ways than one. We are a stronger unit. Even though there are surface tensions, the love and respect we have for each other runs so much deeper. I have newfound appreciation for you and for everything you do for her, for me, for us.
Every time I look at you and our baby together, I realize how lucky she is to have you as her dad. And how lucky I am to be part of this—all of this.
These years are going to be a thing of the past before we know it. While it may seem like that couple who cherished spending time with each other is lost forever, I know that's not the case.
You and I will always be.
I love you. And I know you know just how much.
This article was originally published on