10 Romantic And Sweet Birthday Ideas For Your Wife That Let Her Know You Care
by Team Scary Mommy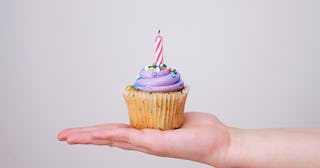 twinsfisch/ Unsplash
It's your wife's birthday: She's a year older and a year wiser, and you should probably do something to mark the occasion. Even if whisking her away on a romantic weekend to Paris isn't in the cards (or the budget), there's still plenty you can do for her to make her feel really special on her big day.
Planning a special day for your wife can be a challenge, especially after many years of celebrations. Of course, your queen deserves the best on her birthday, but what's the perfect idea for the perfect woman? How do you show her you still think she's the bee's knees? Here are 10 fun birthday ideas for your wife to let her know you care.
1. Write Her a Love Letter
They say actions speak louder than words, but sometimes a few well-chosen words can work wonders. For your wife's birthday, why not write her a good old-fashioned love letter, letting her know exactly how much she means to you? This can be especially powerful if you're not a person of many words and have trouble articulating how to feel about her out loud. Thankfully, we have a few pages of quotes and sayings you can mine for a good opening sentence.
2. Cook (or Order) Her Favorite Dinner
This is a classic, but for good reason. Take the time to cook (or order) her favorite foods for dinner. Can't pick just one meal? Treat her to a mini-buffet of her favorite snacks and beverages. Always order more than you need because who doesn't love leftovers?
3. Create a Memory Wall
Chances are you probably have a bunch of photos around your house or apartment that you've been meaning to hang on the wall but never have gotten around to it. Well, now's the time to do it. Creating a surprise memory wall with all her favorite photos is a great way to show her that you care. And don't limit yourself only to photos that are already printed: go through the archives of your phone and pull out some favorites that, until then, only existed in digital form.
4. Unplug for the Day
If it's at all possible, plan a day where you and your wife both unplug for a full 24-hours. It may not work on her actual birthday, but take the time to pick a day when you're both able to put down your devices and fully devote a day to each other. If you have kids or something else you need to worry about, create a special text alarm for the person watching them in case of an emergency. If you hear anything else, ignore it.
5. Plan a Spa Day
If your wife is someone who appreciates being pampered, give her the spa day (or evening) of her dreams. This can either be at her favorite actual spa, or, better yet, at one you set up for her at home. Get some of her favorite body products (hint: she may already have them) and spend the time giving her massages, a pedicure (or at least a foot soak) and brushing her hair (trust us on this one).
6. Girls' Night Out
Maybe what your wife wants more than anything else is a night out with her friends, so do her a favor and organize one. It doesn't have to be anything fancy: just make a reservation at her favorite restaurant and invite some of her friends to join her. You can make it a surprise by saying that you're bringing her out for a birthday dinner, and then letting her see her friends waiting for her when she arrives. Then, of course, the two of you can celebrate on your own another time.
RELATED: These 100 Love Messages Will Give You All The Feels
7. Plan an Adventure
Sure, it'd be great to go on a romantic getaway with your life, but that may not be possible. Instead, plan a local adventure for her, whether it's to a museum she's always wanted to visit, a new restaurant, or a winery or brewery. Make it a surprise and have her guess where you're going on the way there.
8. Breakfast in Bed
Regardless of what your wife has to do the rest of the day on her birthday, she'll have to eat breakfast. Even if she doesn't have time for a long, luxurious brunch, bring her breakfast (or at least coffee) in bed and let her relax as she starts her day.
9. Plan a Games Night
Invite a few friends over and throw your wife a surprise games night, featuring her favorite games. Maybe it's a card game, or maybe it's drunk Candyland (who says it's just for the kids). Either way, give her the chance to let her hair down and enjoy herself with some friendly competition.
10. Take Her to a Concert or to the Theater
Is her favorite band coming to town? Did a touring production of Hamilton make plans to come to your city? Surprise your wife with tickets to something she's been dying to see. But don't stop there: if you have kids, make sure you take the initiative to book the babysitter, and don't forget the pre-theater dinner reservations!
This article was originally published on