Nominate Your Favorite Father Figure For A Chance To Win $50,000 + A Year's Supply Of Entenmann's Donuts!
Entenmann's Dads of Glory: A Father Figure Showcase is here to help you give your guy all the glory.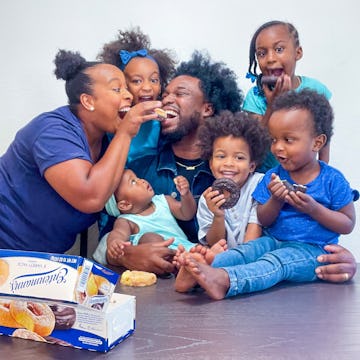 Great father figures come in all shapes and sizes (not a dad-bod joke, we promise!) Maybe you've got a classic superdad who can grill a dozen sliders with one hand tied behind his back while also changing a tire, or one who can rig a two-story cardboard box fort with working electricity. Maybe you have one whose strengths lean more artistic than physical, like my dad, who's a fantastic storyteller but once threw out his back changing a toilet paper roll. Or maybe your "father figure" isn't a relative at all, or even a man, but someone special who has guided you through life and shaped you or your kids into unique and wonderful people. No matter who you're celebrating this Father's Day, you can show them how incredible they are by nominating them for Entenmann's® Dads of Glory: A Father Figure Showcase.
Submit your video nomination to Dads of Glory by July 1st and your guy could win the Golden Donut Award grand prize: $50,000 and a year's supply of Entenmann's donuts. Plus, winners in each of the five Dad-egories get $1,000 and a year's supply of donuts! All of these prizes sound pretty sweet — pun intended. (You knew we weren't going to make it through this without at least one punny dad joke.)
So, Wait, Who's Eligible for Dads of Glory?
Anyone who fills a father figure role in your life can be nominated — which means your nominee can be any gender, age (16+), or occupation. They should probably like donuts though, since if they win, they might end up eating 'em for a year (but honestly, anyone who hates donuts is kind of "sus," as the kids say).
How Do I Nominate Someone?
Anyone 16+ can make a short video explaining why their nominee is the best of the best, and upload it to Dads of Glory between May 9 and July 1. Videos should be creative, short, and sweet, and fall into one of the following Dad-egories:
Dad Humor: From cringe-y dad jokes to unintentional slapstick, celebrate your nominee's funniest moments.
Dad Engineering: Does your nominee use a vacuum cleaner to make a child's ponytail? Rig the TV remote to the Roomba so he never has to look for it? This Dad-egory celebrates the best dad hacks and amateur inventions.
Dad Reflexes: Brag on the best saves, close calls, and superhuman reflexes, like that time he caught a game-winning fly ball while holding a beer.
Dad Fashion: Whether it's cargo shorts and socks with sandals or bespoke suits and pocket squares, show off your nominee's most iconic lewks.
Dad Love: This one goes out to all the emo dads! Entenmann's wants to hear about the time your nominee touched your heart and made you feel loved like no one else. Tissues optional.
Need inspiration? This is the kind of awesomeness the judges want to see:
Who Picks The Winners?
If screaming at the TV during football games is any indication, dads love a little healthy competition. But this contest won't be determined by a public vote. Instead, a panel of Entenmann's judges will select the winners — so make sure your video shows off your nominee's most unique and amazing qualities.
What Are the Prizes?
The Golden Donut Award grand prize comes with $50,000, a year's worth of donuts, a giant donut trophy, and a lifetime of bragging rights (which, let's face it, is almost as good as the prizes). Plus, winners in each of the other five Dad-egories will receive $1,000 and a year's worth of delicious Entenmann's donuts, and the nominators will also receive a year's supply of Entenmann's donuts. Wowzers!
Entering Dads of Glory: A Father Figure Showcase is free and easy, so what are you waiting for? Nominate your favorite father figure today!
Entenmann's Dads of Glory nominations are open from 5/9 to 7/1 at Dads of Glory. Winners will be selected in August and announced in September. Prizes include $50,000 and a year's supply of donuts.