25 Reasons I'm Glad My Kids Are Grown Up
by Sharon Greenthal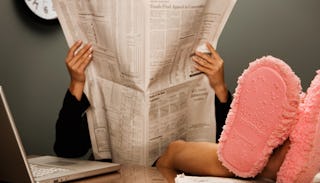 As I watched my youngest packing boxes to head back to college for his senior year, I felt a mixture of Momma pride – he's all grown up (almost!) and also a tinge of the empty nest blues. I guess that never really ends, but it does get easier. I've grown to love the empty nest, and so will you. Much as I miss many parts of being a parent of school-aged children, there are many reasons I'm glad my kids are grown up…
1. Filling out the same forms with the same information every.single.year. Maybe it's different now, but back in the day (um, that would be 2010), in my school district, we still had to fill them out by hand. Most in duplicate, a few in triplicate.
2. Writing checks for: Lunch tickets, books, fees, donations, classroom supplies, bus passes, ID cards, PTA memberships.
3. Writing more checks for: Booster clubs, activity fees, uniforms, costumes, yearbooks, overdue fines, cookie dough, gift wrap.
4. Making lunches and then having the lunches come home in the backpacks, uneaten (I just wanted chips, mom).
5. Carpools. Carpools. Carpools. Did I mention carpools?
6. Waking my son up for school every morning for 13 years. Every morning. He gets himself up now that he's in college. We're so proud.
7. Shopping for school supplies that no one ever used, like those pink erasers and endless packages of 3-whole punch lined paper. Plus the supplies for the classroom, like Kleenex and sanitizing gel. Where did all that lottery money go, anyway?
8. Small talk in the parking lot waiting to pick up your kid with the mom whose kid is better than yours at everything.
9. Buying two dozen mechanical pencils for my son who promptly lost them all or gave them away within 48 hours of starting school. Every year. You'd think I would have learned.
10. Buying clothes for my daughter that she wore once and never again. A few weeks into the school year, she would default to a school sweatshirt and jeans, hair in a messy bun, more often than not.
11. PTA meetings. Painful. But the guilt of not going was even more painful. And now I look back and think "why?"
12. Back-to-school night. Did anyone really want to be there? Well, maybe the new teachers. And the parents of the kids who do everything better than yours do.
13. Parent-teacher conferences. The icky feeling that you're being judged because your kid isn't perfect. Although, that feeling passed after about 2nd grade.
14. Annual check-ups. Shots. More forms to fill out.
15. Driving by the school to see if my kid was one of the kids walking along the fence, alone, while the other kids played with each other. (Happily that never was the case, though I checked periodically.)
16. Head lice.
17. Smelly sports uniforms that had to be washed every day. The football uniform was particularly delightful.
18. Middle-school angst and drama. Oh the heartache.
19. Colds, coughs, flus.
20. HOMEWORK.
21. Auditions, try-outs, contests, elections, prom kings and queens. The never-ending popularity contest and competitions.
22. Waiting to be asked to prom/winter formal. Asking a girl to prom/winter formal. (Not me, of course. My kids.)
23. First day jitters and senioritis. Senioritis should be an actual illness in the DSM-III.
24. College applications, essays, application fees. The common app, submit buttons, extra-curriculars, teacher recommendations, PSATS, SATS, ACTS, SAT IIs, Merit Scholars, valedictorians, legacies,financial aid, deadlines, safety schools, reach schools, match schools.
25. College admission anxiety, a parental illness that should also be in the DSM-III and is a perfectly legitimate reason to get a Xanax prescription.
This article was originally published on