30 Reasons The Great Smoky Mountains Should Top Your Family Vacation List
by Lindsay Ferrier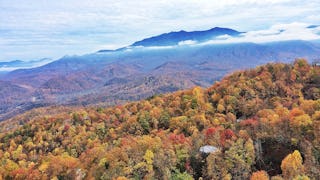 Lindsey Ferrier
There's a reason Great Smoky Mountains National Park is the most-visited park in the nation. With 800 miles of trails, lush forests, waterfalls, and scenic views, there's no doubt that this place is awesome. Between the park and its surrounding tourist-friendly towns, there's truly something for everyone here — from your headstrong toddler to your 13-year-old roller coaster expert to your let's-call-her-opinionated mother-in-law.
We've traveled to the area several times and I think we love it a little more each time we visit. Here are some of our absolute favorite attractions, restaurants, and places to stay in the Smokies.
Gatlinburg, TN
I'm just going to warn you right now: If you visit Gatlinburg, your kids will never, ever want to leave. Its busy sidewalks are lined with pancake restaurants, souvenir shops, 4-D movie theaters, arcades, museums, rides, and pretty much anything else you can think of that has any chance whatsoever of convincing you — and, more importantly, your children — to part with your money.
AND WE LOVE IT.
Gatlinburg is a great place to stay if you want to be in the center of things, yet still be just a few minutes from the national park.
As far as lodging options go, we really liked the family suites at the conveniently located Greystone Lodge on the River. Their accommodations include a kitchenette and dining room, a living area, a separate bedroom for mom and dad, and a fun bunk bed alcove for the kids with its own television.
I can also recommend the new Courtyard Gatlinburg, which is beautifully decorated and has a friendly, helpful staff.
As for Gatlinburg's dining options, we're always willing to wait for a table at Crockett's Breakfast Camp. It's our favorite restaurant in town. Breakfasts here are massive and come served on ginormous iron skillets. Everything I've tried at Crockett's is delicious, but special mention goes to their biscuits, their impossibly thick pancakes, and their delicious cinnamon rolls.
Don't want to wait hours for a table? We love the under-the-radar New Orleans Sandwich Company and eat here every time we come to town. The Po Boys and seafood gumbo are particularly good, and portions are generous.
You've also got to make time for a stop at The Donut Friar. This eclectic donut shop has wonderful freshly-made donuts. My favorite is the Bavarian Cream. Bring cash if you come — The Donut Friar doesn't take credit cards.
As for attractions, there are so many to choose from in Gatlinburg, it's hard to narrow your choices down! If you have tweens or teens, don't miss the Mysterious Mansion. It's the best (and scariest!) haunted house I've ever visited and well worth the cost of admission.
Ripley's Aquarium is amazing and easily rivals the Tennessee Aquarium in Chattanooga. Go on an off day if you can — it's a popular attraction and can get very crowded. We also love the newly-renovated Guinness World Records Adventure. It's filled now with tons of interactive games and computerized exhibits that'll keep your whole family engaged and busy.
We love taking the Aerial Tram up to Ober Gatlinburg, where you can go ice skating, visit a small zoo, ride a thrilling mountain coaster, and more.
You can read about more of our favorite things to do in Gatlinburg here and here.
Pigeon Forge, TN
Pigeon Forge is an easy drive from the park and there's one big reason why you should consider choosing this town as your Smoky Mountain vacation base: Dollywood.
If you've never been to Dollywood before, you're in for a treat. You don't have to be a Dolly Parton fan to have fun at her theme park — I think of it as an Appalachian Disney World, with fun rides for all ages, fantastic stage shows, great food, and surprisingly good shopping. This is one of the only parks in the country where the grandparents can have just as much fun as your kids.
Dollywood has won the Golden Ticket Award for best theme park food 4 out of the last 7 years, so choosing what to eat here is as much fun as choosing your rides. You'll definitely want a loaf of gooey cinnamon bread from the Grist Mill — it's the best I've ever tasted. Park goers line up for the famous fried chicken sandwiches at Frannie's Food Truck. And if you're looking for something more substantial, try the sumptuous all-you-can-eat country buffet at Aunt Granny's Restaurant.
Stay at Dollywood's beautiful DreamMore Resort and you can get free shuttle rides to and from the park and a TimeSaver Pass for each guest, which gives you expedited entry to any ten rides at the park. The resort is designed with families in mind and includes family suites, family movie nights, live music, crafting classes, and more.
Right beside the hotel is Splash Country, a waterpark with plenty of family-friendly water slides. Dolly also has two dinner shows in Pigeon Forge: Dolly Parton's Stampede and Smoky Mountain Adventures. Like everything else here with Dolly's name on it, both shows are truly spectacular, and both include four-course meals that are surprisingly tasty.
Check out my post on even more of our favorite things to do at Dollywood here.
Sevierville, TN
Sevierville may be the least-known of the three major tourist towns surrounding Tennessee's Great Smoky Mountains, but there's plenty of fun to be had here as well.
My kids are crazy about Wilderness at the Smokies Waterpark Resort — and I think I have as much fun here as they do! The resort has the largest indoor waterpark in Tennessee, as well as two outdoor waterparks and a Family Fun Center.
Rainforest Adventures Discovery Zoo is a perfect rainy day activity, The building is home to more than 600 animals, many of which you've probably never seen before. It's truly an unexpected gem and one of the best small zoos we've ever visited.
Travelers are willing to wait for a table at the popular Applewood Farmhouse Restaurant, where the food is to die for. We especially loved the chicken and dumplings and the apple fritters, which come with every meal. While you're waiting to be seated, be sure and visit the Apple Barn next door for souvenir shopping and a delicious glass of fresh cider.
If you've got a little more time, opt for a truly unforgettable meal at English Mountain Trout Farm, where you actually catch the fish that's cooked for you. Now that's fresh!
See the Smoky Mountains on horseback during a guided trail ride at Sevierville's Five Oaks Riding Stables. Small children can ride with their parents; my daughter was 10 when she rode here and did fine on her own.
And for a truly unforgettable Smoky Mountain experience, splurge on a Scenic Helicopter Tour. You'll take a thrilling ride with an experienced helicopter pilot to see the Smoky Mountains up close. Our helicopter tour was one of my all-time favorite vacation activities and worth every penny!
Check out more of our favorite things to do in Sevierville here.
Great Smoky Mountains National Park
With so much to do in the surrounding towns, it can be easy to forget to visit the park itself. Don't. There are so many ways to soak up the beauty of these mountains, whether you're on foot, in a raft, or inside your car.
Make the drive to beautiful Cades Cove, an 11-mile one-way loop around an idyllic mountain valley, where sightings of black bears, coyotes, groundhogs, deer, and raccoons are common. Be sure and pick up a guide at the Cove's entrance so that you can read about points of interest as you make your way around the loop.
Another popular drive is the Roaring Fork Motor Nature Trail, a 5.5 mile one-way loop that many say offers the best chance in the park to see bears. Go early in the morning or just before dusk to increase your chances of spotting one.
If you're up for a family walk, one of your best options is the Laurel Falls Trail, a paved 2.6 mile roundtrip hike that ends at the 80-foot high Laurel Falls. It's a short drive away from Gatlinburg. On your way to the trail, be sure and stop at the nearby Sugarlands Visitor Center, where you can watch a 20-minute film that offers an excellent overview of the park's history, starting from the time the mountains formed millions of years ago!
One of our favorite ways to experience the park and surrounding forest is on a whitewater rafting trip. Outfitters like Rafting in the Smokies offer both family floats for all ages and more adventurous rafting on Class III and IV rapids for ages 8 and up. If you've never tried whitewater rafting before, you're in for a treat. It's totally exhilarating, yet your guide will ensure everyone stays safe on the river.
Another option I highly recommend is a guided nature walk with A Walk in the Woods. These expert guides offer nature walks and hikes in the park for every age and stage, from easy wildflower walks to extreme adventure hikes, and everything in between.
When we have kids in tow, I love guided hikes. It's great to have an expert along who can answer all our questions and make sure we don't end up on the evening news because we're hopelessly lost in the Great Smoky Mountains!
Since the area can get very crowded, we like visiting during slightly off-season months like May, September, and early November. No matter what time of year you go, there's plenty to do and see here. Have fun and watch out for those bears!
This article was originally published on