10 Things To Do In Green Bay With Kids
by Anne Younger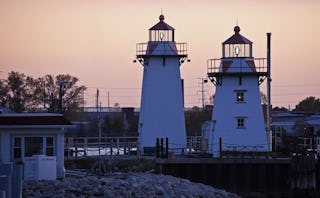 When people hear Green Bay WI, they usually think of two things: The Packers and Cows. I'm still trying to figure out why everyone thinks Green Bay is filled with cows because it's not. There are actually all kinds of fun and cool stuff to do here! My ten favorite things to do in Green Bay with kids are…
1. Lambeau Field Stadium Tour – Whether you are a Packer fan or not, experiencing Lambeau Field is something any football fan should do. Lambeau is filled with history and you get a behind-the-scenes look. You will have the chance to walk through the players' tunnel, learn the history of the Green Bay Packers and what exactly it is that makes the Packers and Lambeau Field so endearing. Truly an experience you will never forget! Price varies between Free & $11 per person.
2. Bay Beach Amusement Park – If you are visiting Green Bay with kids between the beginning of May and the end of September, be sure to check out Bay Beach, the 9th oldest continuously operating amusement park in the U.S. From the kiddie pool to the big slide and all the way to Elvis' favorite roller coaster, the Zippin' Pippin' there is fun for the whole family! Tickets are $0.25 each and rides require 1-4 tickets.
3. The City Deck – The City Deck is a quarter mile promenade along the Fox River in Downtown Green Bay. A great gathering place for the public to enjoy live local musicians, dining on the deck, playing in the splash pad, free yoga and so much more. Best of all? It's free!
4. The Children's Museum of Green Bay – The Children's Museum of Green Bay is where children play to learn and parents learn to play. Filled with endless fun, this museum offers a retro 50's style diner for imaginative play, a firehouse, digestive system, lighthouse and so much more. Definitely worth the admission and leads to hours of endless play. Admission varies on age (Free to $8 per person.)
5. Frāluz Frozen Treats – Get your fro-yo, custard, soft serve and sorbet all in one place. Fraluz allows you to sample the flavors before you buy. Fill your dish with your favorite flavors and add your favorite candy, fruit, nut or other toppings. Great to bring the kids since they offer a complete play area for the kiddos and a giant chalkboard for them to doodle.
6. NEW ZOO & Brown County Reforestation Camp – Over 1500 acres complete with a beautiful zoo, hiking, biking and nature trails. Bring the kids to see the lions, penguins and more. Visit the petting zoo, feed the giraffes or play on the various playgrounds. Free to $6.00 per person.
7. Green Bay Packer Hall of Fame – Visit the hall of fame and relive the most exciting moments in Packers and football history. Over 25,000 square feet and 90 years of history including 4 Super Bowl trophies and a recreation of Vince Lombardi's office. Varies from Free to $10 per person.
8. National Railroad Museum – Bring the train lovers in your family to the National Railroad Museum and discover the history of trains, and check out the different collections, climb aboard a real train and even go for a train ride! Special events throughout the year include The Great Bunny Train, Day out with Thomas, The Great Pumpkin Train, Polar Express and more. Admission varies Free to $11.00 per person.
9. Kroll's West Restaurant – Family owned for over 70 years across from historic Lambeau Field, Kroll's is the home of the Kroll's Butter Burger. Be sure to check out the 'Signature Wall' filled with celebrity endorsements from some very famous visitors. Great menu filled with burgers, soup, and fish and more plus a great kids menu.
10. The Pancake Place – Be sure to grab breakfast here where they serve thick plate-sized pancakes in a variety of flavors, fresh hash browns and American fries. Full lunch and dinner menu served as well.
Green Bay is filled with all different sites and attractions, and I promise there are not cows on every corner! Got any advice of your own for visiting Green Bay with kids? Leave it in the comments!
This article was originally published on