How To Help Your Kids Cope With A Parent's Cancer Diagnosis
by Heidi Edwards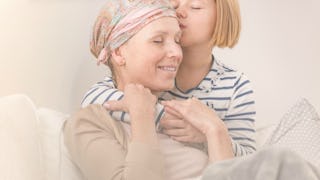 KatarzynaBialasiewicz / Getty
When I was first diagnosed with triple negative breast cancer at the age of 44, my primary concern (after myself) was for my three daughters, ages 11, 11, and 14. Immediately, I worried about dying and leaving them without a mom. That concern is still there, but ten months into this journey, I feel much more optimistic about my long-term survival.
They found out about my cancer diagnosis at the same moment I did, and we all sat on the green sectional at our family cabin and cried together. Even our Labradoodle, Louise, seemed heartbroken. I am sure that memory will be etched in their brains forever. I think the whole experience has been more difficult for my eldest, Grace, than the twins, Lauren and Avery, because she "gets" it and understands the seriousness of the situation.
Now that we are almost ten months into dealing with cancer, I think I have learned a bit about helping kids navigate this tender time in a family.
1. Be honest with them.
We were honest from day one, and didn't sugarcoat the situation. We told them it was serious, but that my chances looked pretty good. We never promised anything. We shared what was happening every step of the way. We found some age-appropriate books for them which they perused on occasion.
2. Get them involved in the process.
We all went together as a family when I got my head shaved few weeks into chemotherapy, and we all went wig shopping. (I never wore that darn wig, though.) Lauren and Avery went with me to a make-up session for cancer patients, which reminded us of a TV sitcom and pretty much cracked us up. We all did the Susan G. Komen walk together, and Grace was there when I spoke at our local Volley for the Cure. She also really wanted to be with Doug, my BFF and husband, when I had my bilateral mastectomy with reconstruction. I had thought it would be better for her to be with my mom and dad, but she just needed to "be there" and see what was happening as it happened.
3. In as much as humanly possible, you have to still be THE MOM.
Sometimes others want to protect you from fighting kids and parental stress, but your kids still need to know that you are in control. They need the routine of you tucking them in and helping them pack for their three days at the school forest or the cross-country meet. They need to know that they can still share their problems with you, and that you aren't too fragile for that.
4. Let them know what they can do to help the family.
One of the best things we did as a family was walk. I told them that exercise would really help me, and that their support in walking with me was HUGE. So we walked and we talked and we laughed. Sometimes, we had some complaining, but we still always finished our walks.
5. Keep the routine because kids need routine (and so do adults).
Many folks, especially my mom and dad, helped with keeping our normal routine. Doug and I let them know that even though things were a little bit bonkers at times, bedtime was still bedtime and homework still needed to be done. Cancer wasn't an excuse for things they didn't want to do.
6. Keep others in the loop.
At the beginning of the year, I let the girls' guidance counselors know what was happening in our family. Grace's guidance counselor called her down to the office and said (according to Grace), "I understand your mother is not well." To which Grace responded, "She has cancer." The kind woman asked, "Would you like to talk about it?" To which Grace responded, "Nope." And the wise woman sent her back to class, but at least Grace knew that the support was there if she needed it. I asked the counselors to let me know if anything came up with behavior/grades/friendships.
7. Let them know that other kids (especially high-school kids) might not know how to react and might not be able to give them the support they want.
Interestingly, it seemed like Lauren and Avery's friends found it easier to ask them about the cancer than Grace's friends. I surmise that older kids worry more about saying the wrong thing.
8. Remember that even though you might be in the fight of your life, your kids are still kids.
They will still fight over who gets to wear what or who folded more of the clothes in the one load you asked them to fold. They will still forget their instruments at home or need you to bring their track bag to school. They will still cry over a friendship struggle or whack each other over the last piece of gum.
9. Have fun whenever you can.
In our case, we were able to do bit of traveling during my treatment and celebrated reaching milestones like the end of chemo, a post-surgery trip, etc. I am now doing six months of oral chemo, and we have a road-trip to Colorado planned when that is done in July. We make lots of boob and foob (fake boob) jokes at our house, and I think that has lessened the seriousness of the experience a bit.
10. Sometimes, you have to just pull in a little and be with each other and love on each other.
We are still on the "breast cancer journey," but I think we are doing OK. I think it might be just all be OK.