Not all families are nuclear
How To Ask Your Child's School To Make "Muffins With Mom" & "Donuts With Dad" More Inclusive
Donuts are delicious, but they aren't just for dads.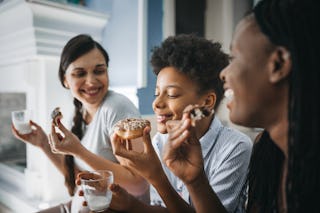 Nikola Stojadinovic/Getty Images
When elementary schools host school-sponsored events like "Muffins with Moms" and "Donuts with Dads," they inadvertently exclude kids — and that's a huge problem. Sure, the intention is great: a sweet pastry breakfast at school for students and their parents of a specific gender. Children get to bring their moms to celebrate Mother's Day while bringing their dads in honor of Father's Day.
You see the issue here, right? While offering activities for caregivers to get involved with their kids at school is important, not all families are nuclear. While many kids do have a mom and a dad, some are being raised by a single mom or a single dad or two moms or two dads. Some kids have a parent who has died and are being raised by a grandparent, relative, or friend, and some kids are in foster care.
According to recent U.S. Census Bureau data, around 30% of children under 18 live in single-parent or non-parent caregiver homes, and 200,000 or more students have parents or caregivers who are part of the LGBTQ+ community.
My kids have two moms, so when my daughter's preschool announced their "Donuts with Dads" day, it gutted me and my wife. Our then 2-year-old was, of course, aware that she doesn't have a dad, but she had never been faced with feeling excluded because of it. We didn't think that preschool — a place where she is meant to feel safe, loved, and nurtured — should be her first experience with feeling like her family isn't "normal."
Such exclusions can be damaging to a child's self-esteem, family dynamic, and more. To that point, I decided to speak with an expert about healthy psychological and social development in kids.
The Expert
Allison Crooks is a licensed marriage and family therapist working in private practice in Santa Monica, California. She specializes in working with adolescents and their families and has offered mental health counseling services to the greater Los Angeles community since 2016. She is also a clinical director with Experience Camps, a non-profit that provides free week-long sleepaway summer camp programs to children ages 9-17 who have experienced the death of a primary caregiver or sibling.
The Problem
"When we feel excluded, rejected, or marginalized, it elicits feelings of shame and creates a stress response that can range from disappointment and discomfort to clinically significant levels of anxiety and depression," Crooks says. "The impacts of exclusion, rejection, and marginalization have been studied extensively. Whether or not the exclusion is meant to be harmful, it can have a significant negative impact on a child's emotional and behavioral health. Children who experience peer and/or community exclusion often develop symptoms of anxiety and/or depression and experience difficulty concentrating in school, diminished motivation, reduced academic engagement, and a decrease in prosocial behaviors (i.e., withdrawing from peers, social anxiety, acting out behaviors, etc.). Children often begin to internalize these feelings and experiences as well, which leads to lower levels of self-confidence and self-esteem."
So, I did what I felt was right — not just for my daughter, but for all the kids in her school whose families don't fit into society's mold of "traditional": I sent an email to the preschool's director, the lovely Christy-Ann Soriano, and explained why this seemingly unproblematic event was actually a problem. She responded beautifully, proving that sometimes all it takes to effect change is to just ask.
I'm sharing our correspondence here in case you want to use it as a template should you find yourself faced with the same scenario at your child's school and want to say something, too. (It's a heck of a lot easier to speak up when something feels wrong when the email's halfway written for you, isn't it?)
My Email to the School Director
Hi, Ms. Soriano,
I want to bring something to your attention that's important to my family and, I think, to other families at the school. I hope you're open to hearing my thoughts and know they are coming from a place of love (because we adore you and all the teachers).
Muffins with Moms and Donuts with Dads aren't inclusive. The sentiment is beautiful and so important, but there are ways of doing it that don't exclude children. Many families look very different than just Mom and Dad. Some kids have two moms or two dads, some are being raised by a single mom or dad, and some are being raised by grandparents. Some may even have a parent who has died.
On those two days, my daughter and other kids in school will be faced, likely for the first time, with recognizing the absence of a mom or dad in their lives. What I, and so many others, love about this school is your acceptance. The entire staff is so loving and inclusive of all families. But Muffins with Moms and Donuts with Dads aren't, and I fear they could be the beginning of kids feeling unnecessarily left out, feeling insecure about their families, as well as damaging their sense of self in the world. I included some alternate ideas in case you're open to switching things up. I believe changing the way the events are held will help kids build tolerance for differences, ultimately improving self-esteem and creating a more empathetic and compassionate child.
With love and respect, Jill
The Email I Received Back
Thank you for sharing your concerns. They are valid and much appreciated. As you both know, I've raised both of my boys as a single mother without any support from the other side, and I was lucky enough to have my family step in to fill some of the gaps along the way. I know for certain both of my boys encountered areas where they felt left out or judged in the absence of their father. You're right; we strive to be inclusive, and this is another opportunity for us to do so! Thank you for bringing it to my attention, and I hope you feel comfortable in doing so in the future.
Much Love, Christy-Ann Soriano
The Solution
"The solution is not to eliminate events that highlight and invite in students' caregivers, of course," Crooks says. "It's simply a matter of language and structure. It takes minimal effort to update the language we use when we talk about families, and these small shifts can transform a potentially painful experience into a memory that a child really treasures and one that supports that child's academic, social, and emotional success. Inclusive language ensures that caregiver events like these allow all children to celebrate and highlight the loving relationship and connections they have with their caregivers, creating a day to feel pride, inclusion, and a sense of belonging."
Alternate Ideas
It's one thing to say an idea is wrong or doesn't make sense, but it's another to offer alternate suggestions. Here are a few circulating the internet that work well for every type of family:
Donuts with Grown-Ups
Donuts with Dear Ones
Muffins in the Morning
Breakfast with Buddies
Pancakes with Pals
Coffee with Cardinals [insert your school mascot]
Lunch with Loved Ones
VIP Breakfast Day
French Toast with Your Favorites
Family Feast/Family Fiesta
Pizza/Popcorn with Your Peeps
Special Treats with Special Guests
While it's possible the leadership in some schools might intentionally host events that focus only on a two-parent, mom-and-dad household, what's more likely is that teachers and administrators might not recognize the problem. So, fire up that email and get to typing (or copying and pasting).