I Actually Miss My Kid When He's Away
Sleepaway camp and grandma's house are great. But I'm ready for him to come home.
by Janine Annett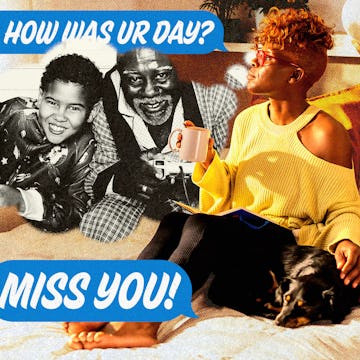 Ariela Basson/Scary Mommy; Getty Images, Shutterstock
Something highly unusual happened this week: I got to sleep in late. In fact, one morning I slept until 8:30 AM, which I don't think has happened since I gave birth to my child (perhaps not coincidentally, I didn't feel the need to guzzle coffee all day long on that day). Throughout the week, I also watched several movies that didn't involve the Marvel universe, had an adult beverage or two, ate meals that didn't need to be kid-friendly, read books, and spent some alone time with my husband. I've been able to get work done without needing to stop to pick up my kid from somewhere or take him to baseball practice.
That's because my child isn't here.
Instead, he's having the time of his life, getting spoiled by his grandparents and hanging out with his favorite person on earth (his cousin). He's been going to the beach, eating ice cream, playing games, making art, and watching movies.
Although it might sound like a dream to be able to take a break from the relentless pace of parenting (and it was nice to catch up on some much-needed sleep!), I also really miss my kid when he isn't here. Maybe this is partly because I only have one kid, and maybe it's partly because he's at an age (12) where parenting is different than it was in the baby/toddler/early childhood years. But no matter what the reasons are, I have found myself feeling completely out of sync without him around, even though he was only gone for five days.
The house is so quiet without him here. I miss the sounds of him shooting basketballs and even hearing him yell "Bro!" at his friends while playing video games with them. It feels weird not to be asked for a snack or what we're having for dinner. I miss joking around with my son. I think about how he teases me about my parking abilities every time I park my car. Plus, I've had to do the household chores my son usually does, like cleaning up after dinner.
I've been talking to him every day while he's with his grandparents and asking him how his day was, but I miss seeing his face and hearing him laugh and kissing him goodnight. I miss watching my son play baseball or jump into the deep end of the pool with his friends.
So much of parenting involves routines and rituals, and without my son around, my usual routines aren't in place. In the mornings, I'm used to getting him ready for school or camp; in the afternoons and evenings, I'm usually taking him to practices and games, feeding him, and doing not-that-exciting but necessary things like taking him to get a haircut or to the orthodontist.
I'm so grateful that we have extended family nearby and available to care for him. I know my son is in great hands and having an absolute blast. I'm happy for the opportunity to take the foot off the gas pedal for a few days (my husband is also recovering from an injury and really needed some time to heal and rest). But I still can't wait to see my kid again, even if it means more mess and hullabaloo when he's here.
I have one more day of quiet before my son comes back. Although I will enjoy the opportunity to watch a television show that isn't Bob's Burgers and have a discussion that doesn't involve Minecraft or baseball, I can't wait to have him back in the house. In the meantime, I am lavishing attention on my dog, who isn't complaining about all the extra belly rubs he's getting, but also doesn't sincerely tell me that I make the world's best egg-in-a-hole. For that, I need my son.
Janine Annett is the author of the humor book I Am "Why Do I Need Venmo?" Years Old. Her writing has appeared in the New York Times, the Wall Street Journal, the New Yorker, McSweeney's Internet Tendency, Real Simple, Parents, and many other places. She lives in New York with her husband, son, and dog.