I Favor My Daughter And My Son Knows It
by Abby M. King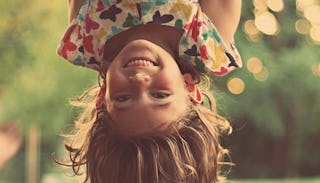 This will begin and end with the same disclaimer: I love and adore my son and hold as much love for him as my daughter.
I relished pregnancy, toting my baby around with me 24/7, feeling him kick and wondering what he would be like. Upon birth and for the days and years that followed, I was certain no one had ever loved a child as much as I loved Ben.
For the first three years of his life we were attached at the hip. Actually, attached at the lower leg is more accurate. I was the mom who couldn't get up to pee during music class, join the other moms in the kitchen during playgroup or shower alone. He was in my lap, on my hip or grabbing my leg constantly. He would cry and scream if his dad put him to bed without me. While the adoration was mutual, I could have withstood five minutes in the bathroom alone.
Three years and four months into our state of singular attention and bliss, Ben's sister Emily arrived. Seven years later, I can't say that I love them equally. I know that is the "PC" thing to say, but I don't even know what that means. They are different and I love them differently. The place they each hold in my heart is the same size but a different and evolving shape.
As a baby and toddler I would kiss my son from top to toe to his utter delight. At ten and a half, the only time a hug and kiss is allowed is at bedtime. The boy who tortured himself when he misbehaved, downcast to have disappointed his parents, now argues to argue and argues about arguing. Questions are answered with a grunt, eye rolls and mumbled words in an aggravated tone, never a simple yes or no. He doesn't do what I ask without being asked five times. I am on him all the time, or so it seems, to nobody's enjoyment. The daily battles exhaust me; I miss him during the day and then want to send him away five minutes after he comes home! He can be moody and supremely annoyed very easily. He is self-centered and expects that our world revolve around him and his desires. This is ten and it's not pretty.
It's hard at times to relate to him, to have a meaningful conversation, once the "what happened at school today" debrief is over. He LOVES sports, yet I am at a loss to hold a lengthy discussion with him about any of it. He talks and I nod, but don't really know what he is talking about when he rattles off a trade and takes a look at his fantasy football team. He plays chess and piano; I have no aptitude for either. I take him to chess tournaments and I have nothing to add other than "take your time." Even I gag at that superior advice.
The truth is, I see much of myself in Ben. I feel his pain when he is sad and I am delighted when I see him succeed, or fail, but try something new. I am proud of the kind, well-behaved, thoughtful and decent, student, friend, son, and brother he is. I beam when he leads his team with grace and heart. I go to every baseball and basketball game, and miss him when he is not home. I put such thought into his well being, growth and happiness. We have our "things," like the weekend top 40 countdown and will drive around to try and hear all 40 songs between Friday and Sunday. We play board games and read special books we save only for the two of us to enjoy together.
With all of that said, he feels I love Emily more and I know why. Because I favor Emily. Because she allows me to. These days, it's simply harder to show my love for Ben in a way he can see it and feel it.
At seven, Emily is in her sweet spot. I know it's a down payment for her future teen years, and it's a payment I am thrilled to accept. She's enthusiastic, helpful and super sweet. For breakfast she will ask for a bowl of Puffins and a bowl of "huggies and kissies" on the side. She loves to help around the house so she does her chores easily. She loves baking and arts and crafts, things that I enjoy and have an affinity towards. She will ask me how my day was at dinner and I am sure Ben sees the wide smile I get when she shows interest in me, and not just herself. Her manners are impeccable and she beats him to the punch every time. She has room for all of the affection I shower on her, plus room for the affection I want to lavish on Ben, but that he shuns. She is wickedly funny and cracks us up all the time. She is wonderful company and I can hang out with her all day long never grasping for conversation. We share similar interests and she is up for anything. She plays in my closet putting on my shoes and blazers, asking for a little blush and lip gloss. She sings in the shower, skips around the house in her pajamas and slippers, and exudes joy. She doesn't care about electronics and the mere lack of a battle over one more Xbox game is divine. There is less strife between Emily and me and it is evident.
Last night he told me that I love Emily more than I love him. Ben is wise; he's always been that kid who is older than his years. I assumed he knew the difference between the disparity of affection Emily receives and a disparity of love. This is where I have failed.
He may be wiser than his years but understanding love and affection is not the same as remembering NFL stats. Love, ego, affection, validation, these are concepts that bring grown adults to their knees. At ten and a half, he can't be expected to make sense of it. I need to create ways for him to feel what's so abundant in my heart. I can seize his desire for TLC at bedtime and get more hugs, kisses and cuddles in. I can slow down and spend time making an effort to relate to him in a way that he feels good to him. I'm going to go read the back page of the NY Post. Boy, will he be surprised at what I bring to the breakfast table tomorrow morning.
Disclaimer: I love and adore my son and hold as much love for him as my daughter.
This article was originally published on