I Know Where I Was When Jerry Garcia Died
by Julia Mace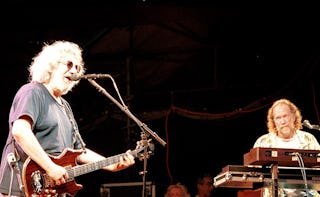 My brother remembers where he was when he found out Jerry Garcia died. He said I called him where he was living in London. I don't remember this, but I recall that when I found out a coworker said, "You look like your best friend just died."
He kind of had. It was a sad day for me and a host of second-generation Dead Heads. As teenagers and twentysomethings we spent our summer job money on tickets, T-shirts and campground fees. We tried to get out of work, family obligations and school to see the Grateful Dead.
My mom dropped a friend and me off at my first Dead show when I was 16 or 17. I was shocked but fell in love with the hippie revelry. I came home and told my parents how cool it was, not mentioning all the drugs I saw.
I started my Dead music collection with vinyl records, but I soon "advanced" to the popular cassette tapes. Collecting and displaying bootlegged shows in my fancy wood tape holder was a point of pride for me. My wardrobe consisted of my prized show shirts, cut-off jean shorts, Birkenstocks and long flowing skirts. Oh, and a hair-wrap thing that college guys loved and my parents hated. I took my Dead posters to college and was outraged when someone at a party stuck tacks in the band members' eyes.
© Courtesy Julia Mace
Part of the sweetness of Dead shows was exploring the world and its offerings for the first time. Camping and traveling without parents felt empowering. The portable toilets were gross, but the access to friends, music, dancing, hanging out and illegal drinking (for some of us) was a unifying taste of the good life.
On July 5, I relived it all with my brother and two friends as we watched the Dead's final show at Soldier Field in Chicago. We are in our mid-40s now. Before the show started, we chattered about our touring memories, friends and past wild times. We couldn't stop laughing. My brother and my friend still have all their shirts, even the ones stained by sweat. Ticket stubs have been saved.
Here's what was different: We were at a local movie theater. I think I hurt my back trying to dance in my seat. We monitored a friend's Facebook updates from the live show on our phones. As we watched the Chicago crowd, we saw the light of phones and iPads instead of lighters. It was Sunday night with work looming on the horizon after a long holiday weekend. We drank Cokes.
Here's what was the same: We knew our friend at the show was wearing his 28-year-old Grateful Dead jean vest. We missed Jerry, but the music made us as happy as it ever did. The other theatergoers whistled, clapped and sang along as well. The happy feeling we chased at past shows was still there. We knew all the words and sang along; this time it was tinged with nostalgia for the band, our youth and our friends.
As I dragged myself to work this morning, I listened to the Dead as I drove, smiling and singing to myself. The texts and Facebook messages have been flying between those at the movie theater, those at the live show and friends in other cities. Some posted photos of a memorable time in our lives—Buckeye Lake, Ohio, 1988. Yes, we still know the dates and concert venues. I read all the coverage of the shows by the New York Times, sending the links to friends.
It has been a long, strange trip, and I feel lucky to have taken it.
Thank you, Grateful Dead.
This article was originally published on