Kourtney Spills The News Kim's Surrogate Is In Labor Live On Ellen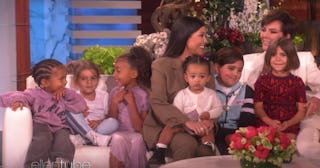 Ellen Show via YouTube
Kourtney Kardashian surprised Kris Jenner on Ellen with the news that Kim's about to become a mom of four
Kris Jenner appeared on The Ellen Show this week during an episode dedicated to Mother's Day. Kourtney Kardashian surprised her mom, who is also "Lovey" (her name for Grandma) to a whole bunch of adorable Kardashibabies, by bringing six of the adorable tots on the show. But that wasn't all the eldest Kardashian sister had up her sleeve.
She also used the fun moment reveal to Kris that sister Kim's surrogate, carrying her fourth child with husband Kanye West, was in labor. The sweet moment is spreading all over the internet, because, well, it's freaking adorable. All three of Kourtney's kids, Penelope, Mason, and Reign; along with Kim's kids, North, Saint, and Chicago, were part of the surprise — and it was way too cute.
After the kiddos surprised Kris by showing up during her segment, they all arranged themselves on the couch before Kourtney dropped the fun bombshell (with Reign yelling excitedly because 4-year-old's are gonna 4-year-old). "My mom doesn't even know this," Kourtney said. "But Kim's surrogate went into labour, so she's at the hospital."
Kris, clearly stunned, says, "No! What are we even doing sitting here?!" Ellen continues to keep things moving, but Kris says quietly, "Really? Who's with her? For how long?" She's a concerned momma and Lovey and it's the cutest, but then, a moment of levity came courtesy of Reign shouting, "I'm done with this conversation!"
Whatever your feelings about this family, the love they have for each other is undeniable — and Kris' face when she hears the exciting news will pretty much melt the coldest of hearts. It's clear that Lovey is in her element surrounded by her grandbabies and hearing that another's about to arrive.
As far as when that little guy (it's a boy!) gets here, there was a false alarm earlier this week about the impending Kim and Kanye addition with Kim quickly tweeting to quash the rumor:
But she set off a little of that speculation herself by sharing a text from her husband earlier that day that referred to her being a mother of four.
Just a little while ago, Kim shared that the little guy is here and he's "perfect!"
Can't wait to hear the name and see the face of the newest Kardashian West kiddo. You can watch the whole clip of the adorable Ellen surprise here:
This article was originally published on