Laurel Hubbard Is About To Make History
by Amber Leventry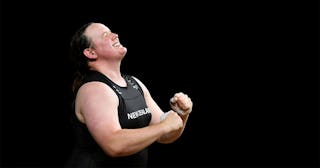 Dan Mullan/Getty
Laurel Hubbard was just added to the New Zealand's weight lifting team for the Tokyo Olympics. At 43, she will be the oldest female weightlifter at the Games. That alone would make headlines, especially since she suffered what she thought was a career-ending injury in 2018. But what makes her story the uplifting news many female athletes being denied the right to play need right now is that she is transgender. Hubbard will become the first out transgender person to compete at the Olympic Games. Hubbard is making history, and moving more than weights to make room for other transgender athletes to compete in athletics at all levels.
A transgender female athlete does not have an advantage over cisgender athletes just because they were assigned male at birth or even if they went through male puberty. Look around your gym or an athletic event. There are plenty of discrepancies in bodies between cisgender athletes that would be considered unfair, so to simply say being transgender is an advantage is ignorant at best.
I'm not going to give space to the folks who claim Hubbard has an unfair advantage—I'm sure many of you haven't even read this far into the article before commenting on this story with your version of "biology" or "science." I suspect more folks commented without even clicking on this article. I'm not going to counter transphobic examples born from whatabouts and what-ifs that are based on unfounded fear. I'm not going to play devil's advocate to show two sides to this story because there aren't two sides. Hubbard is a woman who has qualified for the Olympic Games based on the guidelines all other female athletes must follow.
Charlotte Clymer sums it up best:
The International Olympic Committee allowed transgender athletes to compete in 2004, but in 2015 new guidelines were created and are the ones used today. Any athlete who transitions from male to female is allowed to compete as long as total testosterone level in serum is kept below 10 nanomoles per liter for at least 12 months; this rule is also followed by the International Weightlifting Federation. There are no surgery requirements because surgery is not a necessary part of transition for many transgender folks. Also, it's nobody's business or relevant to competing in sports. New guidelines for transgender athletes are going to be created after the Tokyo games to be sure safety and inclusion continue to be centered. As of now there are three transgender athletes set to compete among the 11,000.
Hubbard was assigned male at birth and transitioned at the age of 35. She didn't start competing in international weightlifting when living as a male; her journey as a professional athlete started as a female. She won the silver medal at the 2017 world championships and finished sixth at the 2019 world championships. This was the year after her serious arm injury.
Hubbard is not the #1 weightlifter in the world or in her category; she's not even in the top 10. This is not a knock on her ability as an athlete; she's fucking amazing, but her lack of wins—or her number of medals—aren't solely based on hormone levels. No studies have found that any transgender athlete has an advantage over cisgender athletes. There isn't any science-based evidence or actual events that support the argument that transgender athletes—specifically transgender women—have an unfair advantage over their competition. If Hubbard wins a medal, it won't be because she is transgender.
Competing at an Olympic level requires skills, time, money, opportunity, coaches, dedication, mental toughness, and support. Thankfully Hubbard has a lot of support. Kereyn Smith, chief executive of the New Zealand Olympic Committee says, "As the New Zealand team, we have a strong culture of 'manaaki' [respect] and inclusion and respect for all. We are committed to supporting all eligible New Zealand athletes and ensuring their mental and physical wellbeing, along with their high-performance needs, while preparing for and competing at the Olympic Games are met."
And Ritchie Patterson, New Zealand's weightlifting federation president, has praised Hubbard's "grit and perseverance in her return from a significant injury and overcoming the challenges in building back confidence on the competition platform."
Transgender people need to have this type of grit and resilience in everyday life because our lives are questioned, harassed, and killed. Our experiences are invalidated and we are subjected to needing to meet standards set by and for cisgender bodies and identities. We either don't exist or exist too much. We want to be respected if not accepted. We want access to housing, health care, and work.
Transgender athletes want to compete with and against people with whom they identify. Transgender athletes, specifically youth, want the benefits of camaraderie, mental health, and improved self-esteem. No transgender athlete is looking to take anything away from a competitor. No one chooses being transgender to get ahead or find opportunities. Yet we are left thanking people for "letting" us play. We are often overwhelmed when we are shown kindness rather than the usual backlash.
After the team selection, Hubbard said, "I am grateful and humbled by the kindness and support that has been given to me by so many New Zealanders." I'm grateful too, but kindness and support of trans folks should be a given.
While SCOTUS ruled that Title IX protects transgender students, there are going to be plenty of lawsuits and loopholes that deny trans youth the ability to get the education they need and access to the sports they want to play. I hope these transgender youth and trans athletes everywhere see Hubbard and know that the stage is so much bigger than the one set by small-minded, bigoted folks.
Congratulations and good luck, Laurel. Whether you win a medal or not, you have already given the transgender community a win.