My Daughter Was Abused By Her Nanny
by Stephanie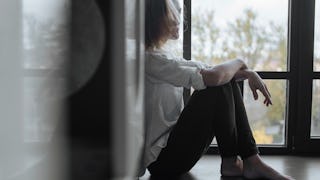 Ivan Ozerov/Getty
Trigger warning: child abuse, sexual assault, detailed description of miscarriage
"Life's not fair."
"When there's no wind, row."
We've all heard the first saying before. I just recently heard the second proverb. The words that follow are personal and emotional; I believe the secret to success is how you view life.
Life's not fair.
When I was six years old, I had a great life. We had an incredible house in Phoenix with a pool and a huge yard. I had my own room. For a six year old, life was good.
That was also the year my dad declared bankruptcy. As I kid, I didn't understand what that meant. What I did understand was that everything that was mine and was my world slowly disappeared in the rear view mirror as we headed to California to start a new life.
If you haven't been through a bankruptcy, I'll share a little about the process from my memory. Of course, there is a lot of paperwork, but the unexpected part was the random guys that come to your house, touch all of your possessions and put a value on the life your parents had created. They put everything onto a truck and take it to auction for someone else to bid on. Your life is put on a stage and auctioned off. I watched this process through the eyes of a naive six year old and I watched a part of my dad's self worth get auctioned off on those days as well.
When there's no wind, row.
We moved into a three bedroom house with my grandparents. I knew no one. My brother and I were sharing a room, and the house was too small for six people. I had to start a new school, make new friends, and I was so mad. I didn't know what I'd done wrong or why my dad was so angry. My grandma didn't understand me, and we fought all the time. I couldn't hide anywhere because everywhere I went there was someone there. I felt like a visitor all the time.
But my grandma loved me. She loved me with everything she had. She was patient and kind and worked hard to figure me out. I fell in love with her. She took me line dancing and I watched her play tennis and she shared her love of the ocean with me. To this day her number is one of the only numbers I have memorized, and we lost her almost three years ago.
From that bankruptcy I, too, fell in love with the ocean. I got to spend five summers as a junior lifeguard. I jumped off piers, jumped off jeddies, competed against other lifeguards, learned to surf. I had strawberries that were still warm from the day's sun. I met friends in Camarillo that I am still friends with today.
Life's not fair.
After we had Olive, we knew we wanted to have another baby. When Olive turned one we started trying again to get pregnant. When the pregnancy test showed positive, we were over the moon excited. As all parents do, we started fantasizing about what this baby would be like and what names we'd choose. This pregnancy felt different than my pregnancy with Olive. I started to spot and I knew something was wrong. My OBGYN got me in immediately and searched for the rapid heartbeat we'd been used to hearing. It wasn't there. He looked at me with knowing eyes and informed Josh and me that my body was experiencing a miscarriage. He explained that the experience varies from woman to woman, but I could expect cramping and discomfort and continued bleeding. He assured me I had done nothing wrong. This just happens sometimes.
We left feeling numb. Well, numb except for the pain from my body contracting as if it were in labor to get our sweet lifeless baby out of my body. The pain was extreme, and felt like insult to injury.
My husband thought it would be good to get us out of Flagstaff for a day. We loaded Olive into the car and headed down the hill to Phoenix. The pain got so bad I made him stop at Sunset Point. I ran to the bathroom, not knowing what was going to happen next. I was not prepared for those next 7 minutes. If my doctor had taken me aside and said, "Hey, this next part is going to be messy and awful, but you are not going to die and you will get through it," I may have been ready. But in that stall at the rest stop at Sunset Point, I was alone and bleeding everywhere. This is graphic, and I get it, but I don't fully understand why there's so much shame and secrecy around miscarriages. Maybe my story will help someone.
I don't know if my experience is abnormal or completely normal. I sat in that cold and sterile stall in pain with blood everywhere. I was scared. I was humiliated and the poor women waiting to use the stall were impatient.
What isn't shared is that you also know when the cell mass that was your baby passes from your body. And it's just as heart wrenching as you'd think. I don't know how long I spent in that stall. I tried cleaning up with the sandpaper toilet paper, but in the end it looked like a bloody scene from a horror movie. I was covered in tears and blood and, as I washed up the best I could and staggered out of the bathroom, my husband ran to grab me.
He held me and then put me in the car. We drove the rest of the way in stunned silence. Each processing what had happened and what our life would be like with just our funny girl, Olive.
The other thing that isn't shared is that your body doesn't just stop producing the baby hormones, so I was depressed and hormonal. Time passed, and we tried again. The doctors put me on special hormones that really took my "crazy" to a whole new level. I remember calling a friend to share how I felt and her response let me know just how crazy I'd become. She asked point blank, "Stef, like crazy you-want-to-hurt-yourself crazy?" I hoped it would all be worth it, but her question and genuine concern made me question everything we were going through. Was this worth it all because we wanted another baby so badly?
But it worked! I got pregnant again, and all of the emotions came back, but this time fear returned as well. We lost that baby too. I remember one of my colleagues calling to offer condolences, but he also asked why it was that I couldn't just go back to work? He couldn't understand why I'd stay at home for a couple days if I already knew we'd lost the baby. He thought I was tougher than that. (Those were his words.)
When there's no wind, row.
So that was that. We still had our baby girl, Olive. She was funny and smart and kind. We started looking into fostering kids and adoption. A dear friend of mine was having fertility issues and I was able to be present and supportive 100%. When we spoke, we spoke from a place of common emotions and experiences. I was able to reevaluate and spend my time with Olive and Josh, and I threw myself back into work. My office became wildly successful. We created a new vision of our life and what our family would look like.
I know this is not how all miscarriage and infertility stories end, but ours had two happy endings. We finally did get pregnant and I carried Daisy full term and six months later we got another unexpected surprise when we found out we were pregnant again with Ebbe. Our kids have all, at different points in their life, asked Josh and I about their brothers. Olive told us a beautiful story about her little brother and how sad he is that he's not with us, but how happy he is now. These stories could just be children's imaginations, but we choose to believe they are stories about our lost babies and that they are still part of our story.
My story ended well, and I am not saying even for a second that if you put your head down and just work through the pain you will get a baby in the end, but I am saying adjusting your vision of your life and finding a way to serve others offered me the closure and strength I needed.
Life's not fair.
We had a terrifying and beautiful and spectacular surprise baby. She was our third daughter. She was born with a smile, and that smile rarely leaves her face. She changed our life and all of our plans. We hired a nanny to help us with our daughters while we ran our businesses.
We were out of town training other advisors and we left our innocent and precious children with the nanny. We were gone for 4 days. When I got back to my kids, I knew right away something was wrong. Our youngest, Ebbe was three months old and her head was swollen on one side. I immediately ran to hold her and asked what had happened.
The nanny dismissed my concern as nothing. She added maybe Daisy hit her with a book.
I knew that wasn't what happened.
Sweet Ebbe was lethargic and melancholy. She wasn't herself, and I was desperate to figure out what was wrong. I called our doctor, she assured me that if she wasn't vomiting or screaming she was probably fine. Her sisters, Olive and Daisy were quiet and different, too. I kept asking if something had happened, and neither would answer.
It was Sunday night. It had been two days since we got back, and the older kids had started to return to normal. We were eating dinner, and I was holding Ebbe while Olive started sharing stories. She told us a story about Ebbe sitting on the counter and being pushed off by T-Rex (she's a huge fan of dinosaurs and dragons). In her story, Ebbe fell off the counter and landed on her head. When I started to ask more questions, Olive clammed up. Josh and I exchanged looks of terror. He called the emergency department, and they again assured us that if she was not vomiting and screaming she was probably okay, there was no need to bring her in.
The next morning Olive woke me, she had to tell me. On Wednesday, while we were gone, Ebbe had vomited and screamed all night. That's when it all clicked. The nanny had said the kids were busy playing Wednesday night and that FaceTime would be too hard for them. She said she'd send text updates. How could I have missed it?
I drove Ebbe and Daisy to the doctor and Josh dropped Olive at camp and met me there. As soon as the doctor saw Ebbe, our lives changed dramatically. The police and department of child safety were called. We were instructed to get Olive and bring her to the doctor's office because they needed "eyes on all three children." They rushed Ebbe in for X-rays and it all became an out of body experience. Ebbe had suffered a full cranial fracture. Her brain was swelling and there was no way to know the full extent of the damage.
Josh and I were guilty until proven innocent of child abuse. All of the girls were X-rayed, physically inspected, and interviewed without us to look for signs of abuse. Ebbe was admitted to the hospital and I was not allowed to hold my daughter unless a staff member was present.
When there's no wind, row.
As our world crumbled, we worked to rebuild our life. We were given an opportunity to reevaluate our priorities. We decided we wanted to raise our kids, we wanted to be present for these fleeting, precious years. As a family, we decided to change our schedules. My husband and I cut back our hours to part time. We each spent a half day with the kids. We were there for firsts, we got to experience the good days, the bad days, the highs and lows. My kids got to know their parents and we got to know them. We had park days and crafts and daily walks. We had laughs and games and hugs and tears. In the end, Ebbe was okay, the department of child safety allowed us to keep our kids, and we were given the opportunity to be present for our girls during their preschool years.
Life's not fair.
I was in high school in Durango, Colorado. I'd moved there when I was halfway through my freshman year. I was shell shocked. I was an outsider, and most of the people I met had known each other forever. Lance was one of the first friends I met at the school. He was kind and sincere and funny. He was desperately in love with one of the girls in our class, and I'd listen as he'd share how they had interacted that day. He'd wait with me after school everyday until my parents came to pick me up. He made me feel less alone in that small mountain town.
My aunt and uncle had paid to get some pictures of me taken, and Lance had asked to see them. He asked for a few and talked me into being brave enough to share the pictures with other people at the school. On this particular afternoon, I had given him the photos and he was busy telling me all about what he and Christy had talked about that day and what he planned to do the next day to get her to see him as more than just a friend. We joked and laughed like any other day. My dad picked me up, and Lance and I hugged and said good bye.
That was the last time I would ever see Lance. I was asleep in my bed, it was late, and the house phone (the only phone that existed at that time) woke us all up. It was for me. My friend Sandy was on the line and she was crying. I was able to understand "drunk driver," "Lance," and "dead."
I was inconsolable. The next few days were a blur of tears and heartache. Lance's mom handed me an envelope at one point and explained she thought I'd want the contents back. She went on to share that the emergency personnel said they were with Lance when they arrived on scene. I opened the envelope to find my photos, covered with blood.
When there's no wind, row.
Lance's death brought me closer to his circle of friends. His passing gave me lifetime friends because his death left a hole in each of us. His passing showed me how precious life is and how little time we really have with people. Lance taught me to love the people in your life and to make sure they know they are loved. Lance's death changed my perception of life, my perception of Durango, and showed me how our preconceived ideas about people can be completely wrong. Lance taught me to love unconditionally and to see the good in people.
Life's not fair.
This one's a scary one. I shared this story with a few people and it's still terrifying to be this vulnerable. Maybe one day I'll get the guts to share it without my safety parameters. Until that point, I'll share this. I was raped during my first month in college. It was awful and terrifying and isolating. I told a total of two people. One told me I was a liar, the other was so shocked, she did the best she could to comfort me, but did not have the tools to help me cope.
I shut down. I withdrew. I slept a lot. I stopped eating. I stopped going to class. I cried. I didn't tell anyone else.
When there's no wind, row.
But I moved on.
I eventually started to get up and shower. I started going to class. Life became normal again. I tried to forget it ever happened. I had incredible men come into my life again. Each of them helped show me that not all men just take what they want.
I learned my worth. I learned that one night does not define me. I was so fortunate to have people come into my life and love me. I realized that it was not my fault. I learned to laugh again. I learned to open up and share more of myself again.
Life's not easy. Life's not fair.
But when there's no wind, you row.
This article was originally published on