Children's Book Covers Are Not What They Used to Be
by Adam Bulger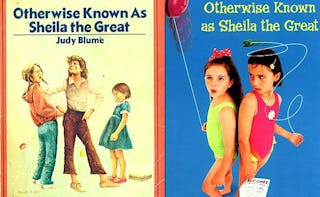 I put them both on Instagram and asked which one people would rather read: the one with the cover illustrated by a Norman Rockwell-style painting, or the one with a cover that looked like a Photoshopped pamphlet on public swimming pool safety. I got the most comments I've ever received on a picture: Not only was the original cover vastly preferred over the newer version, but people told me they were holding on to their '70s-era copies of childhood favorites because they can't stand the look of the new editions.
And while the cover on the '70s edition is old-fashioned, at least it sets a scene that might make someone want to pick up the book.
That wasn't the only classic children's book that received an unfortunate cover makeover. The psychedelic edge of Madeleine L'Engle's A Wrinkle in Time's cover was swapped out for a cutesy grandma aesthetic in the edition currently in print.
The cover on the early '70s edition of Judy Blume's Freckle Juice isn't exactly pleasant. It's a picture of a nerdy-looking boy dotting his face with lipstick to make it look like freckles. But its gross imagery is compelling enough to make kids want to pick it up. The same can't be said for the current edition, which boasts a smudgy picture of a jar.
The early '80s cover of Beverly Cleary's Ramona Quimby, Age 8, is a study in little-kid awkwardness: a skinny girl with puckered lips, hair flapping away from her head like she's been charged with static electricity, taking up the bottom half of the frame. The modern edition, meanwhile, is a generic illustration of a smiling girl on a bike.
Looking at the original and modern covers of From the Mixed-Up Files of Mrs. Basil E. Frankweiler is like watching a classic movie that's been colorized. The kids have the same pose, but I guess the publishers thought that a black-and-white line drawing would confuse and anger kids from the iPhone generation.
A couple of publishers have stuck with tried and true illustrations. Roald Dahl's books seem to have always kept their original covers. And while Stuart Little strayed at some point from its hand-drawn roots into computer-graphic land, luckily the current edition boasts the original cover.
This article was originally published on